Completed

·

Oct 30-Nov 4, 2018
Watch the pinnacle event of the Canadian professional rodeo season, the Canadian Finals Rodeo, LIVE on FloRodeo October 30 to November 4, 2018. The top 12 competitors in each of the seven major rodeo events will compete for $1.65 million and Canadian champion titles in Red Deer, Alberta, this fall. The 45th anniversary of the CFR will be a can't-miss event for rodeo fans all over the world!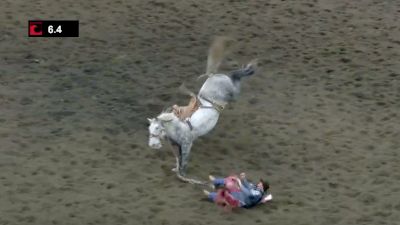 Hats Off To The Canadian Finals Rodeo Stock Contractors
Nov 13, 2018
The Calgary Stampede, Kesler's, Northcott/Macza, C5 Rodeo, Outlaw Buckers, Vold Rodeo, Duffy Rodeo, and Franklin Rodeo Co all came together to produce a stellar lineup of saddle bronc horses for the event's premiere in Red Deer, Alberta. Check out some of the best buck-offs from the 2018 Canadian Finals Rodeo's eliminator pen in the saddle bronc riding.