Stop No. 9 on the CPRA's Finning Pro Tour is the Strathmore Stampede in Strathmore, Alberta, August 2-5, 2019.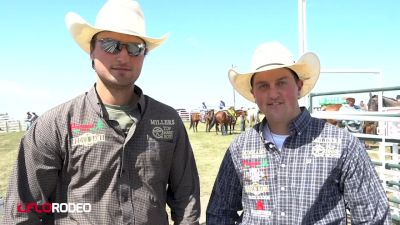 'Halfway Through The Year, Tyce Was Paying My Fees' - Tuftin Mcleod
Aug 2, 2019
The road to the Canadian Finals Rodeo is a long one and no one knew that better than brothers Tuftin and Tyce Mcleod during the 2018 season. About halfway through the season, the pair weren't doing that well in the standings, and Tuftin even admits that Tyce had to pay his fees for him just to keep going down that road.
But the pair of brothers from Saskatchewan prevailed, and by the end of the season, they were able to sneak their way up the standings and make it to their first Canadian Finals Rodeo. The pair are in a much more comfortable spot this year at No. 6 and No. 7 in the heading and heeling standings, respectively.
After their run of 5.7 seconds to go to the lead at the Strathmore Stampede, things could be looking even better if it can hold throughout the weekend.
Watch the 2019 Strathmore Stampede LIVE on FloRodeo, Aug. 2-5. Click HERE to sign up