Stop No. 9 on the CPRA's Finning Pro Tour is the Strathmore Stampede in Strathmore, Alberta, August 2-5, 2019.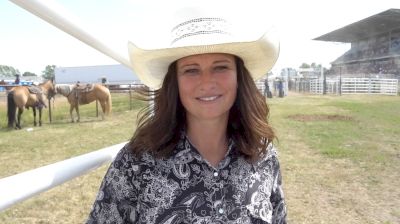 'He Likes Big Open Pens' - Bertina Olafson & Duke Dominate Day One At Strathmore
Aug 2, 2019
The dream of any young Canadian barrel racer is to make the Canadian Finals Rodeo on a horse they trained themselves. CPRA barrel racer Bertina Olafson lived that dream last year with her first CFR qualification and is well on her way to doing it again in 2019.
Olafson is already the No. 9 barrel racer in Canada and has a great chance to add to that placing after going to the lead at the Strathmore Stampede by three-tenths after slack and the first performance.
Watch the 2019 Strathmore Stampede LIVE on FloRodeo, Aug. 2-5. Click HERE to sign up.