Stop No. 9 on the CPRA's Finning Pro Tour is the Strathmore Stampede in Strathmore, Alberta, August 2-5, 2019.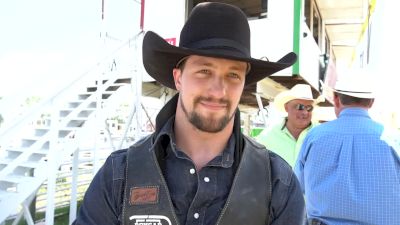 A Good Test For His Broken Foot - Cole Goodine Vs. Yipee Kibitz
Aug 2, 2019
"They 23'd my foot last weekend," Cole Goodine said.
Now, even if you're an avid rodeo fan you might not fully understand the significance of that statement. But if you're Cole Goodine, it means that things are looking up for his foot, which was shattered early in the season and failed to heal properly, stopping him from competing for several months.
Listen to Goodine's interview where he details the injury, his journey back to health, and his wicked 86-point ride on Calgary Stampede's Yipee Kibitz at the Strathmore Stampede to lead the pack after the first day.
Watch the 2019 Strathmore Stampede LIVE on FloRodeo, Aug. 2-5. Click HERE to sign up.