The first $1 million major rodeo in the World Champion's Rodeo Alliance series is coming to the Allstate Arena in Rosemont, Illinois, just outside Chicago, Jan. 11, 2019. Eighty-one top rodeo competitors will descend upon the city for the first time to make history, and, of course, a lot of money.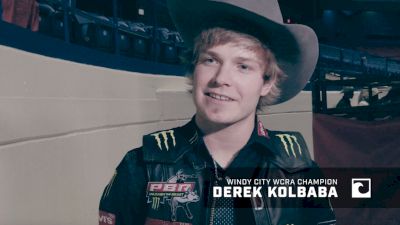 Derek Kolbaba: Already $62,500 Richer With More To Go In Chicago
Jan 12, 2019
Derek Kolbaba has already claimed a check for $62,500 for winning the WCRA's Windy City Roundup (including ground money), but he has plenty more up for grabs before the weekend is through.
Watch Derek Kolbaba at the PBR Unleash The Beast's Chicago Invitational, Jan. 12-13, 2019.
Sign up to watch from Canada, the United States or Mexico by clicking HERE.
Sign up to watch from the rest of the world HERE.