The Pro Agribition Rodeo is the first pro rodeo of its kind in Saskatchewan and brings top rodeo athletes to the rodeo community in Regina.
The event invites 16 of the best cowboys and cowgirls to compete for $100,000 in a four-performance rodeo that includes all seven major rodeo events. The entry list is based on the Pro Rodeo Canada standings at the end of the 2017 season.
Stream live FloRodeo events anytime, on any device!
TV: Download the FloSports TV app on Roku and AppleTV 4
Mobile: Download the FloSports iPhone app
Web: Bookmark FloRodeo.com in your favorite browser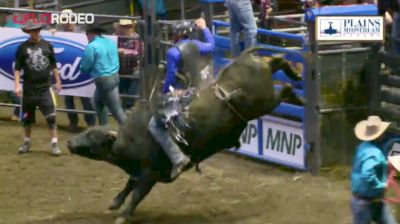 Throwback Thursday: First Ride Of Jared Parsonage's Season Leader Quest
Oct 4, 2018
We're throwing it back this Thursday to the ride that started it all for Jared Parsonage. Almost a year ago now, the talented bull rider started his season at the 2017 Agribition Rodeo.
By the conclusion of the high-paying event that kicks off the new season, he rode out of there with nearly $5,000. At the season's end, Parsonage crossed off his bucket list goal of winning the CPRA season leader award by almost exactly the same amount.
Watch the Canadian Finals Rodeo LIVE on FloRodeo October 30 to November 4.
Every dollar counts and Parsonage can be happy he had these ones in the standings when he heads to CFR this year at the 2018 Canadian Professional Rodeo Association bull riding season leader.