The Pro Agribition Rodeo is the first pro rodeo of its kind in Saskatchewan and brings top rodeo athletes to the rodeo community in Regina.
The event invites 16 of the best cowboys and cowgirls to compete for $100,000 in a four-performance rodeo that includes all seven major rodeo events. The entry list is based on the Pro Rodeo Canada standings at the end of the 2017 season.
Stream live FloRodeo events anytime, on any device!
TV: Download the FloSports TV app on Roku and AppleTV 4
Mobile: Download the FloSports iPhone app
Web: Bookmark FloRodeo.com in your favorite browser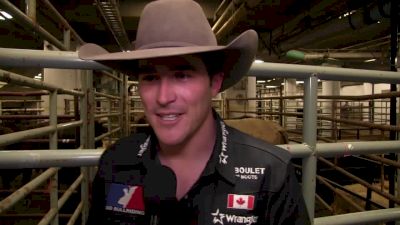 Zane Lambert After A Strong Ride On C5's Swamp Monster
Nov 26, 2017
C5 Rodeo's "Swamp Monster" and two-time PBR Canadian champion Zane Lambert picked up a fourth-place cheque in round one with their score of 82 points. The bull riding was the only other event that didn't see a leaderboard change, but Lambert is already looking ahead to the mountain he'll need to climb in the aggregate.

As the only bull rider to make a qualified ride in Pool B, Lambert is the only competitor from his pool with a chance to win the average, but he'll have to earn more than 87 points to do it. Jared Parsonage is the No. 1 bull rider in the aggregate with a combined score of 169 points on two.
Watch the 2017 Pro Agribition Rodeo LIVE on FloRodeo from Nov. 22-25!