The Pro Agribition Rodeo is the first pro rodeo of its kind in Saskatchewan and brings top rodeo athletes to the rodeo community in Regina.
The event invites 16 of the best cowboys and cowgirls to compete for $100,000 in a four-performance rodeo that includes all seven major rodeo events. The entry list is based on the Pro Rodeo Canada standings at the end of the 2017 season.
Stream live FloRodeo events anytime, on any device!
TV: Download the FloSports TV app on Roku and AppleTV 4
Mobile: Download the FloSports iPhone app
Web: Bookmark FloRodeo.com in your favorite browser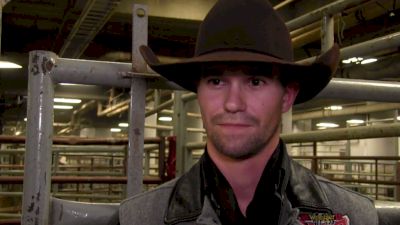 Tyrel Larsen On Night Of Redemption Riding C5's Thunderstruck For The Win
Nov 26, 2017
After a string of bad luck that saw the bronc rider sustain a broken ankle, blown out knee, and four broken saddles, Tyrel Larsen's luck seems to be turning around for the 2018 rodeo season. Larsen split second and third place in round one with his 82 point ride, then came back tonight to win round two with 83.5 points. Larsen starts off his 2018 season with $5,300.35 on the board unofficially.