The Pro Agribition Rodeo is the first pro rodeo of its kind in Saskatchewan and brings top rodeo athletes to the rodeo community in Regina.
The event invites 16 of the best cowboys and cowgirls to compete for $100,000 in a four-performance rodeo that includes all seven major rodeo events. The entry list is based on the Pro Rodeo Canada standings at the end of the 2017 season.
Stream live FloRodeo events anytime, on any device!
TV: Download the FloSports TV app on Roku and AppleTV 4
Mobile: Download the FloSports iPhone app
Web: Bookmark FloRodeo.com in your favorite browser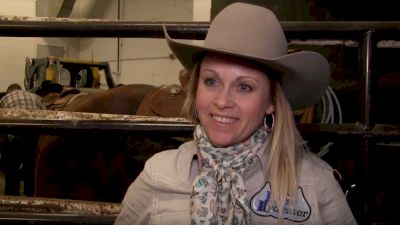 2017 Rookie Of The Year Diane Skocdopole After Barrel Racing Aggregate Win
Nov 26, 2017
The 2017 Rookie of the Year in the ladies barrel racing is showing no signs of slowing down for the 2018 season. Diane Skocdopole conquered the aggregate with a total time of 28.682. She placed second in round one with a 14.174, and while her time of 14.508 in the second round didn't yield a round cheque, it did give her the aggregate win.
Diane won her very first buckle just over two weeks ago at the Canadian Finals Rodeo when she was presented with her Rookie of the Year buckle, now she can add her Agribition buckle to the trophy cabinet! She also takes home $3,861.15, unofficially.