Completed

,

Jun 27-Jul 1, 2019
Watch the Finning Pro Tour stop at the Williams Lake Stampede in Williams Lake, British Columbia, June 27 to July 1, 2018.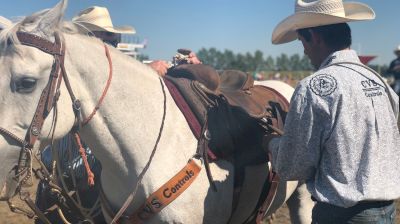 The Finning Pro Tour, Maple Leaf Circuit Finals & Canadian Finals Rodeo Live On FloRodeo
May 10, 2019
Eleven regular-season rodeos. Two finals. Millions of dollars in prize money.
Watch the Canadian Professional Rodeo Association's Finning Pro Tour, The Maple Leaf Circuit Finals, and the pinnacle event in Canadian rodeo—The Canadian Finals Rodeo—LIVE on FloRodeo in 2019.
Click HERE to sign up for a PRO subscription to access the Canadian rodeo events below, and all of the other live events including the PBR, WCRA, and Youth Rodeo seasons on FloRodeo.
| | | | |
| --- | --- | --- | --- |
| Date | Event | Location | Coverage Link |
| May 30 - Jun. 2, 2019 | Grande Prairie Stompede | Grande Prairie, AB | Watch Live |
| Jun. 20-23, 2019 | Wainwright Stampede | Wainwright, AB | Watch Live |
| Jun. 25-July 1, 2019 | Ponoka Stampede | Ponoka, AB | Watch Live |
| Jun. 27-Jul. 1, 2019 | Williams Lake Stampede | Williams Lake, BC | Watch Live |
| Jul. 12-14, 2019 | Teepee Creek Stampede | Teepee Creek, AB | Watch Live |
| Jul. 18-21, 2019 | Manitoba Stampede & Exhibition | Morris, MB | Watch Live |
| Jul. 25-27, 2019 | Medicine Hat Exhibition & Stampede | Medicine Hat, AB | Watch Live |
| Aug. 2-4, 2019 | Pile O'Bones Rodeo | Regina, SK | Watch Live |
| Aug. 2-5, 2019 | Strathmore Stampede | Strathmore, AB | Watch Live |
| Aug. 9-11, 2019 | Dawson Creek Exhibition & Stampede | Dawson Creek, BC | Watch Live |
| Aug. 28-31, 2019 | IPE & Stampede- Armstrong | Armstrong, BC | Watch Live |
| Sept. 1, 2019 | Finning Pro Tour Final | Armstrong, BC | Watch Live |
| Oct. 29-Nov. 3, 2019 | 2019 Canadian Finals Rodeo | Red Deer, AB | Watch Live |
| Nov. 27-30, 2019 | Maple Leaf Circuit Finals | Regina, SK | Watch Live |