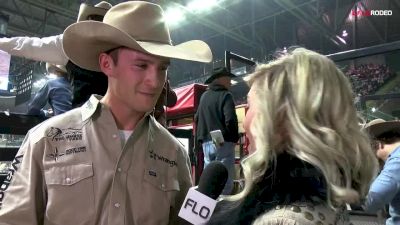 Elliott Battles Through Whirlwind To Win 2nd Canadian Title
Nov 8, 2018
It wasn't the easiest way to win a Canadian title.
There was a bit of a hang-up with his horse in the run-up alley, so Clay Elliott had to scramble to action on the final day of the 2018 Canadian Finals Rodeo. He was hunting down a Canadian title and his closest competition, Zeke Thurtson, was winning the round with an 87.75-point ride.
Once the crew got Elliott's saddle off his first horse, it was a mad dash to throw the saddle on the first reride horse so he could make his round-six ride. Elliott got a decent score but was awarded another reride.
We tried to quickly crunch the numbers behind the bucking chutes to see if his first score was enough for Elliott to win the title, but before we could get it done he was already pulling his cinches on another reride horse. You see, Eliott is all cowboy.
So if a reride horse is offered, you can bet he'll take it.
As the second scramble to saddle a horse ensued, this FloRodeo reporter was taken aback by one thing: the camaraderie his fellow competitors showed. Even though one of those competitors was in contention to win his first Canadian title, he hustled to help Elliott saddle and eventually ride his way to victory.
Congratulations to Elliott on his second Canadian saddle bronc title in just three years, and thank you to the competitors helping him for showing us what this sport is truly about.