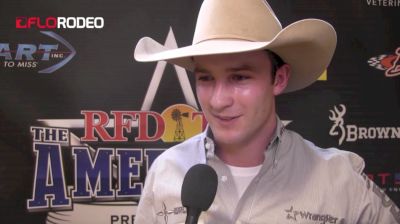 Clay Elliott Ready To Ride A 'Big, Strong, Bucking Son Of A Gun'
Feb 25, 2018
The quiet Canadian doesn't seem like he would have the aggressiveness it takes to be a bronc rider at the highest level of competition. But when it comes to riding bucking horses, Clay Elliott can't wait to hop on a "big, strong, bucking son of a gun."
Watch The American LIVE Feb. 18-25 on FloRodeo.
Elliott proves time and time again that he has a fire burning under his calm demeanor and has now claimed his third Semi Finals victory at RFD-TV's The American, presented by Dish.