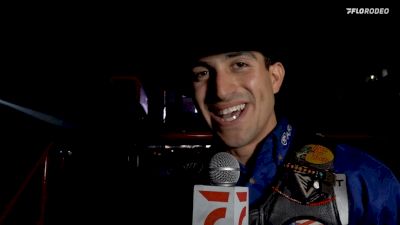 'Way Better' - Edgar Durazo On How Winning A Canadian Title Feels
Nov 6, 2019
We asked Edgar Durazo from Moctezuma, Mexico to picture what it would be like to win a Canadian title several times, but until it happened, he couldn't fully imagine how he would feel about winning the highest title in a country that he had called home for the past six years. He talked about the people that had welcomed him with open arms, the friendships he gained on the rodeo trail, the bulls he would have to conquer, but when the title was finally his, there was one thing he had to say about how it felt:
"Way better," said Durazo.
The crowd held nothing back when the first-ever Mexican-born qualifier entered the CFR arena, and he gave them good reason to cheer too. Durazo swept rounds one through three and only missed winning the fourth round by one point.
Those wins, combined with placing in the other two rounds and a second-place finish in the average, sealed the deal for Durazo and allowed him to walk out at the 2019 Canadian Champion Bull Rider.
Watch full archives of the 2019 Canadian Finals Rodeo HERE.