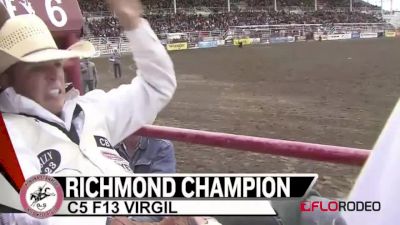 Watch The Highest Marked Bareback Ride Of The CPRA Season
Oct 10, 2018
We can't get enough of this matchup between Richmond Champion and C5 Rodeo's F13 Virgil at the 2018 Ponoka Stampede. The duo danced to the tune of 91.25 points and unofficially earned the highest score of the entire CPRA rodeo season and one of the highest in the PRCA.
The big check Champion earned at the rodeo also helped him to later become the highest-earning bareback rider in the CPRA this season. He heads into CFR45 as the season leader and the one they'll all be gunning for this week!
See if Champion can hold his lead at the Canadian Finals Rodeo LIVE on FloRodeo October 30 to November 4.