The Daddy of 'Em All, Cheyenne Frontier Days (CFD), prides itself on over a century of cowboy tradition and a relevant, exciting, fan-friendly format. CFD and Cinch have partnered to bring a never-before-seen rodeo format to kick off The Daddy. The Cinch Shoot-Out pits the best-of-the-best rodeo cowboys and cowgirls in a progressive-style event, which culminates in an interactive shoot-out round in a winner-takes-all finals. Fans get to text their votes to select the stock cowboys will ride in the finals, which is a first for rodeo.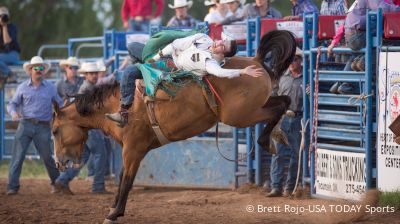 The Best Of FloRodeo In July 2017
Aug 1, 2017
The Ponoka Stampede, Williams Lake Stampede, International Finals Youth Rodeo, Pikes Peak Or Bust. The list goes on and on for great events during Cowboy Christmas in 2018.
Last year was pretty epic for FloRodeo, and we've picked our favorite moments from our biggest events. Take a look back at the seven best moments from the National Little Britches Rodeo Association Finals, the International Finals Youth Rodeo, Pikes Peak or Bust Rodeo, and the Cinch Cheyenne Frontier Days Shoot-out.