2019 Maple Leaf Circuit Finals
Maple Leaf Circuit Opens New Opportunity For CPRA Members & Committees
Maple Leaf Circuit Opens New Opportunity For CPRA Members & Committees
The addition of the Maple Leaf Circuit Finals is not just another rodeo for the Canadian Professional Rodeo Association (CPRA).
Nov 22, 2019
by Katy Lucas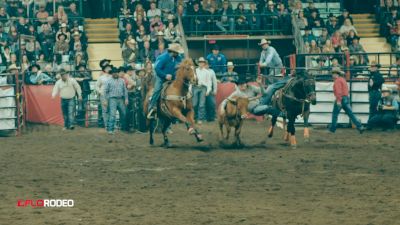 The addition of the Maple Leaf Circuit Finals is not just another rodeo for the Canadian Professional Rodeo Association (CPRA).
The CPRA, which co-sanctions its rodeos with the PRCA, announced the creation of the circuit in August of 2018, and with that announcement created the opportunity for contestants to not only qualify for the Maple Leaf Circuit Finals in Canada, but also a chance to compete at the RAM National Circuit Finals in Kissimmee, Florida.
Watch the 2019 Maple Leaf Circuit Finals in Regina, Saskatchewan LIVE on FloRodeo November 27-30. Click HERE to sign up.
"It was just about trying to continue to create opportunities for our contestants to be able to compete for more money," said CPRA General Manager Jeff Robson.
That money will also play double, and sometimes triple-duty for competitors. CPRA members not only having a chance to win money at the Maple Leaf Finals, but also have that money count towards the Canadian Finals Rodeo the next year.
For those that are also PRCA members, those competitors have the third opportunity for that money to count towards the World Standings to compete at the Wrangler National Finals Rodeo.
This is something that Robson feels will not only be beneficial for CPRA members, but also elevate the contestant roster at all of the association's rodeos as competitors try to qualify for the finals.
"There's pressure to not only compete at our bigger rodeos but also compete at our littler rodeos which is ultimately super important to us and it's important to our rodeo community," said Robson. "If we're not going to support the little rodeos it's going to be hard for those rodeos to continue."
One of the most decorated competitors within that community–12-time Canadian Champion and six-time Wrangler National Finals Rodeo Qualifier Curtis Cassidy–knows from experience just how much doing well at a circuit finals can affect the rest of your season.
"At the circuit finals I went to in 2017 that counted towards the 2018 season, I ended up winning a go-round and the average and I think I won just about $6,000, and then I went to Billings which is also in October and won a couple thousand there, and then I went into the winter rodeos and won some money at them as well so before the winter had even really got rolling I had won about $20,000 that year and it was a huge step towards the NFR," said Cassidy who finished that season as the 2018 PRCA Steer Wrestling Season Leader. "I wasn't playing catch up all year long, I was actually ahead of the battle and could just go back in and do my thing and not make stupid mistakes because you're trying to do more than you should be."
Previously, Canadian residents that wanted to take part in the circuit system have had to go south of the border, often trying to hit around 20 rodeos in a particular circuit throughout a season in order to meet the non-resident qualifications. Now, Cassidy says that competitors that rodeo in Canada will have a much easier time at getting their counts in at the rodeos they are already planning on going to.
"The Wilderness Circuit that I've been in, it has tons of good rodeos but Utah is where most of the rodeos are and it's not anywhere near central Alberta," said Cassidy. "So it's huge for us because we're going to the rodeos [in Canada] anyways so to have a circuit finals at the end of it and a chance to go to Florida, is kind of a double bonus for us."
Only Canadian residents were eligible to qualify for the Maple Leaf Circuit Finals in 2019, but in the next season the circuit will be open to any member that is able to get their rodeo count – just like the other 12 circuits currently operate. This is an opportunity that Robson says may see competitors from other countries taking part in.
"Ultimately the upside is guys who compete at those rodeos are going to have to qualify just like they would south of the 49th parallel next year," Robson explained. "So they have to go to a certain percentage of rodeos, but we could see non-residents trying to qualify for our Maple Leaf Circuit Finals, which would mean that they're going to more of our rodeos and ultimately could get to go to the RAM National Circuit Finals from this circuit."
The finals will be a four-round competition with the top 10 in the circuit in each event competing every night–with many of those competitors fresh off of the 2019 Canadian Finals Rodeo (Watch full replays of CFR46 HERE) and primed for a finals-style competition. With $12,000 added in each event, the stakes are high not only for those wanting to leave Regina with some extra cash, but also those that want to start off the 2020 season with a jump-start on the competition.
"Regina always puts on a good rodeo out there and to have a circuit finals to go to will be another chance to win some money towards the Canadian Finals and the NFR and I think everybody is excited to go to it," said Cassidy.
Watch the 2019 Maple Leaf Circuit Finals in Regina, Saskatchewan LIVE on FloRodeo November 27-30. Click HERE to sign up.