2019 Youth Rodeo Season Calendar
Team FloRodeo Member Profile: Kenzie Johnson
Team FloRodeo Member Profile: Kenzie Johnson
After starting out in more refined events like halter, showmanship, and Western pleasure, Kenzie Johnson started doing speed events.
Aug 14, 2019
by Katy Lucas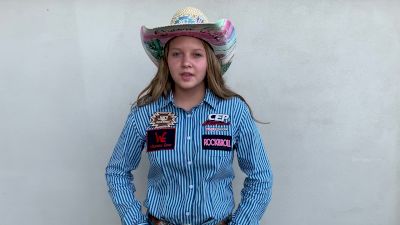 After starting out in the Western world's more refined events like halter, showmanship, and Western pleasure classes, FloRodeo Youth Team member Kenzie Johnson kicked it up a notch and started doing speed events, finding her true passion in the barrel racing and pole bending.
"I love the thrill of competing," the cowgirl from Milan, Tennessee, who now competes in barrel racing, pole bending, goat tying, and the speed trail competition, said. "The family atmosphere, the focus on faith, and the encouragement from others and the tough competitors."
Kenzie is a part of our inaugural classes of FloRodeo Youth competitors who were chosen to represent and promote our next generation of rodeo superstars. See the full team HERE.
"I believe that our rodeo lifestyle is so important and must be promoted in a positive light at every possible moment," the wise 15-year-old said. "It is such an integral part of so many families' lifestyles and contributes so much to individuals, as well as to our American heritage."
Kenzie has had a lot of success competing in that very heritage, including becoming the 2019 CALBRA pole bending reserve champion, 2018 National Little Britches Rodeo Association reserve world champion pole bender, 2018 Tennessee Junior High School Finals champion pole bender, and reserve champion barrel racer, as well as qualifying for the short round of the National Junior High School Finals Rodeo.
Kenzie is not just a great representative of the next generation of rodeo athletes because of her accomplishments, but also because of what she believes makes those rodeo dreams a reality.
"To be successful in rodeo, an athlete must possess many qualities," Kenzie explained. "First of all, you must have drive. You have to be willing to put in the hard work in the tough times. Secondly, you must have patience. Success takes time, learning a new skill requires that you take your time to learn it correctly. You also need passion. Passion is what will keep you going when it gets hard. Passion pushes you to do better than your best."
"There are so many qualities that contribute to the success of a rodeo athlete, but most of them can be traced back to drive, patience and passion." — Kenzie Johnson
It's clear to us that this young competitor has a bright future ahead of her no matter what she sets her mind to, making her an integral part of the first-ever Team FloRodeo.
Fun Facts About Kenzie: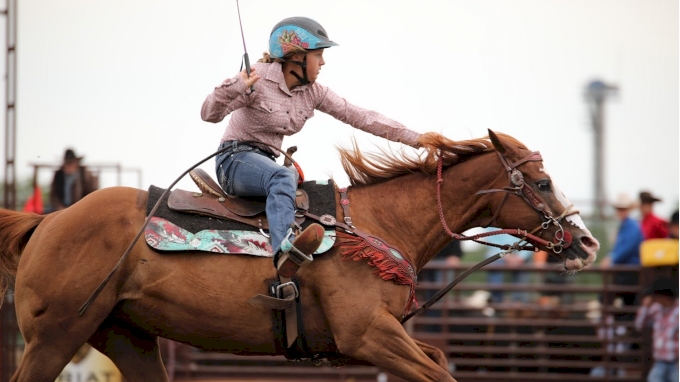 Favorite Food: Fettuccine Alfredo
Favorite Music: Camila Cabello & Luke Combs
Favorite Color: Orange
Favorite Rodeo: National Little Britches Finals Rodeo (Kenzie was the reserve world champion in the Pile Bending in 2018)
Goals: To make the short go in the National High School Finals Rodeo, win a saddle next season, be ranked top-10 nationally in the barrel racing and pole bending, and eventually get her pro card.
Sponsored By:
Hay Chix
Rock and Roll Denim
Panhandle Western Wear
Complete Equine Performance
Western Edge, Ltd