Wacey Finkbeiner: Hometown Crowd, Hometown Success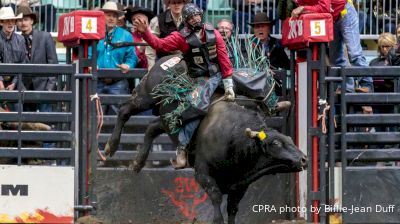 As a cowboy, there's no greater honor than winning your hometown rodeo. So it was no surprise when the crowd cheered just a little louder for Wacey Finkbeiner — who lives just down the road from Red Deer, Alberta — when he was introduced as the 2018 Canadian Champion bull rider.
The Ponoka cowboy came into the finals in the No. 8 spot, but quickly moved up the ranks when he placed in five out of the first five rounds. That included two $10,530 checks for winning round two with an 87.25-point score, then going back-to-back and winning round three with a score of 87.75.
So come championship Sunday, when Finkbeiner was introduced in the opening ceremonies as the one everyone was chasing, the crowds had something to cheer for.
There was only one cowboy who could pass him the aggregate race, but when Cody Coverchuk logged an extremely respectable 87-point score on what would be his fifth qualified ride, Finkbeiner's aggregate fate was sealed. Coverchuk gave him a run for his money, but the Finkbeiner remained three points ahead of the former PBR superstar and newly crowned CPRA rookie of the year.
The hometown cowboy wasn't able to make the whistle on his last bull, but when the lights went black in the arena for the awards ceremony — and the announcer introduced the 2018 Canadian bull riding champion — the name fans were cheering a little extra for was "Wacey Finkbeiner."