Give It Up For The 3-Time Canadian Champion Tie-Down Roper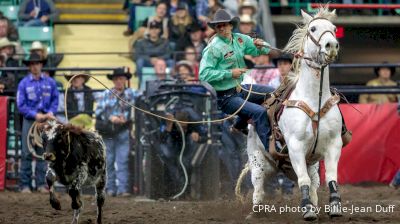 "Being introduced all year as a two-time Canadian champion, it'll get you going no matter where you're at," Shane Hanchey said before the first performance of the 2018 Canadian Finals Rodeo. "If you're at Bruce Stampede, or at Grande Prairie, or Ponoka, it always gets your blood pumping and it'd be pretty cool if they said three-time."
Watch the full interview HERE.
Round's one and two saw Hanchey well on his way to making that a reality after he was 7.8 to split the first round with season-leader Riley Warren, then 7.4 to outright win round two. Round three saw a respectable 8.4-second run to earn a split for second place, and more importantly, allow him some breathing room when his calf kicked in round four.
When he logged an 8.2-second run to split sixth in a rapid round five, Hanchey was poised to strike in the final round of competition - just behind leader Kyle Lucas in both the aggregate and the earnings race. Strike he did.
The Canadian and World champion showed his experience and ability to handle pressure by laying down a 7.9-second run, earning a round check, the No. 1 spot in the aggregate, and his third Canadian title.
From Bruce to Ponoka, Hanchey will now be known as the "three-time Canadian champion".