Straws Milan Keeps His CFR Dream Alive With 3.6 Second Run At Armstrong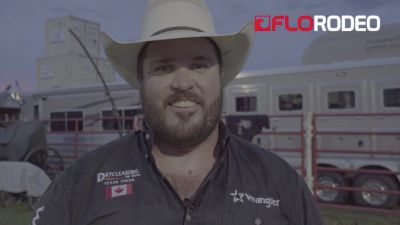 When steer wrestler Straws Milan went out and made a 3.6-second run to go to the lead at the IPE and Stampede in Armstrong, British Columbia, I immediately pulled out my phone in the middle of the arena, opened about four tabs on the CPRA website, and crunched the numbers.
The Canadian Strandings page revealed that Milan is currently the No. 22 steer wrestler in Canada, just $3,660.50 behind the No. 12 man and the cutoff for CFR. The Finning Pro Tour Standings showed he's also 16th in that list and needs just 68 points to pass the No. 10 man and qualify for the tour finals tomorrow.
A quick look at the archived results showed that, last year, Armstrong paid out about $3,500 to win the regular-season rodeo for the steer wrestling and $2,400 to win the tour finals.
So what does that mean? Put it all together and Milan has a chance.
"I'm at the point right now in the season where it's all or nothing," Milan said shortly after his run. "So I figured I had nothing to lose and I took a run at the barrier and it worked out great."
If Milan's lead can hold through the final regular-season rodeo performance tonight, he'll nearly close the gap on the No. 12 man in Canada, Chance Butterfield. Another $2,400 in the tour finals would mean he could also climb a few more spots and sit in a much more comfortable--but not quite safe--position in the standings.
Looking ahead to the final few rodeos in the season, Milan just needs to move up one spot in the Grass Roots Standings to qualify for the additional $5,000 you can win there. So the plan is simple, let it all hang out until the final steer of the season.
"Just keep going at them," Milan said. "I need to definitely be winning, [I have] a good chance in the Grass Roots tour as well so all the rodeos left count for me so I'm going at them like I've been and hopefully it works out."
Even though he has a few deficits to overcome in the standings, it seems that those competitors that have made the CFR before just seem to know how to do it again and again. Knowing his ability and his mental game, I wouldn't be surprised to see Milan's name on the CFR 2018 roster come October.