Zane Lambert After A Strong Ride On C5's Swamp Monster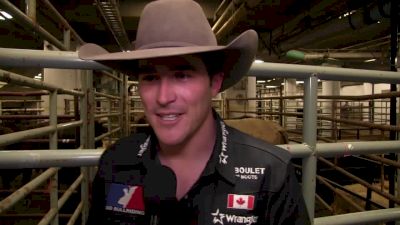 C5 Rodeo's "Swamp Monster" and two-time PBR Canadian champion Zane Lambert picked up a fourth-place cheque in round one with their score of 82 points. The bull riding was the only other event that didn't see a leaderboard change, but Lambert is already looking ahead to the mountain he'll need to climb in the aggregate.

As the only bull rider to make a qualified ride in Pool B, Lambert is the only competitor from his pool with a chance to win the average, but he'll have to earn more than 87 points to do it. Jared Parsonage is the No. 1 bull rider in the aggregate with a combined score of 169 points on two.
Watch the 2017 Pro Agribition Rodeo LIVE on FloRodeo from Nov. 22-25!