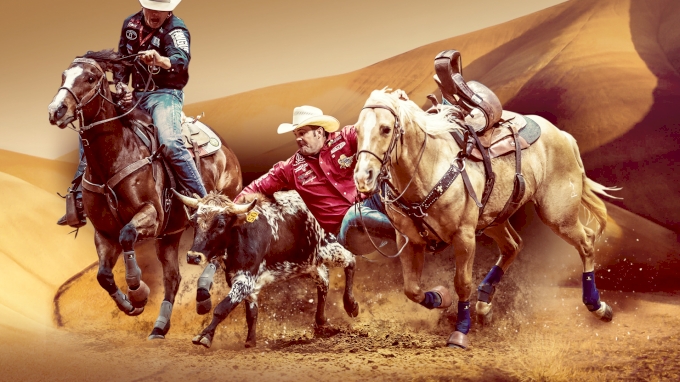 The Shoot-Out is an exciting, tournament-style event that features some of the country's top cowboys facing off in events like bull riding, calf roping, steer wrestling, and more. In the first round, livestock and order are chosen randomly, and as the Shoot-Out progresses, the top finishers from the previous round advance to the next phase of the competition. The top finishers will have their choice of animal in the final round, leaving the other competitors little choice in the matter. The winner of the Shoot-Out will receive a $10,000 check from CINCH.
Results
---
2017 Tri-State Rodeo CINCH Shoot-Out
-
Back to Top
The dirt flew at last night's Tri-State Rodeo CINCH Shoot-Out as some of the country's best ropers, riders, and racers threw down for a chance at the $10,000 prize purse in Fort Madison, Iowa.
| Bareback Riding | Round 1 | Round 2 |
| --- | --- | --- |
| Tim O'Connell | 89.0 | 90.0 |
| Shane O'Connell | 86.5 | 89.5 |
| Jess Pope | 85.5 | 87.0 |
| | | |
| Steer Wrestling | Round 1 | Round 2 |
| Justin Morehouse | 5.53 | 4.47 |
| Tyler Waguespack | 4.95 | 4.77 |
| J.D. Struxness | 4.91 | No Time |
| | | |
| Team Roping | Round 1 | Round 2 |
| Kaleb Driggers/Junior Nogueira | 4.88 | 6.82 |
| Clay Tryan/Jade Corkill | 7.86 | No Time |
| Brandon Webb/Kollin VonAhn | 10.14 | No Time |
| | | |
| Saddle Bronc Riding | Round 1 | Round 2 |
| Cody DeMoss | 88.0 | 89.5 |
| Wade Sundell | 87.0 | 87.0 |
| Brody Cress | 86.0 | No Score |
| | | |
| Tie-down Roping | Round 1 | Round 2 |
| Hunter Herrin | 8.27 | 8.04 |
| Marty Yates | 8.19 | 8.27 |
| Trell Etbauer | 7.98 | 11.52 |
| | | |
| Barrel Racing | Round 1 | Round 2 |
| Carley Richardson | 17.825 | 17.598 |
| Jane Melby | 17.097 | 17.602 |
| Ivy Conrado | 17.601 | 22.703 |
| | | |
| Bull Riding | Round 1 | Round 2 |
| Trevor Reiste | 86.0 | 87.0 |
| Brennon Eldred | 86.5 | No Score |
| Shane Proctor | 85.5 | No Score |
---