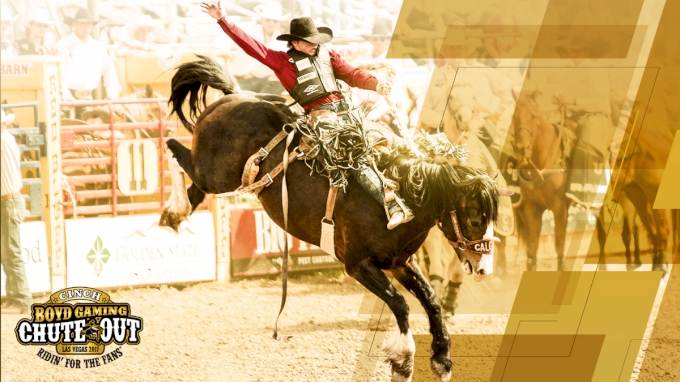 Experience chute-out rodeo at its finest! The third annual Cinch Boyd Gaming Chute Out will stream live on FloRodeo December 7-9 from rodeo's biggest stage in Las Vegas. The all-star lineup of cowboys and cowgirls include acclaimed barrel racers Sherry Cervi and Jana Bean; legendary tie-down roper Fred Whitfield; world champion bull rider Shane Proctor; and crowd favorites in the saddle bronc including Wade Sundell, Spencer Wright, and Rusty Wright.
Bareback Riding
Steven Peebles; Tilden Hooper; Shane O'Connell; Kaycee Feild; Winn Ratliff; Justin Miller; Yvan Jane; and Jessy Davis.

Steer Wrestling
Hunter Cure; Straws Milan; Billy Bugenig; Matt Reeves; Josh Peek; Clayton Hass; Jacob Talley; and Jason Thomas.

Saddle Bronc
Wade Sundell; Cort Scheer; Spencer Wright; Bradley Harter; Rusty Wright, son of two-time world champion Cody Wright; JJ Elshere; Allen Boore; and Isaac Diaz.

Tie-Down Roping
Fred Whitfield; Monty Lewis; Adam Gray; Josh Peek; Blane Cox; Cody Quaney; Ace Slone; and Cimarron Boardman.

Team Roping
Derrick Begay and Clay O'Brien Cooper; Jake Barnes and McCoy Profili; Lee Kiehne and Rich Skelton; Jake Orman and Will Woodfin; Hayes Smith and Clint Summers; Matt Sherwood and Kyle Lockett; Levi Simpson and Buddy Hawkins; and Marcus Theriot and John Robertson.

Barrel Racing
Taylor Jacob; Tammy Fischer; Kelly Tovar; Ari-Anna Flynn; Christine Laughlin; Sherry Cervi; Jana Bean; and Jackie Ganter.

Bull Riding
JW Harris, plus Shane Proctor; Stetson Lawrence; Brett Stall; Brady Portenier; Tristan Mize; Tyler Bingham; and Chase Dougherty.