2022 Canadian Finals Rodeo
Bronc Riders Dominate At Canadian Finals Rodeo In Round 3
Bronc Riders Dominate At Canadian Finals Rodeo In Round 3
The third go-round of the Canadian Finals Rodeo wrapped up in Red Deer Friday night, and there were some noteworthy moments throughout the competition.
Nov 5, 2022
by Barb Poulsen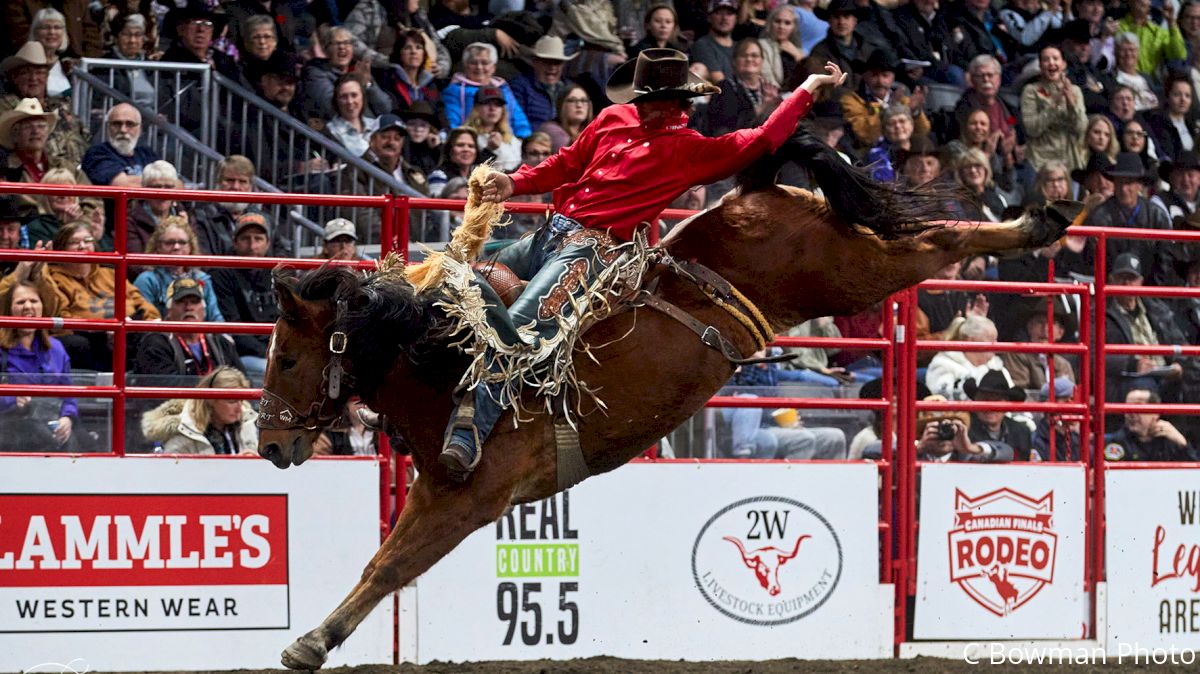 You can put that in the record books as the greatest bronc riding there's ever been and I've seen a bunch of them.
That observation was made by retired eight-time Canadian champion Rod Hay moments after the third go-round of the Canadian Finals Rodeo wrapped up in Red Deer Friday night.
The bronc riding he was referring to saw a pair of 91.75 point rides that (unofficially) eclipsed the 44-year-old CFR record of 91 points set by Mel Coleman in 1978.
Two-time world and Canadian champion, Zeke Thurston, the pride of Big Valley, Alberta, was first to reach that milestone, as he matched up with the Calgary Stampede's amazing Tokyo Bubbles.
Moments later, the last bronc rider of the night, Arrowwood, Alberta, cowboy, Kole Ashbacher, equaled that mark aboard the award-winning OLS Tubs Get Smart from Macza Rodeo.
"That horse and I... our careers started at about the same time," Thurston acknowledged moments after his ride. "I've been in a lot of four rounds and short rounds with Tokyo Bubbles, and that's the first time I've actually drawn her. I was looking forward to that one. I've been waiting for her."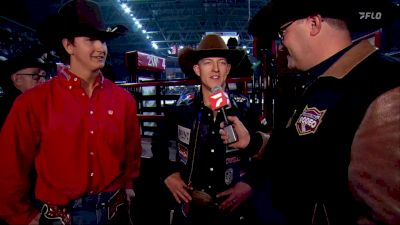 Ashbacher, who was runner-up for the Canadian title a year ago, was one of the last riders to get on Get Smart, as the 20-year-old gelding will be retired after this year's National Finals Rodeo in Las Vegas.
"He's the Canadian Horse of the Year and runner-up for the world title, and he's a little scary," the long, tall 26-year-old Ashbacher admitted. "You get a little nervous when they run him under you (in the chute)."
Nervous or not, Ashbacher was flawless as he matched the much-decorated bay jump for jump.
Ashbacher has gone to the lead in the bronc riding, with Thurston in second place, just $3,100 back, but the roles are reversed in the all-important - and very lucrative - aggregate. There, Thurston is clinging to a slender 1.5-point lead over his main adversary.
Former Canadian champion Layton Green collected a third-place check with an 89 score. Ben Anderson followed his second go-round win with a fourth-place 88.5, and Dawson Dahm was 88.25 to catch a fifth-place check. Incredibly Rod Hay's son, Logan, was out of the money, despite an 87.75-point effort.
The large Centrium crowd erupted as the twin winning scores were announced. Fans will get another opportunity to see this pen of saddle bronc horses during Sunday's final performance of CFR '48.
The Wainwright, Alberta, team roping brothers, Dawson and Dillon Graham, who dominated Canadian Pro Rodeo all season, continue to shine at the 2022 CFR.
The talented duo clocked a speedy 4.3 second run - the fastest of CFR so far in Round 3.
When added to a pair of earlier second-place finishes, the brothers have $23,220 in CFR earnings and continue to enjoy the overall lead and first-place in the aggregate.
In the ladies barrel racing, it was Texan turned Albertan, Shelby Spielman, and her Horse of the Year, Hot Donna, who took the honors in the third round.
The Ponoka duo clocked 13.88 seconds to win the $9,335 top check. Season leader, Bayleigh Choate, continues to lead the overall standings at the halfway point in a Finals, which has seen only two of the 12 competitors run penalty-free over the first three performances.
Australian Strawbs Jones marked his highest CFR score to date in the bareback riding - a spectacular 89.75 points on Canadian Bareback Horse of the Year, 118 OLS Tubs'Stevie Knicks from the Macza Rodeo firm, to win the round.
Veterans Ty Taypotat (Nanton, Alberta) and Caleb Bennett (Corvallis, Montana) hold down first and second place overall, and in the all-important aggregate. Bennett was second in the round, with Taypotat right behind him in third place.
Cochrane cowboy Tanner Milan continues to be the model of consistency in the steer wrestling event. The two-time Canadian champion recorded his second go-round win Friday evening with a 3.9 second run. When added to his earlier placings, the veteran has over $20,000 in CFR earnings and has moved solidly into contention for a possible third title.
Granum, Alberta's Wyatt Hayes earned the tie-down roping buckle in Round 3 with an 8.0-second run. The win also catapulted Hayes to the lead in the All-Around race.
Jordan Hansen, the 2016 Canadian Bull Riding champion, turned in a dazzling 89.75-point ride on Vold Rodeo's 24 Out Of The Blue for the go-round win. With two out of three bulls covered, Hansen moves to first in the aggregate - just 4.5 points up on overall leader Jared Parsonage, who bucked off Friday night, but still holds a commanding lead.
Round 3 Bull Riding Winner once again is Jordan Hansen on Vold Rodeo's 24 Out of the Blue for 89.75 pts. #prorodeocanada #WhereLegendsAreMade #CFR48 #bullriding pic.twitter.com/0vD5hez73n

— Pro Rodeo Canada (@prorodeocanada) November 5, 2022
The 2022 novice champions were declared after three rounds of competition.
Novice bareback season leader, Blake Link from Maple Creek, Saskatchewan, won his third straight round for a total of $10,532 in earnings and the title.
In the novice saddle bronc event, despite having a challenging CFR, season leader, Colten Powell, maintained his hold on top spot, finishing the year with over $22,000 in winnings and the champion's buckle.
In the junior steer riding, Sundre cowboy, Glen Erickson, marked a 76.50 for the top check on Night 3, while Nash Loewen maintained his hold on No. 1 overall.
For complete results, go to rodeocanada.com.
Round 4 of CFR '48 gets underway at noon Saturday, followed by a second performance at 6 p.m. All of the action will be at Peavey Mart Centrium, Westerner Park in Red Deer.