2022 Canadian Finals Rodeo
Stellar Round of Steer Wrestling On CFR Night Two
Stellar Round of Steer Wrestling On CFR Night Two
It was a couple of veterans—Curtis Cassidy and Stephen Culling—who were the fastest in a speedy round of steer wrestling.
Nov 4, 2022
by Barb Poulsen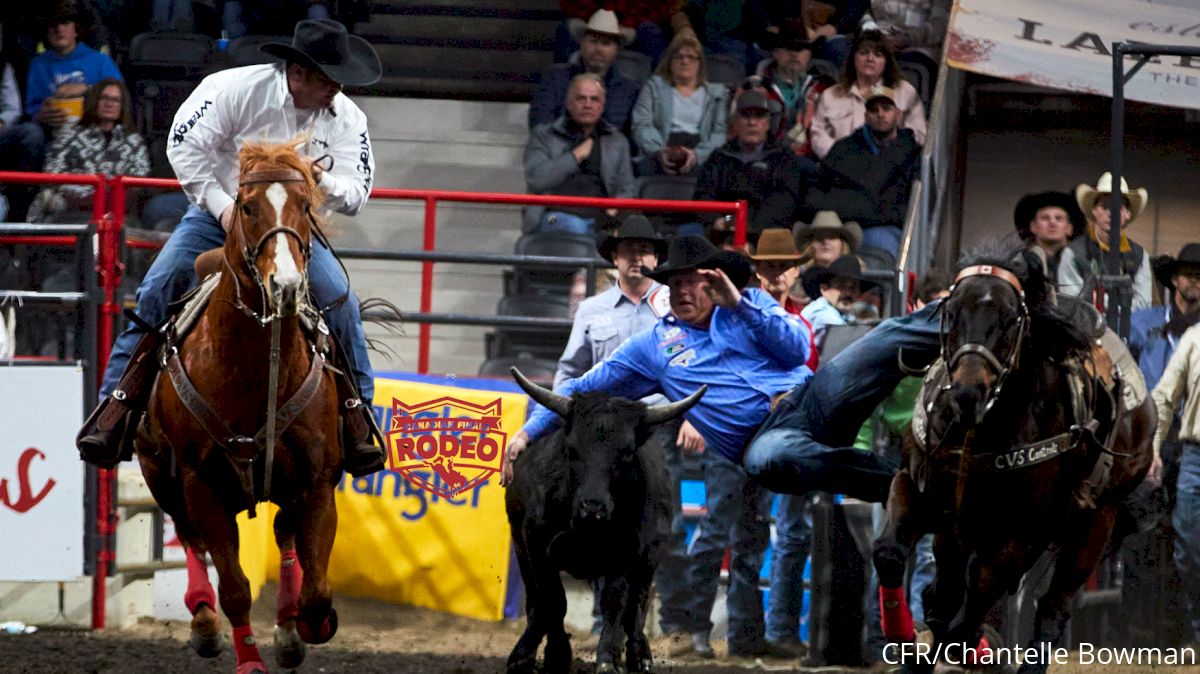 When a 4.1 second run earns only a fifth-place tie, you know you're seeing a lightning-fast round of steer wrestling. And that's exactly what a near capacity crowd witnessed Thursday night at the Canadian Finals in Red Deer, Alberta.
It was a couple of veterans—Curtis Cassidy and Stephen Culling—who were the fastest of a speedy group. The much-decorated Cassidy—holder of twelve Canadian titles, and Culling, the former CFR Average Champion, bulldogged their steers in 3.6 seconds to share top honours in the go round.
"Obviously when you're 3.6, you've got to have good steers," Cassidy noted. "We were riding Tyson and Eddie tonight and they're two of the top horses going down the road. That's super important as well. Then drawing good steers, the rest is up to us. We had Baillie Milan on the other side doing the hazing and that helps as well."
Culling agreed with his fellow competitor. "The horsepower is what makes a difference in this event and when you're riding two of the top horses in the world, it takes care of that."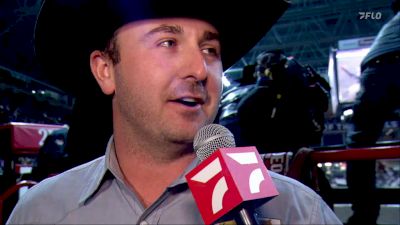 Cassidy's mount, Tyson, just won Canadian Steer Wrestling Horse of the Year for the fourth time and the American honours for the second time.
For both cowboys it was redemption as Cassidy took a no time on night number one of CFR '48 while Culling broke the barrier and had to settle for a 14.1 second run Wednesday. Despite that, the British Columbia cowboy went to the overall lead with $51,229 in season earnings with two-time champion, Scott Guenthner, falling to second spot about $1100 behind Culling.
In the bareback riding, a couple of old friends got together and the result was electric. Caleb Bennett, the Corvallis, Montana bareback rider combined with Duane Kesler Championship Rodeo's Little Rotten and Bennett was rewarded with an 86 score. The $9335 first-place cheque took him to third place overall, just $11,000 back of overall leader Ty Taypotat who followed up his opening night win with a second place 85 score in round two.
Bennett and Little Rotten had met previously as the seven time CFR qualifier was 88 points to win the inaugural Valley West Stampede at Langley, British Columbia.
"I was pretty tickled when I heard what I drew," the number three man in the world commented. "That's the one most guys wanted in the pen. He's testy and a little bit there but gives you a chance to still do your job." Bennett had to overcome a banged-up wrist for the win. "I don't know if was the adrenaline or the cold taking the edge off but my wrist isn't feeling too bad right now. It worked out which is awesome."
Other Thursday night winners included Longview cowgirl, Kylie Whiteside, who topped the field in the barrel race with a 13.94 second run. Texas cowgirl Bayleigh Choate still holds down the overall lead despite her eighth-place finish in Thursday's go-round.
Saddle bronc rider, Ben Andersen, rode 43 Macza Rodeo's Im A Winner to 87.75 points for first place in the round while season leader Logan Hay rebounded from an opening night buck-off to claim second place with an 87 point ride on Thursday night.
In the team roping event, Claresholm, Alberta's Chase Simpson, and his partner, Travis Speer (Blue Ridge, AB) were a rapid 4.8 for the go-round win. The pair edged season leaders Dawson and Dillon Graham - who posted their second consecutive five second run to consolidate their hold on first place overall.
Glentworth, Saskatchewan tie-down roper, Jesse Popescul, captured first place with his 8.8 second run and moved to within $2600 of overall leader, and first go-round winner, Beau Cooper.
And rookie bull rider, Dawson Shannon, managed an 86.5 mark on Duane Kesler Championship Rodeo's 721 Jack Knife. Season leader, Jared Parsonage, is the only bull rider to have ridden both his bulls and his extended his lead to $17.000 over second place man, Lonnie West.
In the novice bareback riding, Blake Link won the round on Big Stone Rodeo's LT88 Whiskey Bent while in the novice saddle bronc riding, Tyrel Roberts won for the second night in a row with a 73.75 score on Legend Rodeo's 23 Artificial Colours. The junior steer riding event saw Nash Loewen post an outstanding 81.75 score for the go-round win.
For complete results, go to rodeocanada.com
Round three of CFR '48 gets underway at 6 pm Friday evening at the Peavey Mart Centrium, Westerner Park in Red Deer.