2022 Canadian Finals Rodeo
Canadian Finals Rodeo: Check Out This Year's Top Contenders
Canadian Finals Rodeo: Check Out This Year's Top Contenders
For the first time since 2006, a bull rider will wear the coveted No. 1 back number at the Canadian Finals Rodeo, which is just a couple weeks away.
Oct 21, 2022
by Tim Ellis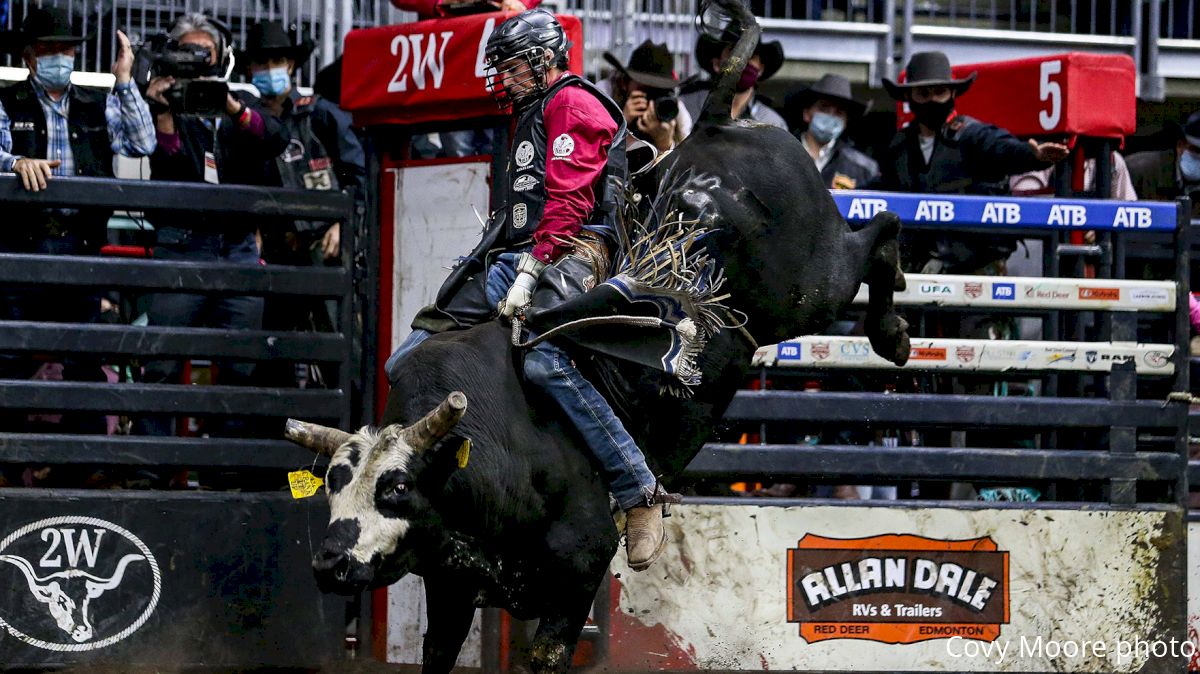 For the first time since 2006, a bull rider will wear the coveted No. 1 back number at the Canadian Finals Rodeo.
Maple Creek, Saskatchewan's Jared Parsonage won a regular-season record, $59,066 during the 2022 Pro Rodeo Canada campaign to earn the distinction.
The last bull rider to wear that number was two-time Canadian champion, Scott Schiffner. Parsonage, the defending champion, is hoping to join Schiffner as a two-time winner.
Parsonage's closest competition coming into Red Deer is Cadogan, Alberta's Lonnie West, who is some $12,000 behind the reigning champion. Also in the field are 2019 winner Edgar Durazo, 2016 champ Jordan Hansen and Dakota Buttar, who returns to the CFR for the first time since 2016, the year after he won back-to-back Canadian titles.
Four other events saw regular-season earnings records established this year. That included the barrel racing, where Bayleigh Choate of Fort Worth, Texas, won nearly $49,000, eclipsing the record set by Carman Pozzobon in 2018.
Choate heads up a wide-open field of barrel racers, which only has one previous Canadian champion in it - Justine Elliott of Lacombe, Alberta, who is the defending champ.
The steer wrestling regular season earnings had stood for 12 years, until two-time Canadian champion, Scott Guenthner set a new mark this season with $49,822. That was $11,000 more than the previous standard set in 2010 by six-time champion, Cody Cassidy, who missed qualifying for the Finals after winning that record sixth title last year.
Not far behind Guenthner is Cassidy's traveling partner, Stephen Culling, who won over $43,000 during the season.
Curtis Cassidy is back in this year's field, too. It will be his record 22nd CFR appearance in the steer wrestling and a record 37th overall qualification for the 44-year-old, who has never missed competing in the bulldogging or tie-down roping at the Finals in his 26-year pro career.
Both the team roping header and heeler divisions saw new earnings records, as well.
They were set by Dillon and Dawson Graham of Wainwright, Alberta, who teamed to win $40,933 each and will carry respective leads of $11,000 into Red Deer.
The former heeling record holder, Tristan Woolsey, is in the No. 2 spot behind Dillon Graham, while the field also includes two-time Canadian champion Brett McCarroll, 2016 world champion Jeremy Buhler and veteran Riley Wilson, who will make his 16th CFR team roping appearance, one behind the record held by Rocky Dallyn.
On the heading side, Dawson Graham will face challenges from 2016 world champion and four-time Canadian champ Levi Simpson and 2013 Canadian champion Kolton Schmidt.
Zeke Thurston is back to defend his saddle bronc riding championship, but it will be far from easy.
The Big Valley, Alberta, cowboy is among five bronc riders who also have qualified for the National Finals Rodeo in Las Vegas.
That group includes Logan Hay, who set a record with a 95.5-point ride at the Hardgrass Bronc Match in Pollockville in late July. Hay, the season leader coming into the Finals, will be seeking the first saddle bronc championship for the Hay family since his dad, Rod, won his record eighth buckle in 2004.
In the bareback riding, Cole Goodine almost went wire to wire as the season leader since winning $5,100 at the Maple Leaf Circuit Finals in Regina last December to kick off the 2022 season.
He placed in eight of his first nine rodeos to start the season and was the top money earner in Canadian pro rodeo by early June, before finishing the campaign with just over $47,000. Ty Taypotat, who was runner-up to Clint Laye for the 2021 championship by less than $300, finished second in the standings, while Laye was fourth. Orin Larsen, the 2019 bareback champion, also is back in the mix.
The tie-down roping contingent is led by Eckville, Alberta's Clayton Smith.
The field includes 2021 PRCA Rookie of the Year Beau Cooper, defending champion Riley Warren, Texas Ty Harris and 2018 runner-up Kyle Lucas.
And, for the first time, there will be a full field of 12 breakaway ropers. It's led by defending champion Kendal Pierson and will include Bradi Whiteside, who also qualified in the barrel racing and will wear No. 6 at the Finals.