2022 Canadian Finals Rodeo
Regular Season Ends With Shakeup, Field Packin' For Canadian Finals Rodeo
Regular Season Ends With Shakeup, Field Packin' For Canadian Finals Rodeo
Nick Patterson picked the perfect time to put together the highest-marked ride of his pro career, and he's now headed to the Canadian Finals Rodeo.
Sep 26, 2022
by Barb Poulsen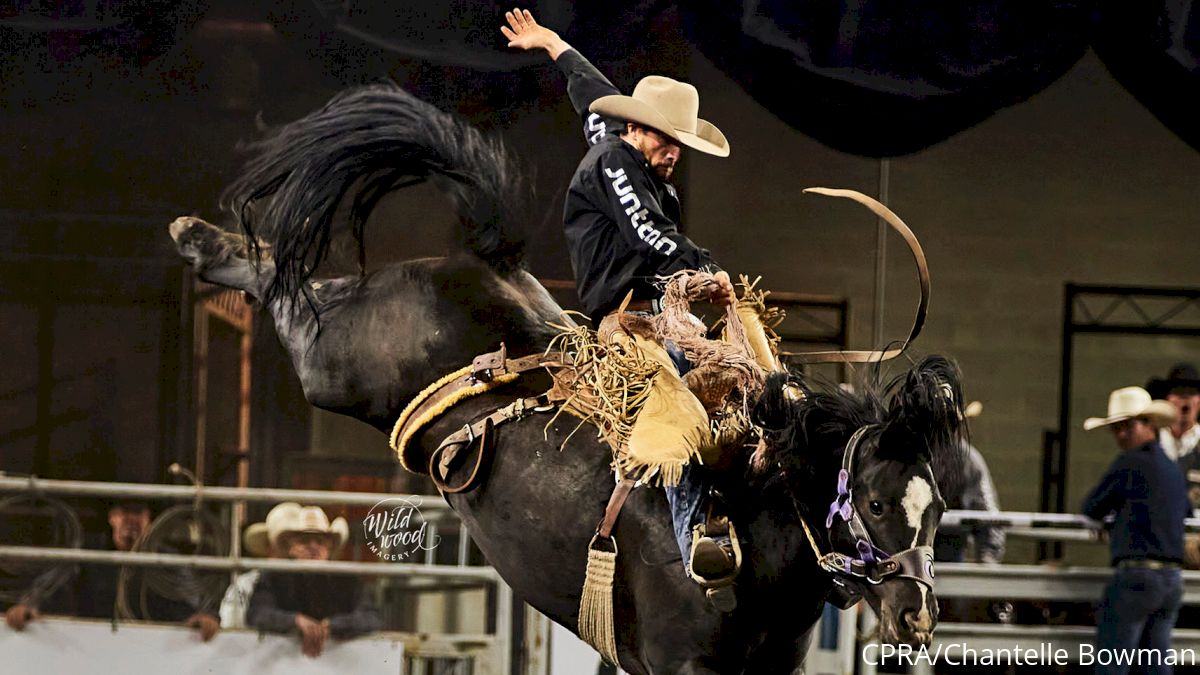 Nick Patterson picked the perfect time to put together the highest-marked ride of his pro career.
The 26-year-old bronc rider combined with C5 Rodeo's 642 Houchie Mama for 87 points and finish second at the Edmonton Pro Rodeo (an SMS Equipment Pro Tour stop), bettered only by two-time world and Canadian champion, Zeke Thurston's 90-point gem aboard C5's A11 Oney.
Patterson's $2,291 payday on the final weekend of the CPRA regular season vaulted the Blackfalds, Alberta, cowboy from 14th place in the standings entering the weekend past Montana bronc rider Houston Brown and CFR/NFR stalwart, Dawson Hay, and into the 12th, and final, CFR qualifying spot.
The talented Hay will have to be content with another NFR berth (one of six Canadian bronc riders heading to Las Vegas in December), as he'll be absent from the CFR '48 bronc riding roster, as a result of Patterson's weekend magic.
"I knew I had a shot," Patterson, a second-year pro, acknowledged. "But I tried not to think about it too much. I didn't know anything about the horse I had until about 45 minutes before I got on. Houchie Mama had been in the (United) States for most of this season, so I talked to (C5 flankman) Tyson Cardinal and tracked down (Montana bronc rider) Qwinton Stroh to get a rein measurement. He was a pretty nice horse. A couple of ducks, but nothing too bad."
Patterson admits to being a bit of a late bloomer, as he didn't get on his first saddle bronc until he was 20 years old.
"I was team roping with the Mestons, and they convinced me to get on a saddle bronc they had, and I was hooked."
Turns out that was a game-changing moment for the central Alberta cowboy, and he'll now head to his first CFR, where he expects there just might be a few friends and family on hand from nearby Blackfalds to cheer him on.
Additional Drama In Season Finale
The bronc riding wasn't the only event providing drama at the season's final rodeo, as there was a shakeup among the team roping headers, too.
The 13th- and 14th-ranked men, Wyatt Hayes and Travis Speer, both made big moves on their last runs of the regular season.
Speer, the Blue Ridge, Alberta, cowboy, and header Chase Simpson (Claresholm, Alberta) turned in a 4.1-second run to split the win (worth $2,292) with two sets of brothers - Tyce and Tuftin Mcleod and Keely and Logan Bonnett.
Meanwhile Hayes, a Granum, Alberta, roper, and his partner, Lachlan Richardson (Nanton, Alberta) stopped the clock in 5.5 seconds for a 5/6 split with fellow Albertans, Jeremy Buhler and Roland McFadden, to collect a much-needed $1,292.
The solid performances from Hayes and Speer moved Hayes to 11th and Speer to 12th in the heading standings and bumped Utah header Rhen Richard and Waldeck, Saskatchewan's Tee McLeod to the sidelines.
And, there will be additional intrigue in the days ahead, as a couple of headers, Hayes and former world and Canadian champion, Levi Simpson - along with heelers Jeremy Buhler and Tyce McLeod - all will head to Red Deer without their regular partners.
Simpson and Buhler have a celebrated history together. In 2016, they became the first Canadians to win a world team roping title, but no decisions on new alliances have been announced so far.
For complete unofficial results from Edmonton, go to rodeocanada.com.