2022 CPRA at Lethbridge
Triple Play For Graham Team Roping Brothers
Triple Play For Graham Team Roping Brothers
The Graham brothers have made a habit of winning. But the Wainwright duo took it to a new level this weekend, claiming top honors at all three CPRA rodeos.
Aug 30, 2022
by Barb Poulsen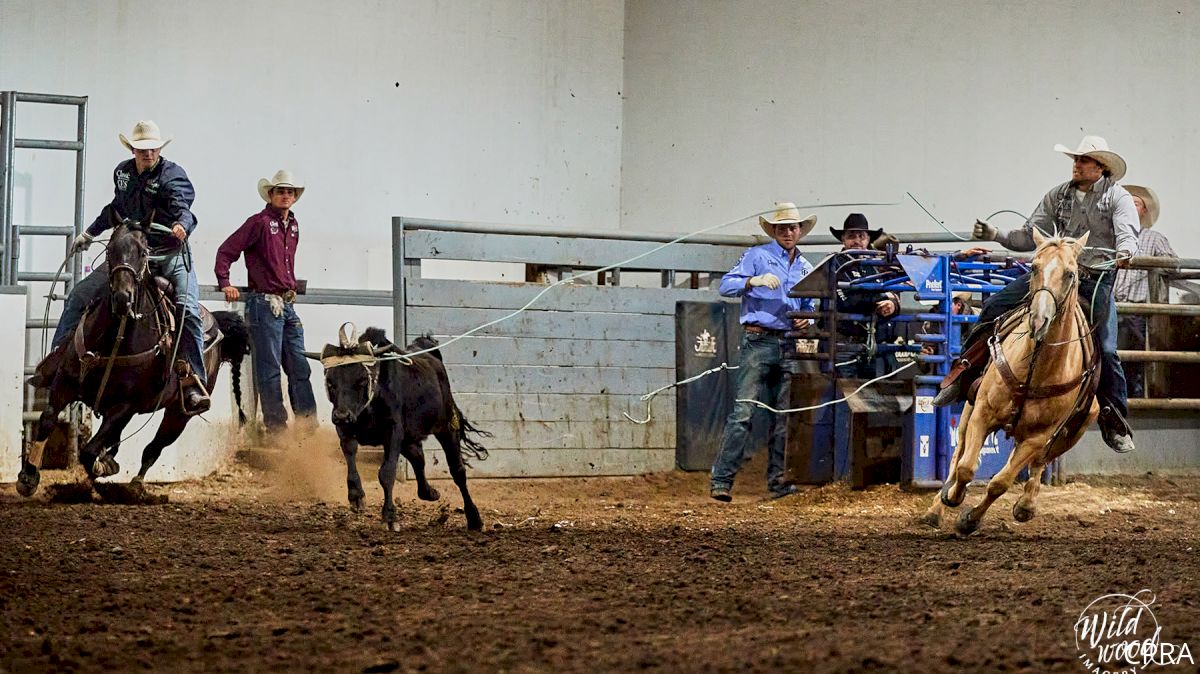 The Graham brothers, Dawson and Dillon, have made a habit of winning. But the Wainwright duo took it to a new level this weekend, claiming top honors at all three CPRA rodeos, including the SMS Equipment Pro Rodeo Tour stop in Lethbridge, and padding their respective bank accounts by more than $6200.
"Yeah, we were talking about it at breakfast this morning and we couldn't remember ever winning three in one weekend before," 23-year-old Dawson, the duo's header grinned.
The sweep saw the Grahams put together runs of 4.9 seconds ($2480) at the Lethbridge Pro Rodeo, 4.3 ($1935) at the Okotoks Pro Rodeo and a rapid 4.2 ($1816) at Taber's Harvest Round-Up. The weekend success solidifies the team's hold on first place in the Canadian standings, vaults them to top spot in the Maple Leaf Circuit standings and moves them into contention for the SMS Equipment Pro Tour overall title.
The Wainwright cowboys are on a pace to top their performance of 2019 when they finished up as regular season leaders with nine wins during the campaign.
This year they already have ten wins to their credit and are on target to enjoy their most successful regular season to date. "It seems like if we catch, we have a good chance to be pretty fast," Dawson acknowledged. And the evidence supports that statement. Of 18 placings in 2022, ten have earned the brothers first place cheques.
The result is that Graham and Graham stand a very good chance of sitting atop the standings when the CFR gets underway in November.
"Our horses have been good and we've got the Finals made so we're having fun," Dawson noted. "For now we just want to keep winning—that's what we work at all the time."
"We're with each other every day and we're both pretty confident in what the other guy can do," his 21-year-old heeling brother, Dillon, added. "Hopefully we can just keep on keepin' on."
It was a productive weekend for a number of CPRA athletes including reigning Canadian Bareback Riding Champion, Clint Laye. The Cadogan hand topped the field at the Smithers, British Columbia BVX Bareback Riding event with an 84.5-point ride on C+ Rodeo's WY21 Unleashed in the first go and split 4/5 in the second go with an 86.5 for a two head total of 171 to earn $3247. Laye added another 84.5-point effort, this time at Lethbridge on Northcott-Yule's 706 New Blood to add another $2500 to his bank account.
And Longview, Alberta cowgirl, Kylie Whiteside, doubled up at Taber, winning both the barrel racing honour (13.64 seconds, $1569) and the breakaway roping (2.33 seconds, $1232).
Complete results are available at www.rodeocanada.com
This week CPRA athletes will head west to British Columbia for the IPE and Stampede (SMS Equipment Pro Rodeo Tour-Armstrong) August 31-Sept 2 and the SMS Tour Finals (Armstrong) September 3; the Nicola Valley Pro Rodeo (Merritt), Sept 3-4, and the newly-minted Valley West Stampede (Langley) Sept. 3-5.