2022 CPRA at Dawson Creek
Jordan Hansen Makes Big Move With Two Wins On Canadian Soil
Jordan Hansen Makes Big Move With Two Wins On Canadian Soil
For 2016 Canadian Bull Riding Champion, Jordan Hansen, it was a lot of miles, bookended by the smile of a winner.
Aug 17, 2022
by Barb Poulsen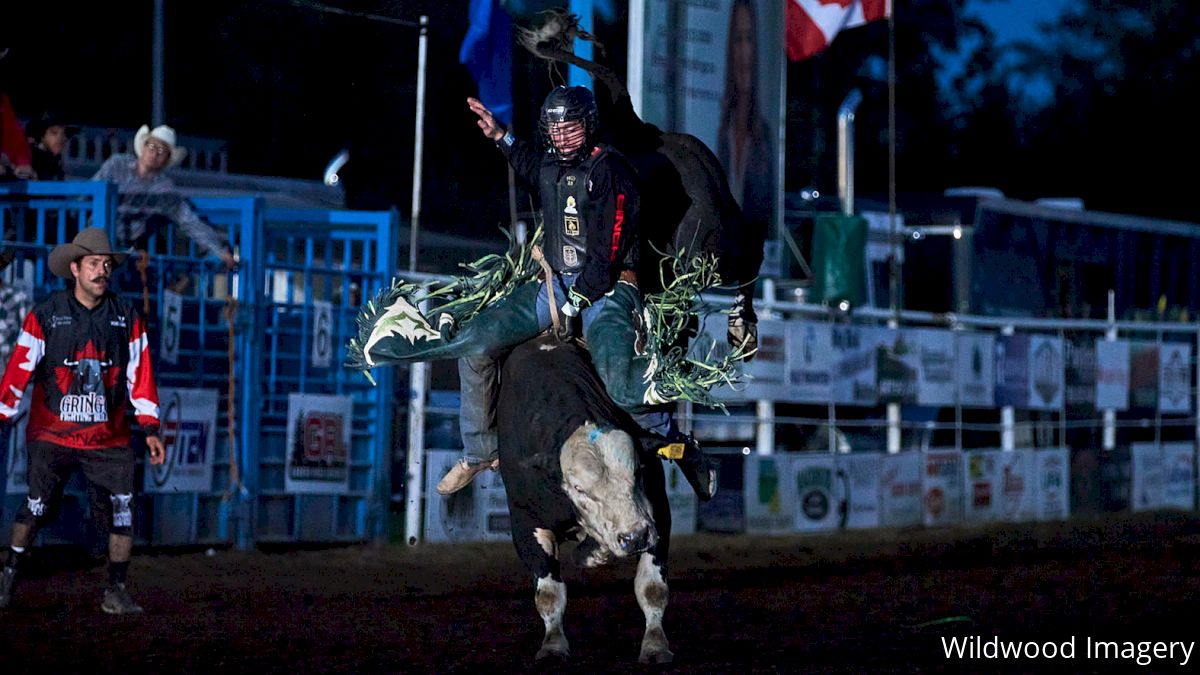 For 2016 Canadian Bull Riding Champion, Jordan Hansen, it was a lot of miles, bookended by the smile of a winner.
The journey began with Hansen's win at La Crete, Alberta's Field of Dreams Stampede, where his 86.5-point ride on Outlaw Buckers' Alberta Premium garnered the cowboy from Amisk, Alberta, a $1,647 payday.
Then, Hansen and traveling buddy, reigning Canadian Champion Jared Parsonage, headed back across the border to the U.S.
"We've been spending the majority of our time down south," Hansen noted. "But, this time, I kind of got skunked."
This led to the next leg of the trek - an overnight drive from Omak, Washington, to Dawson Creek, B.C., for the 100th Dawson Creek Exhibition and Stampede and a meeting with Duane Kesler Championship Rodeo's Ivy League.
"He's a pressure bull," Hansen grinned. "I find I pressure up more on bulls like him that everybody is supposed to ride than the ones nobody rides. I was glad it worked out."
In fact, it worked out to the tune of 88 points on the veteran Kesler bull for a tidy $3,421.
The two wins on Canadian soil, made even sweeter by the fact that the Dawson Creek event is part of the SMS Equipment Pro Tour, have the 2017 National Finals Rodeo qualifier confident heading into the regular season's stretch run and a possible return to Las Vegas in December.
"There's a lot of really good rodeos coming up, and it just takes one good weekend to put you into the mix, so I definitely have a really good chance," Hansen said.
The twin Canadian successes will move him to within $13,000 of that sought after date with the bright lights of Vegas and to third place in the Canadian standings.
Parsonage, the season leader who was third at La Crete and split 2-3 in Dawson ($3,563), sits in 15th spot in the world as of this writing. Like his traveling partner, he is a genuine threat to put in an NFR appearance of his own.
For another Jordyn - different spelling, same result - it was a first pro win.
Jordyn Tressider, from Cochrane, Alberta, topped the field in the barrel racing with a 15.39 second run at Dawson Creek, good for a $2,914 cash injection that puts the rookie very much in the CFR conversation.
For complete unofficial results, see rodeocanada.com.
This week will see CPRA rodeo athletes stay further south, as they travel to Pincher Creek Pro Rodeo in southern Alberta and Cranbrook Rodeo in southern B.C.
Both events run Aug. 19-21 and are part of the Maple Leaf Circuit.