2022 CPRA at Medicine Hat
CPRA Athletes Make Hay On Three-Province Weekend
CPRA Athletes Make Hay On Three-Province Weekend
Lachlan Miller was 11th in the Canadian standings heading into last weekend's action and took a step toward making this year's CFR by earning three wins.
Jul 27, 2022
by Barb Poulsen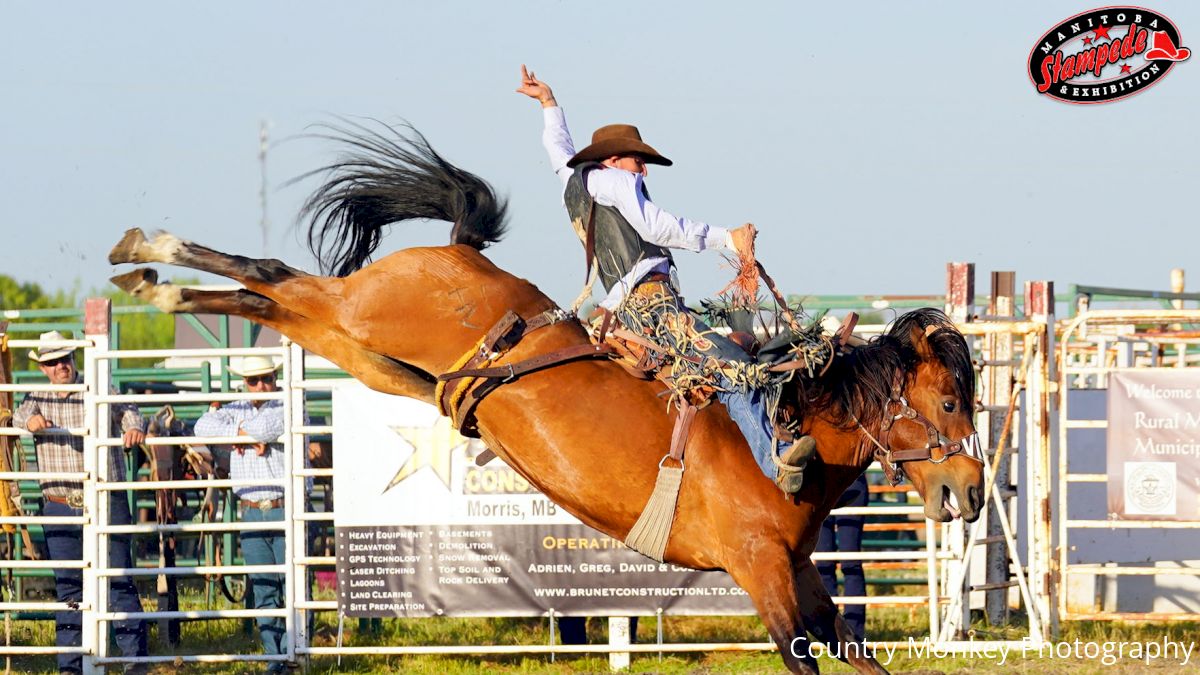 For saddle bronc rider, Lachlan Miller, the end of the 2021 regular season was, to say the least, stressful. It came down to the last rodeo of the season for the Australian, who has made Canada his home since 2018.
"I rode in the second performance at Hanna and then had to wait to see what happened with Kolby Wanchuk on the last day to find out if I made the CFR," the 29-year-old hand recalled.
And though things went Miller's way that time around, he's quick to acknowledge that he wouldn't mind getting a CFR berth locked up just a bit sooner in 2022.
"Yeah, last year was fun, but I'd like to be a bit safer, a bit sooner this time, maybe not leave it to the last minute."
Miller, who was 11th in the Canadian standings heading into last weekend's action, took a giant step toward punching his ticket to this year's CFR by posting wins at both the SMS Equipment Pro Rodeo Tour stop at the Manitoba Stampede (Morris). He then added another first-place finish at the Rockyford Pro Rodeo in Alberta.
For the likeable Airdrie resident, it was a weekend of firsts.
"That's the first time I've won two rodeos in a weekend, and it was also my first Tour win as well," Miller noted."
The third-year pro posted an 84 score on the Wayne Vold bronc (Vegas) for a $2,472 payday.
"My mates told me to have fun on that horse, that he'd make it easy for me, and that's exactly what happened."
He followed up with a 79-point ride on Northcott-Yule's Smokin' Hippy for the Rockyford win and another $770. The $3,244 haul will bump the Australian comfortably into the top 10 in the Canadian standings.
As for the challenge of butting heads with the tremendous crop of young Canadian bronc riders (five of them in the top 15 in the world at present), Miller relishes the challenge.
"I just see it as riding with my mates, and I'd rather be riding up to guys who are that good, than be riding down to guys that are just OK, and these guys make you want to be better."
Miller wasn't the only two-event winner on the weekend.
Manitoba tie-down roper, Stran Dunham, was the top money earner, courtesy of a 9.0 second run to take top spot in Morris and $2,368, plus and an 8.0 winning run at the Moose Mountain Pro Rodeo in Kennedy, Saskatchewan, to add $1,881 for a solid $4,240 injection to the bank account.
Not to be outdone, team ropers, Rhett Haveroen and Walker Galloway put together a couple of firsts as well - their 5.9-second run at Morris earned the pair $1,735 each, while a 5.2 run at Rockyford netted the Alberta duo $1,297 each for a weekend total of $3,043 per man.
For complete unofficial results, go to rodeocanada.com.
It's a busy week on the Canadian rodeo schedule, with the Medicine Hat Stampede kicking it off July 28-30, the Strathmore Stampede taking place July 29-Aug. 1, Hardgrass Bronc Match in Pollockville on July 30, Bruce Stampede on July 31 and the High Prairie Stampede on Aug. 2-3.
*The Medicine Hat Stampede, Strathmore Stampede and Hard Grass Bronc Match (Pollockville) will be live streamed on FloRodeo.