2022 CPRA at Teepee Creek
Scott Guenthner Tops Leaderboard At Teepee Creek And Bowden
Scott Guenthner Tops Leaderboard At Teepee Creek And Bowden
After missing the Canadian Finals in 2021, along with a shot at the recently completed Calgary Stampede, Scott Guenthner is clear about his goals for 2022.
Jul 19, 2022
by Barb Poulsen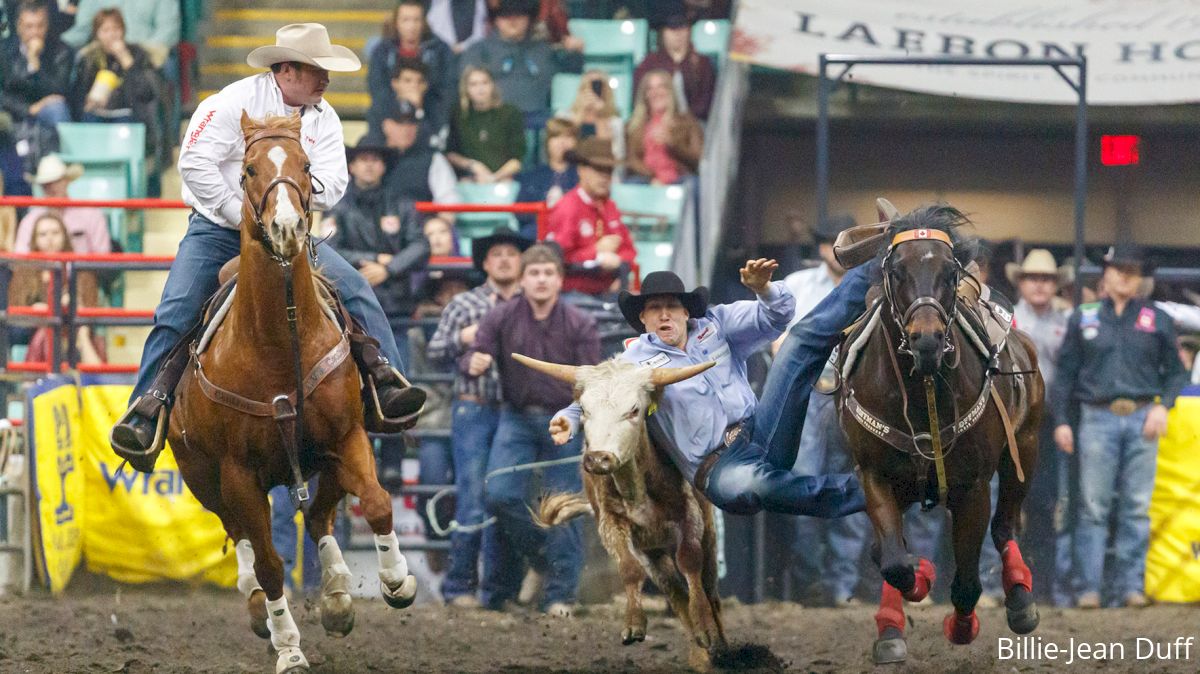 It seems odd to suggest that Scott Guenthner is on the comeback trail, but in a way, that's exactly where the outstanding career of the two-time Canadian Steer Wrestling Champion is right now.
After missing the Canadian Finals in 2021, along with any shot at the recently completed Calgary Stampede, Guenthner is very clear about his goals for 2022.
Getting back to the CFR, winning another Canadian title, competing at the Maple Leaf Circuit Finals and earning a coveted berth at the Calgary Stampede all are part of the Provost cowboy's future aspirations.
Guenthner's game plan took a couple of steps in the right direction over the weekend as he topped the field at the Teepee Creek Stampede with a 3.9-second run and $1,903 payday, then split top spot with Layne Delemont at Bowden Daze, as both cowboys posted rapid 3.7-second runs for $1,102 each.
"Yeah, it wasn't a bad weekend," the 30-year-old Guenthner acknowledged. "When you're not at Calgary, you better do something at these other places."
Guenthner also admitted he's not missing the hard miles associated with chasing those WNFR qualifications.
"I really want to spend more time with my family, and I needed to be here on the ranch more with dad. (Wife Becky and the boys - Quaid, who is 2, and Ridge, 7 months, very much are onside with that sentiment). Plus, I'm not missing the driving, especially being on the road at night."
Guenthner had a couple of close calls last year, the first with a moose coming through the windshield of the minivan he was driving.
"I'm lucky to be alive... the moose ended up in the passenger seat, then went out the passenger door. Wrote off the mini-van. Then, not long after that, I had a deer run out of the ditch and hit that vehicle from the side. I decided that was enough night driving."
So, Canada it is for the three-time NFR qualifier.
"I really want to get to all the Canadian rodeos I can," he added. "I'll be heading out to Morris, Manitoba and Kennedy, Saskatchewan this week. I feel bad that I won't be going to Rockyford, but I just couldn't make it work. I hope they have it again next year and that I can get there. I like to support the smaller rodeos as much as I can."
With a couple of solid young horses - Booger and Double Double - carrying the load, Guenthner is back and sitting solidly in second place in the Canadian standings.
"I'm having fun," he chuckled. "If you're not having fun, you shouldn't be doing this."
South of the 49th parallel, there was a strong CPRA presence as the inaugural NFR Open - Powered by RAM, wrapped up in Colorado.
One of the biggest rodeos of the 2022 Pro Rodeo season, with $1 million in payouts, the July 13-16 event saw more than 200 contestants from each of the 12 United States Circuits, plus Canada's Maple Leaf Circuit, compete in the seven major events and breakaway roping. It all culminated with a semifinals and finals July 16, where the national circuit champions were crowned.
Among the CPRA athletes on the leaderboard were Roosevelt, Utah's team roping header, Rhen Richard, and his Canadian heeling partner, Jeremy Buhler, who won a round and the average to collect over $8,600.
The Graham brothers from Wainwright, AB, Dawson and Dillon, padded their bank accounts by $3,071 with a third place in the second round and Ponoka, AB brothers Logan and Keely Bonnett were fifth in the team roping average for $1,194. Stettler, AB steer wrestler, Ryan Shuckburg, collected $1,194 for a second-round, fifth-place result, while Glentworth, SK tie down roper, Jesse Popescul was fifth in Round 1, also for $1,194.
Peso, the outstanding rope horse owned by the Bird family of Nanton, AB, is at it again. Not only did Caleb Smidt ride the buckskin gelding to the big cheque and bronze on Championship Sunday at the Calgary Stampede, but over $100,000 has been won in July alone on the back of the 2021 Canadian Tie-Down Roping Horse of the Year. And, over $16,000 of that total was won by 2017 Canadian Champion, Logan Bird.
Next up on the CPRA calendar are three rodeos in three provinces: the Manitoba Stampede and Exhibition (SMS Equipment Pro Tour event) in Morris, Manitoba (July 22-24) and two Maple Leaf Circuit stops - Moose Mountain Pro Rodeo in Kennedy, Saskatchewan, and the Rockyford Rodeo in southern Alberta, with both slated for July 23-24.
For complete results and the full CPRA schedule, check out rodeocanada.com.