Cowboy Christmas A Game Changer, Offers New Outlook For Rest Of Season
Cowboy Christmas A Game Changer, Offers New Outlook For Rest Of Season
Cowboy Christmas was greeted with smiles from athletes who look forward to that week every year. For some, it provided a game-changing injection of cash.
Jul 6, 2022
by Barb Poulsen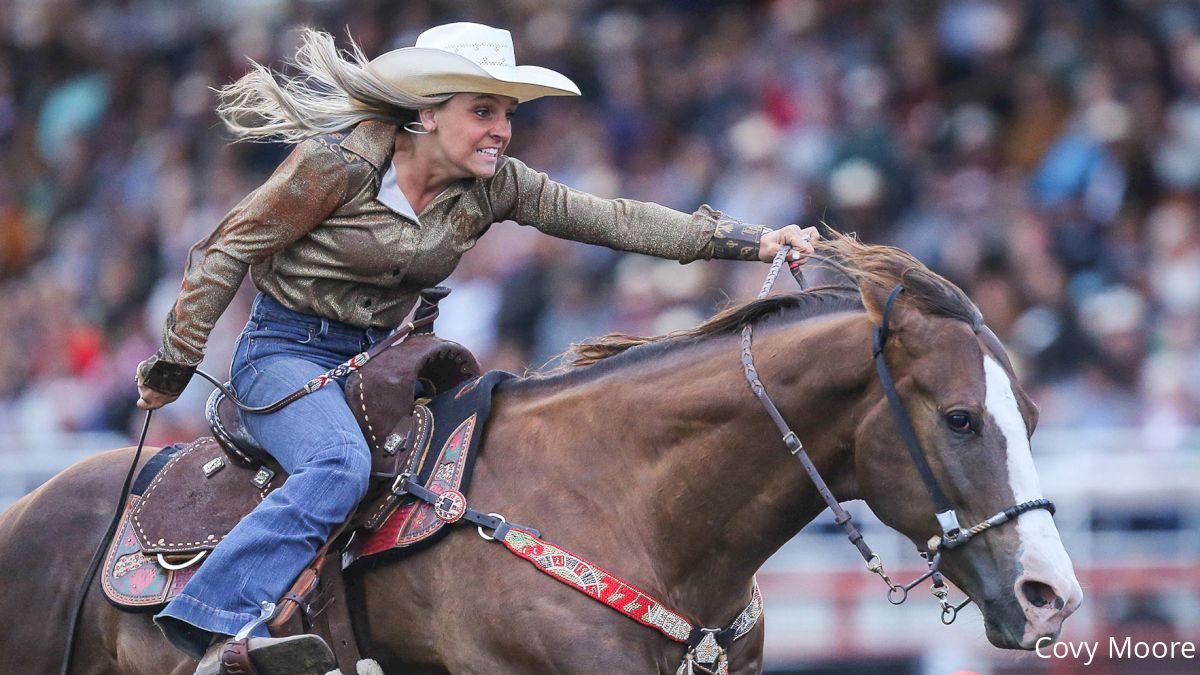 It's called Cowboy Christmas for a reason.
The return of the Canada Day holiday run on this side of the 49th parallel was greeted with big smiles on the faces of rodeo athletes who look forward to that week every year. For some, it provided a game-changing injection of cash that impacts both CPRA and PRCA standings and even how big winners will plan the balance of their seasons.
No one was more successful over the July 1 run than the recent high school graduate, Bayleigh Choate.
The barrel racing sensation from Fort Worth, Texas, won both go-rounds, the championship round and the Showdown at the Ponoka Stampede for a $21,301.40 payoff. She then added a second-place finish at the Williams Lake Stampede, a sixth at the Airdrie Pro Rodeo and a seventh at the Raymond Stampede for a whopping $26,267.19 weekend total that will vault her to a commanding lead atop the Canadian standings.
Two of the four events - Ponoka and Williams Lake - form part of the newly minted SMS Equipment Pro Tour.
Choate is a teenager with a very clear roadmap she wants her first year in professional barrel racing to follow.
"This is my rookie year, and I always say if your goals don't scare you, they aren't big enough," she commented after her massively successful weekend in Canada. "I started out just wanting to win the World rookie title, but then I decided to go bigger and try for the top 30 (in the world standings). When I was doing good there, I decided to try for the top fifteen15. I came up to Canada for the Calgary Stampede qualifier just about the time I had moved into the top 15 in the world. My horses are feeling good up here, so I decided to go further and try to qualify for the NFR as well as Rookie of the Year in Canada and the CFR."
If those sound like lofty goals, consider this - her whopping weekend payday has her leading both the World and Canadian rookie standings. She is first in Canada and has moved into the top 10 in the world standings.
The only real challenge Choate (pronounced Shote) might face is the 18 rodeos she has to compete at in Canada in order to qualify for the CFR. But, based on the tenaciousness of the talented horse woman, that simply could be another box she'll check en route to a November date in Red Deer (home of the CFR).
The Texas cowgirl was quick to credit her parents as a big factor in her success.
"They're awesome," Choate said. "They're up here with me, and I'm really excited about that. Their support is unmatched."
Of course, there are her equine partner, as well. Her mount at Ponoka was her 6-year-old son of Dash Ta Fame (Dash) out of a Flaming Talent mare. A young horse that, like his rider, is early in his career and has found Canada very much to his liking.
"I've never been a person to get nervous," Choate added. "Your horse is a mirror of you and feeds off of you. I look at every run as a business run and do my job in the moment."
Even with that laid-back philosophy, it wasn't instant magic for the Georgia native. Earlier this season, she'd gone six months and won less than $500.
"Someone told me it just takes one rodeo to turn things around, and for me, that was Rodeo Austin," Choate said. "We were leaving Birmingham, Alabama, and I'd hit a barrel. Then I got a call that a spot had opened up at Rodeo Austin. We drove all night, did really well, and sure enough, that was the rodeo that turned the season around."
Like Rodeo Austin, there undoubtedly will be a place for the Ponoka Stampede in a young lady's heart after a memorable performance she and her fans won't soon forget.
Lonnie West Also Finds Success At Ponoka
Bull rider Lonnie West of Cadogan, Alberta, continued to have the hot hand, as he also ran the board at Ponoka with a pair of go round wins, and a championship round win. He then capped his Ponoka run with a spectacular 92.75-point ride on Vold Rodeo's 792 Hard Not to Get in the Showdown for a huge $22,008.80 week at the central Alberta rodeo jewel.
"It was one for the books, that's for sure," West grinned after his win.
The second-generation bull rider has had to overcome a nagging injury to the shoulder on his riding arm in recent years, but he is feeling good, and his riding is reflective of that.
"I probably should have had surgery but it was too late," said West, the runner-up for the 2021 Canadian title. "I knew I'd got into Calgary, so I rehabbed the shoulder really hard and got it probably as strong as it can be without the surgery."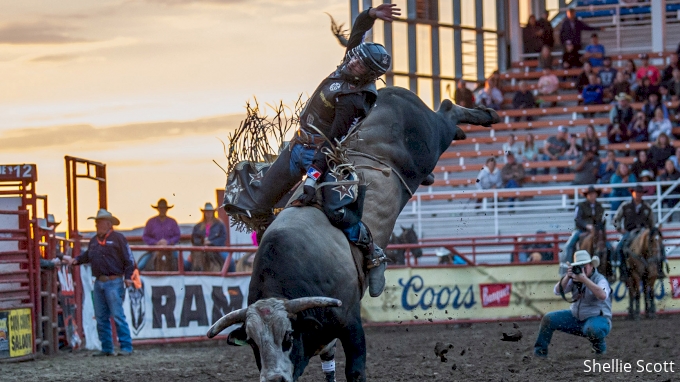 "Winning third at Wainwright and Williams Lake, and now winning Ponoka, I've got a fair bit of money won, so I can pick and choose a little more. It really helps to win at these big ones because now I can rest the shoulder when it needs it and not have to go to all the little ones. This'll make my season last a little longer. It'll be a marathon from now to the end but my shoulder's feeling good."
As well, West's confidence is at an all-time high.
"Yeah, that's directly related to my health," West said. "Over the years, you build up your skill level and your confidence, so when it comes to those big moments like Ponoka, you don't have to think about anything, you just react. Last night, in the four round, I knew I had a big-time bucker, probably the best one in the pen, but I had no doubt I could ride him."
The bull also was rewarded as Hard Not to Get was selected as Best of the Ponoka Stampede.
A bull that had been at the PBR's in the United States most of the spring, he had an outstanding trip with West aboard, doing his part in getting the 26-year-old to the winner's circle.
As for West's goals, well those might have changed a little in recent days.
"Being runner-up for Canada last year, that really fired me up to want to win a Canadian title," he stated. "But, going into Calgary riding well and feeling really good, I'd sure like to win a Stampede championship as well. When things are coming together like they are, you just have to roll with it. Bottom line is, I'm feeling good and having fun."
Importance Of Recent Events Not Lost
The importance of the Ponoka Stampede and Canadian Cowboy Christmas was well-stated by four-time Canadian Champion, Shane Hanchey. The Sulphur, Louisiana, tie-down roper, collected his second Ponoka title with a brilliant 7.9 second run in the Showdown to cap a $16,787.60 payday.
"I was looking at the program they gave us, and I saw Larry Robinson had won here four times, Joe Lucas and Mike Johnson won it back to back, and Blair Burk won it more than once, so I thought it would be cool to see my name in here more than once," Hanchey admitted. "Now it's happened and I'm pretty pumped."
The part-time Canadian was quick to credit the Bird family (Logan and Maynerd from Nanton, AB) for the opportunity to ride the 2021 CPRA Tie-Down Roping Horse of the Year, Peso, for the Ponoka experience.
Overall, the Ponoka win definitely changes the game for the 2013 world champion.
"This also threw a wrench into my summer plans," Hanchey acknowledged. "Now that I've got $17,000 won up here, I'm definitely going to be looking at the CPRA schedule to see if there's a way I can get back up here to the CFR one more time."
For complete (unofficial) results and the full CPRA schedule, visit rodeocanada.com.
This week, the CPRA season rolls along into the Benalto Stampede July 8-10. The Coronation Pro Rodeo, which was scheduled for July 8-9 has been postponed to Sept 8-9 due to excessive rain adversely affecting the condition of the rodeo grounds.