2022 CPRA at Williams Lake
Ty Harris Is On Fire, Finding Success Recently In Three CPRA Events
Ty Harris Is On Fire, Finding Success Recently In Three CPRA Events
Ty Harris entered the weekend eighth in the Canadian standings and ninth in the world. His brilliant performances at three Canadian rodeos changed that.
Jun 29, 2022
by Barb Poulsen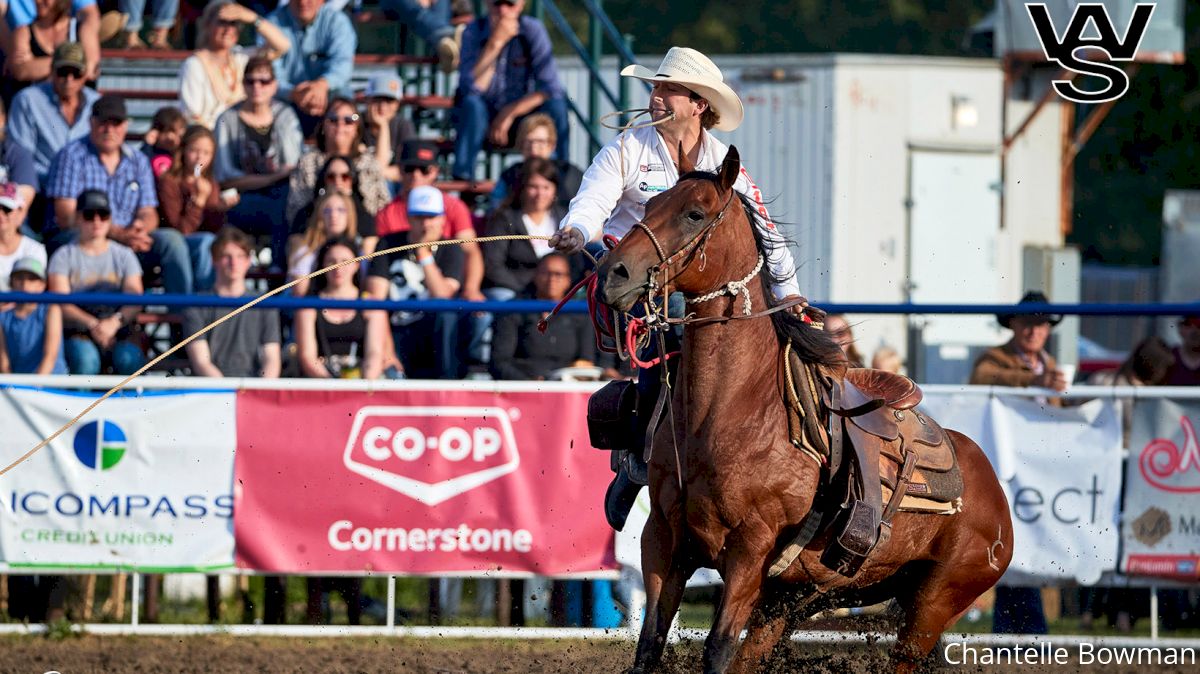 Tie-down roper Ty Harris of San Angelo, Texas, entered the weekend sitting eighth in the Canadian standings and ninth in the world. His brilliant performances at three Canadian rodeos changed all that. Dramatically.
The 24-year-old former collegiate champion and PRCA Rookie of the Year already has amassed over $6,000 in just four CPRA appearances.
The three-time WNFR qualifier "forty percented 'em" (winning both long and short gos and the aggregate at the lucrative Wainwright Stampede), added another win at High River's Guy Weadick Days and collected a second-place cheque at the Sundre Pro Rodeo for a whopping $10,836 weekend haul.
Consistency is the mark of a champion, and Harris was all about consistency. His five times over the weekend were 7.9, 8.1, 8.5, 8.5 and 8.6.
The spectacular effort vaults him to a commanding lead atop the Canadian standings and will move him up several spots on the world leader leaderboard as well.
"I wanted to come up here to compete pretty bad," Harris acknowledged. "I love the rodeos in Canada, and I love the people, as well, so coming up here was definitely a priority. And I qualified for the Calgary Stampede, so that worked out great for me to rodeo up here. It all just kind of came together and (roper and former Saddle Bronc Riding Champion) Clay Elliott was a big part of that. I'm staying at his place, and he offered to do my entering for me and keep my horse up here when I was back down south. I wouldn't have been able to this without Clay."
The horse Harris referred to is one he bought through Justin Maass.
"He's a really good horse, but I hadn't rodeoed on him until up here in June," Harris said. "I really wanted to be able to ride him at the rodeos up here to get him ready for Calgary."
As for a Canadian title, the 2019 CFR qualifier added, "It would be a dream of mine to win a Canadian championship, but it's hard to beat these guys. They rope so good, they ride good horses and they know the cattle and the arenas. But, yes, I would love to win it."
Sitting in first place heading into Cowboy Christmas, Harris has established himself as the guy to beat in tie-down roping. He will compete in Ponoka on Wednesday and Williams Lake on Thursday, then head south until he returns for Pool B of the Stampede.
Another cowboy on the move, courtesy of a stellar weekend, is two-time Canadian champion steer wrestler, Scott Guenthner.
The Provost, AB, athlete put up a 4.0 to win the long go at Wainwright, added a 1/2 split 3.7 (with James Struxness), in the short go for the overall title, split the win at Sundre (with Morgan Grant) in 3.9 seconds and completed the weekend with a 5-8 split at High River.
Guenthner's earnings came to a tidy $8,438 and should guarantee the four-time WNFR qualifier a spot at the top of the Canadian standings. The cherry on top of the sundae for Guenthner was watching his young cousin, breakaway roper, Mikenna Schauer, who also forty percented the field for $3,300, vaulting the young cowgirl to her first pro win and into the Canadian Finals Rodeo conversation.
This week's CPRA schedule takes competitors through the run known as Cowboy Christmas. Events include the Ponoka Stampede from June 27-July 3 and Williams Lake Stampede from June 30-July 2, plus Airdrie Pro Rodeo and the Raymond Stampede on July 1-2.
* Both the Ponoka Stampede and Williams Lake Stampede will be livestreamed by FloRodeo.com.
For complete results and the full CPRA schedule, check out rodeocanada.com.