2022 CPRA at Grande Prairie
Jake Gardner Wins At Grande Prairie Stompede For Third Consecutive Time
Jake Gardner Wins At Grande Prairie Stompede For Third Consecutive Time
Two-time All-Around Champion of Canada Jake Gardner won his "hometown" rodeo - the Grande Prairie Stompede - for the third consecutive time.
May 31, 2022
by Barb Poulsen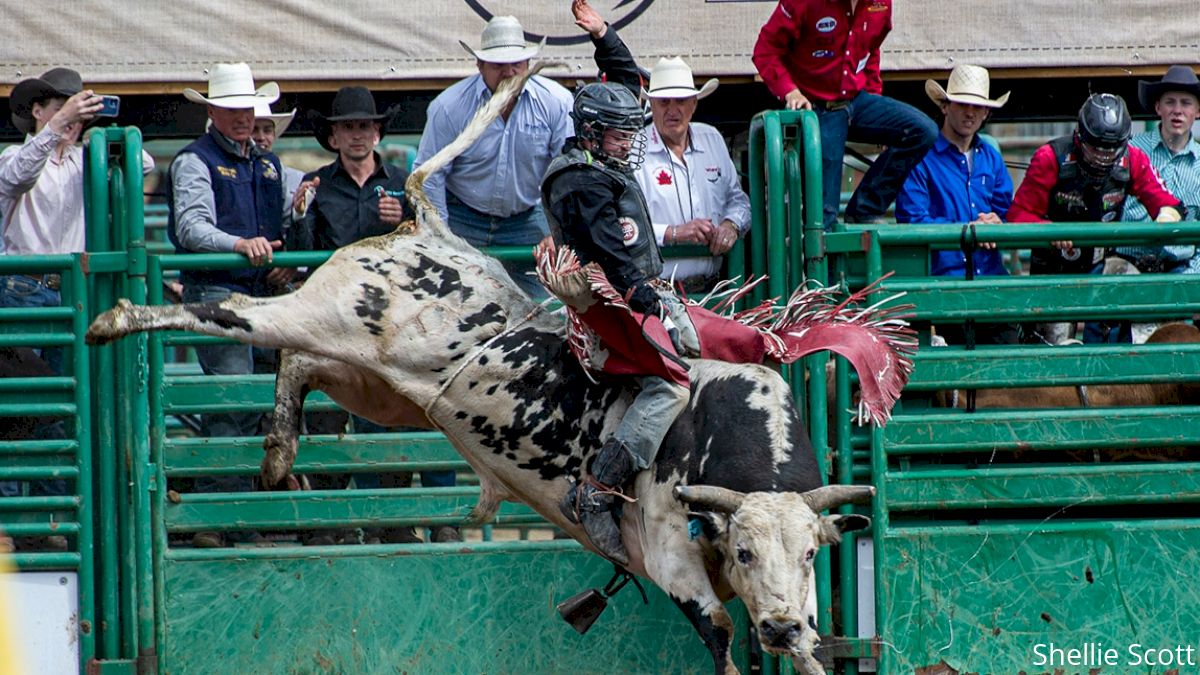 There's no place like home, and Fort St John, British Columbia, cowboy, Jake Gardner, loves his north country roots.
That was evident again, as the two-time All-Around Champion of Canada won his "hometown" rodeo - the Grande Prairie Stompede - for the third consecutive time.
"I owe a lot of my Canadian Professional Rodeo Association career success to that rodeo," Gardner said. "I draw good there, I love riding there, the committee does a great job and Volds bring great stock. I've always started my year off with success at Grande Prairie. It's a good one to get the season rolling."
Gardner rode Vold Rodeo's 42 Last Rights to 89.5 points in the first performance of the SMS Equipment Pro Rodeo Tour stop - a score that stayed on top of the leaderboard throughout the four days of competition and netted the two-event cowboy the win and a cool $3,000.
"He's a really good bull and hasn't been ridden a lot," the 25-year-old added. "I've seen him at quite a few PBR short rounds, and I knew when I saw my name beside him in the draw, if I could do my job properly, it would work out."
The win moved Gardner from 10th to the top 5 in the Canadian standings, and his early season bull riding success (second place at Dawson Creek), coupled with a solid steer wrestling placing at Falkland a week ago, makes the two-time CFR qualifier a potential contender for the CPRA's newly minted Kenny McLean Award.
The award celebrates the amazing legacy of another B.C. legend. McLean was a hall of famer and a 13-time Canadian Champion in multiple events.
The Kenny McLean Award will be decided based on season earnings. To be eligible, a contestant must place at three separate rodeos in a riding event and three separate rodeos in a timed event.
With a National Finals Rodeo qualification one of Gardner's 2022 goals, the Grande Prairie Stompede title, along with a recent win at Redding, California, and placings at the PRCA Xtreme Bulls event in Alaska, the young athlete is off to a good start in pursuit of that goal.
Additional Weekend Winners Included:
Bareback: Cole Goodine, 89.5 points on Vold Rodeo's 63 Debbie Does Dallas, $2,763
Steer wrestling: Matt Richardson, 4.2 seconds, $2,749
Team roping: Brett Buss/Denim Ross, 3.8 seconds, $2,567 each
Saddle bronc: Dawson Dahm, 87 points on Vold Rodeo's P87 Turf Wars, $2,763
Tie down roping: Jason Smith, 8.4 seconds, $2,571
Ladies barrel racing: Sam Smith, 14.82 seconds, $3,619
Breakaway roping: Shaya Biever, 2.26 seconds, $1,275
Novice bareback: Ethan Mazurenko, 77 points, $434
Novice saddle bronc: Colton Powell, 71 points, $512
Steer riding: Jestin Jacklin, 78 points, $717
For complete CPRA results, check out rodeocanada.com.