2021 Canadian Finals Rodeo
Canadian Finals Rodeo 47: The Definition Of Competitive Balance
Canadian Finals Rodeo 47: The Definition Of Competitive Balance
CFR47 shows Canadian rodeo's parity, with less than half of the competitors from CFR46 coming back this year.
Oct 28, 2021
by Tim Ellis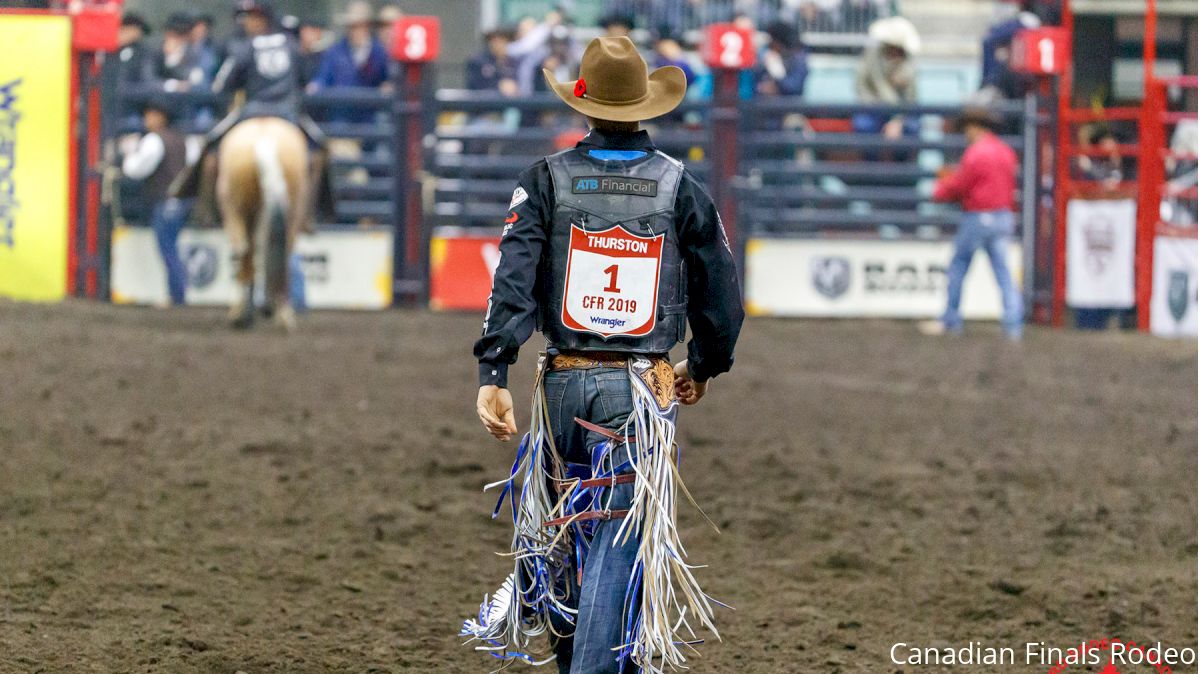 To say it's a "wide open" field when it comes to the competition at this year's Canadian Finals Rodeo would be an understatement. With only three returning event champions from 2019, just fourteen current and former Canadian title holders on the roster and less than half of the CFR46 competitors back this year—predicting potential champions in 2021 could be a dart throw.
As usual, the steer wrestling event may see the most flux when it comes to positioning during the five-day Finals at Westerner Park in Red Deer, Alberta. In fact, the 12th place bulldogger, Quentin Branden, could find himself on top of the heap after night one. Just under 6,000 points separate the Barrhead, Alta., cowboy and season leader, Stephen Culling, with the first-place finisher in each round earning 9,360 points.
Culling's slim lead atop the standings over five-time Canadian steer wrestling champion, Cody Cassidy, is just over a thousand points, nearly the equivalent of placing fifth in a round. With the absence of defending champion Scott Guenthner, only Cody and older brother Curtis bring any championship experience into the Finals.
Like the steer wrestling, only four tie-down ropers are back from the 2019 CFR. The only roper with a previous Canadian tie-down roping buckle is season leader, Logan Bird. He'll bring his CPRA Tie-Down Roping Horse of the Year, Peso to Red Deer along with a 2,500-point lead over Shane Smith.
Three-time Canadian Hi-Point champion, Morgan Grant brings nine CFR qualifications into this year's event and sits just over 5,000 points out of the number one position.
Less than half of the 2019 team roping qualifiers are back this time. The returnees include Dillon and Dawson Graham of Wainwright, Alta. They lead the field as they did two years ago and hold nearly 6,000-point leads atop their respective heeling and heading events.
Amazingly, Tyrel Flewelling stands alone as the only competitor in this year's group to have won a Canadian team roping title. He won the heeling championship in 2011, 2013 and 2015.
The defending barrel racing champion is back. Brooke Wills comes into Red Deer in fifth position, the same as in 2019. That year she tipped two barrels on opening night before roaring back to win rounds 4 and 5 on her way to the title. To accomplish the feat this time around, she'll have to erase a 9,000-point deficit to overtake season leader, Justine Elliott. Also in the mix is Calgary Stampede champion, Bertina Olafson.
On the roughstock side, five of the top twenty bronc riders in the world standings will be in the chutes. They're led by defending Canadian champ and two-time world champion, Zeke Thurston. While he might be considered the favorite, he'll have to hold off challenges from fellow 2021 National Finals Rodeo qualifiers, Dawson Hay and Layton Green, who come in 2nd and 5th respectively.
Three-time Canadian bareback champion Jake Vold makes his return after ending a streak of nine straight CFR qualifications in 2019. But he'll have plenty of ground to make up for a chance at a fourth title. He's over 8,000 points behind Dantan Bertsch. Bertsch's lead on top of the pack is far from secure, however, with Cole Goodine just 521 points back heading into night one.
The bullriding brings back the most Canadian champions. Three buckle wearers return including defending champ, Edgar Durazo, who stole the show in 2019 with three round wins and a CFR bullriding event record, $58,725 in earnings. The 2018 champion, Wacey Finkbeiner and two-time Canadian champ, Dakota Buttar are also in the field.