2019 Wrangler National Finals Rodeo
Sixty Memorable Moments From The 60th National Finals Rodeo
Sixty Memorable Moments From The 60th National Finals Rodeo
Ten rounds, 120 competitors, ten million dollars, countless memorable moments. That's what the Wrangler National Finals Rodeo in Las Vegas, NV is made of.
Nov 27, 2019
by Katy Lucas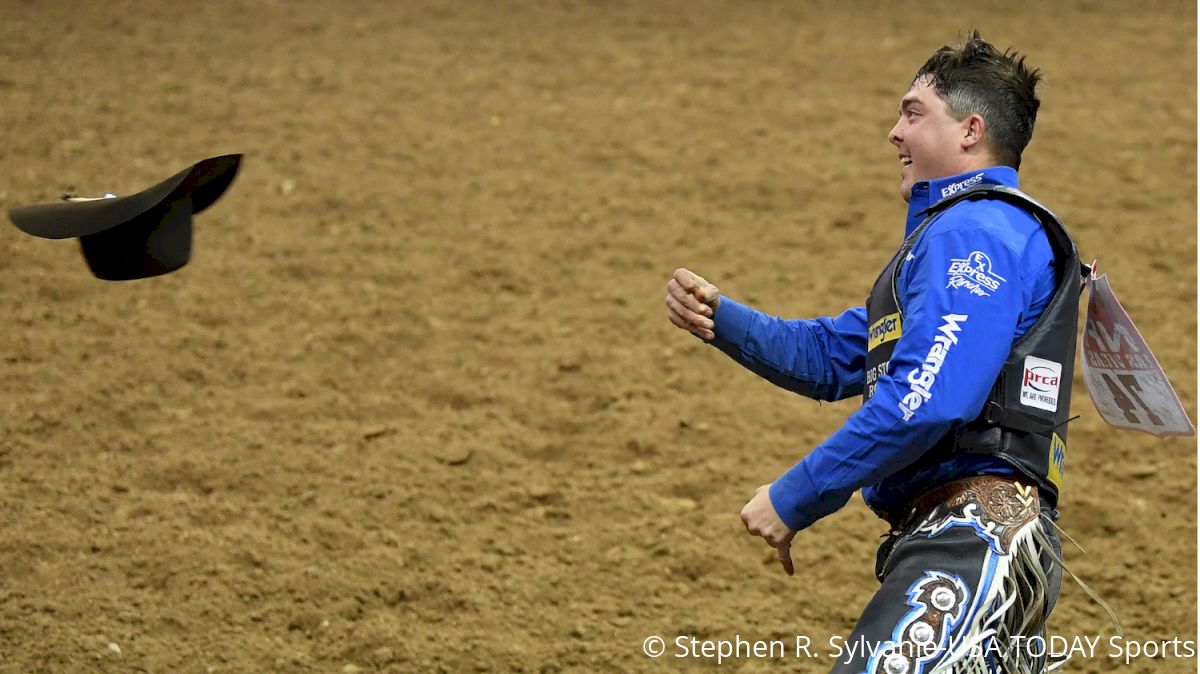 Ten rounds, 120 competitors, ten million dollars, countless memorable moments.
That's what the Wrangler National Finals Rodeo in Las Vegas, Nevada is made of. With the 2019 edition of this world-class event just moments from starting, we're reliving our favorite moments from last year's finals – the 60th anniversary of the NFR.
So here they are–in no particular order–our favorite 60 moments of the 2018 Wrangler National Finals Rodeo:
1. "Anybody can be a winner, but not anybody can be a champion."
In an emotional round of interviews following round 10, Trevor Brazile shared the quote he hopes he's lived by.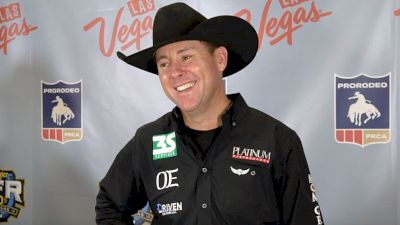 2. Hailey Kinsel adding ANOTHER record to her repertoire. Kinsel beat the season earnings record by winning a total of $350,700 between the regular season and NFR – the record had previously held for 10 years with Lindsey Sears' earnings of $323,570 in 2008.
3. J.R. Vezain attending the back number ceremony to receive his sixth Wrangler National Finals Rodeo qualifier back number.
4. Sage Kimzey battling injury throughout the 10 days and coming through in the final round.
5. Clayton Biglow breaking the arena record on C5 Rodeo's Virgil
6. The round one winning rides/runs: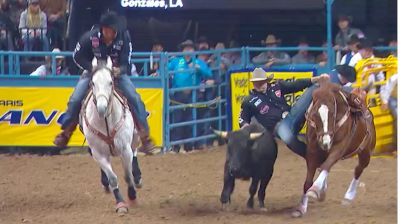 7. Kylie Weast saving her best run for last and running a 13.37 in the last round.
8. "They made me work for this one."
The bareback riding at the 2019 Wrangler National Finals Rodeo was an all-out battle between the 15 competitors and an extremely strong pen of horses. O'Connell had already won two world titles, but winning his third proved to one of the toughest battles yet.
9. Trevor Brazile's in-arena acceptance speech, shedding a tear with his fans… Not going to lie, we may have shed a tear too.
10. Wade Sundell's World Champion sunglasses.
11. Scott Guenthner's 3.3 second run in round three.
12. Derrick Begay honoring working cowboys in the opening ceremonies every night by donning leggings, a ranch saddle, and riding his ranch/pickup horse. "Somebody's got to honor the working cowboys at home that nobody knows about, because they're just working every day," Begay told the Team Roping Journal.
13. The round two winning rides/runs: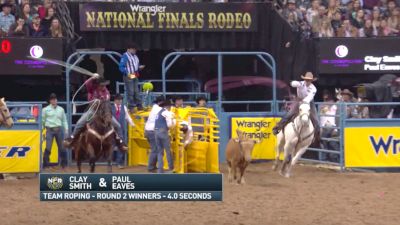 14. Sage Kimzey and Tyler Bingham's victory lap buck off.
15. "You have 10 days with the toughest 15 guys in the world." – Tyler Waguespack on what it meant to win the average for the second time.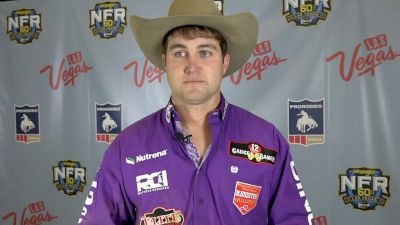 16. Round 5 in the saddle bronc when we saw four 90+ point rides.
17. The round three winning rides/runs:
18. Trey Yates' reaction to his grandpa winning $100K at the world series.
19. Trey Yates following up that family victory by going on the win the average at the NFR himself.
20. "It's crazy how you can rope all year long–probably 150 steers I'm guessing–and it comes down to the last steer."
Clay Smith talking about the battle he and Paul Eaves had to go through to win the team roping.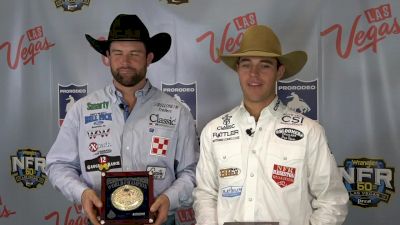 21. Hailey Kinsel's mom clicking her heels after every good run.
22. Carman Pozzobon's boyfriend Jace clicking HIS heels when Pozzobon won the average in round 10.
23. The round four winning rides/runs:
24. That Rhen Richard finally made the NFR after years of finishing just shy of a qualification – and he did it in TWO events.
25. "I have something I can set on my mantle now."
In 2018, Wade Sundell's home burnt to the ground, along with many of the awards he's won over his extremely successful career. By the conclusion of the 2018 NFR, he has a new house and a world champion buckle to put on the mantle.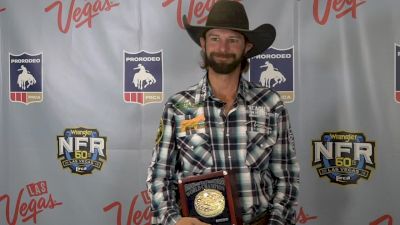 26. Trevor Brazile winning the last round to clinch the world all-around title.
27. Competitors sharing their thoughts on what it means to win an NFR round buckle.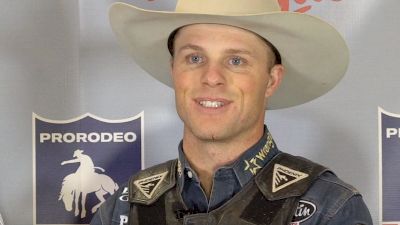 28. Sage Kimzey taking home his fifth straight world title – despite a torn shoulder and injured ribs.
29. The round five winning rides/runs: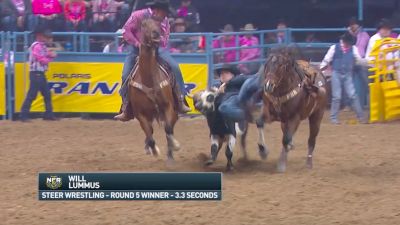 30. Bubba Buckaloo and Chase Tryan's 3.6-second team roping run in round 8, the fastest of the entire NFR.
31. Tammy Fischer acting as Taci Bettis' "good luck charm" by leading her down the alley when the first few rounds didn't go to plan.
32. Northcott Macza's Get Smart winning saddle bronc horse of the finals.
33. "It means a lot to me [to win a world title], but it means more to me to have my family here."
It was an extremely tough year for Caleb Smidt, so having his family - including a new baby - there to see him win his second world title meant everything to him.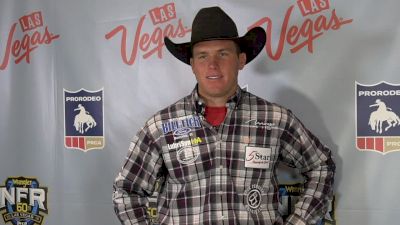 34. Tim O'Connell winning three back-to-back titles in the bareback riding.
35. All the ties at the top of the leaderboard, proving it truly was a tough race between the best in the world.
36. The round six winning rides/runs: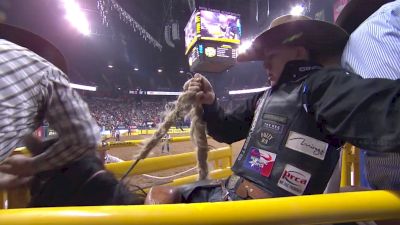 37. Junior Nogueira catching that last steer and keeping two feet as it fell down.
38. Getting to see Carman Pozzobon's last practice run before the NFR, then watching her put that practice to good use.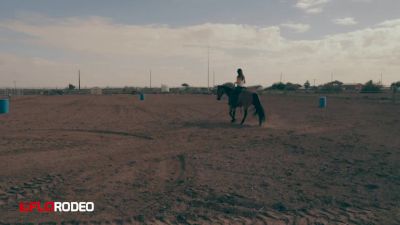 Unlock this video, live events, and more with a subscription!
Get Started
Already a subscriber? Log In
39. Competitors wearing gold wild rags in honor of the "Golden Circle Of Champions" for children and their families fighting life-threatening cancer. read the full prorodeo.com story HERE.
40. "It's something you want, but you don't know if you'll ever get it."
Paul Eaves had been dreaming about winning the world title since he was a child, and he finally made it happen in 2018.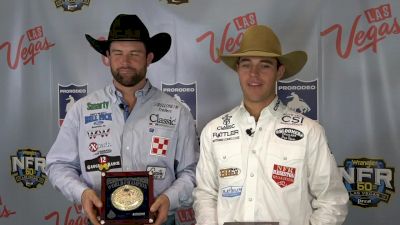 41. Carman Pozzobon becoming one of only two Canadians to win the aggregate in the barrel racing (Lindsey Sears also won the aggregate title in 2011).
42. Shane O'Connell's reaction to winning his first round buckle at his first NFR.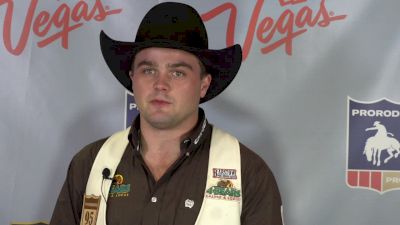 43.The Opening Ceremonies; they may be the same each and every year, but the classics never go out of style.
44. Trevor Brazile's 6.8 second run in round 4, the only six-second run of the entire NFR.
45. The round seven winning rides/runs: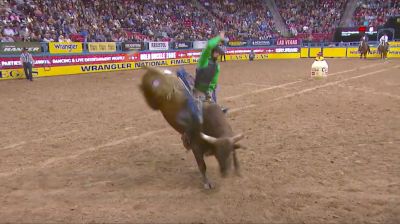 46. Big Stone Rodeo's Spotted Demon winning the bucking bull of the finals.
47. "This is incredible for the sport of barrel racing."
Hailey Kinsel talking about the horsepower we saw in the barrel racing at the NFR last year.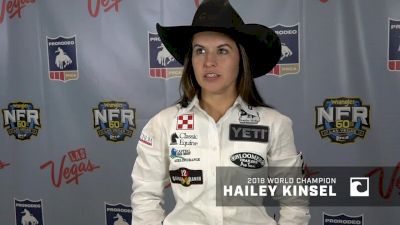 48. Beutler & Son Rodeo Co's Nutrena's Killer Bee winning bareback horse of the finals.
49. Ty Erickson's Analysis Of His 3.5-Second Run In Round 9.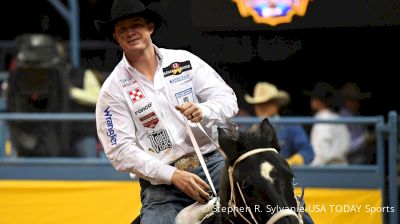 50. Trevor Brazile's World Champion speech.
51. Eli Vastbinder matching up with SweetPro's Bruiser – the 2017 PRCA Bucking Bull of the Year – for 91.5 points in round nine.
52. The round eight winning rides/runs: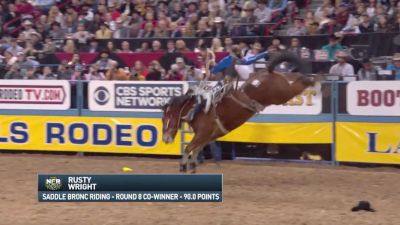 53. The fact that there were not one, not two, but THREE 92-point rides in the bronc riding (Cort Scheer in round two, Wade Sundell in round five, Coburn Bradshaw in round ten).
54. "Anytime your name is next to Jim Shoulders, you know you've done something special."
Sage Kimzey on winning his fifth world title in a row, matching Jim Shoulders in the record books.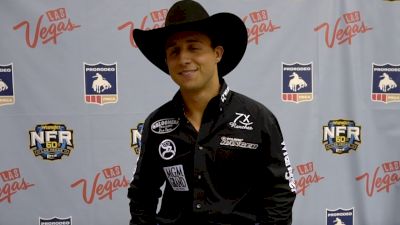 55. Sage Kimzey's 93-point ride in round ten aboard Beutler and Son's Record Rack's Shootin' Stars, the highest-marked bull ride of the finals.
56. The round nine winning rides/runs:
57. Will Lummus's 3.3 second steer wrestling run in round 5.
58. The closing ceremonies after round 10. Can you imagine how good it would feel to walk into the arena and be announced as the world champion?
59. Reiving the best runs and rides of the 2019 World Champions: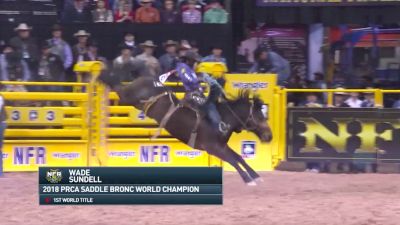 60. The fact that we get to do it all again for the 61st time this year (corny, we know, but true).