2019 Canadian Finals Rodeo
Canadian Finals Rodeo Back Numbers Released
Canadian Finals Rodeo Back Numbers Released
The 2019 Canadian Finals Rodeo back numbers have been released for the contestants that have earned the right to compete in Red Deer the end of October.
Oct 9, 2019
by Katy Lucas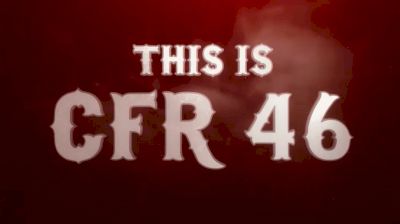 It's a simple piece of heavy felt, but that last name and number emblazoned on the back can mean so much to the contestant that has the opportunity to pin it to their shirt. Congratulations to all of the contestants that earned that honor for the 2019 Canadian Finals Rodeo.
Watch the 2019 Canadian Finals Rodeo in Red Deer, Alberta LIVE on FloRodeo October 29 to November 3. Click HERE to sign up.
2019 CANADIAN FINALS RODEO QUALIFIERS OFFICIAL BACK NUMBER ROSTER
1
Zeke Thurston
$44,092.78
2
Edgar Durazo
$40,519.07
3
Justine Elliott
$38,421.17
4
Riley Warren
$34,858.18
5
Richmond Champion
$31,965.52
6
Mary Walker
$31,585.55
7
Dawson Hay
$31,318.01
8
Caleb Bennett
$31,031.41
9
Scott Guenthner
$29,768.78
10
Jordan Hansen
$29,224.36
11
Curtis Cassidy
$29,162.94
12
Cody Cassidy
$27,170.96
13
Ben Andersen
$27,063.48
14
Jesse Popescul
$26,192.45
15
Stacey Ruzicka
$25,996.67
16
Keely Bonnett
$25,864.57
17
Taylor Manning
$25,819.26
18
Jacob Gardner
$25,668.29
19
Sage Kimzey
$25,382.02
20
Brooke Wills
$25,017.37
21
Ky Marshall
$23,918.85
22
Morgan Grant
$23,521.50
23
Clint Laye
$23,146.33
24
Dawson Graham
$21,891.82
25
Dillon Graham
$21,891.81
26
Angela Ganter
$21,789.41
27
Bertina Olafson
$21,383.80
28
Tanner Brunner
$20,923.46
29
Logan Bonnett
$20,674.79
30
Clay Ullery
$20,441.76
31
Orin Larsen
$20,233.34
32
Jason Thomas
$20,183.10
33
Spur Lacasse
$20,128.46
34
Jake Watson
$20,119.84
35
Haven Meged
$19,790.21
36
Logan Bird
$19,697.85
37
Alwin Bouchard
$19,617.13
38
Hunter Koch
$19,513.86
39
Matt Sherwood
$19,401.07
40
Erik Dublanko
$19,190.02
41
Jared Parsonage
$18,978.40
42
Jennifer Sharp
$18,929.91
43
Kolby Wanchuk
$18,926.94
44
Jenna O'Reilly
$18,882.02
45
Tyce McLeod
$18,718.80
46
Ty Taypotat
$18,560.81
47
Jackie Ganter
$18,274.93
48
Jake Finlay
$17,993.91
49
Lee Rombough
$17,858.08
50
Layne Delemont
$17,825.24
51
Tuftin McLeod
$17,626.07
52
Hunter Cure
$17,465.56
53
Kasper Roy
$17,423.15
54
Steele DePaoli
$17,372.40
55
Dusty Hausauer
$17,256.16
56
Blair Smith
$17,176.68
57
Zane Lambert
$17,147.78
58
Brendan Laye
$17,009.64
59
Shane Hanchey
$16,724.67
60
Stephen Culling
$16,619.24
61
Ty Miller
$16,287.40
62
Kole Ashbacher
$16,280.32
63
Lonnie West
$16,172.05
64
Clayton Moore
$16,113.32
65
Cole Goodine
$16,036.16
66
Riley Wilson
$15,723.75
67
Lynette Brodoway
$15,620.64
68
Bridger Chambers
$15,267.41
69
Dantan Bertsch
$15,190.32
70
Ty Harris
$14,647.20
71
Cody McCartney
$14,550.63
72
Shane Smith
$14,453.67
73
Cody Lee Coverchuk
$14,316.93
74
Shelby Spielman
$14,276.63
75
Ty Ellis
$14,260.91
76
Jake Burwash
$14,056.29
77
Logan Hay
$13,682.95
78
Kolton Schmidt
$13,646.66
79
Jeremy Buhler
$13,491.59
80
Brett Buss
$13,382.52
81
Kal Fuller
$13,333.04
82
Levi Simpson
$13,313.88
83
Kyle Brown
$13,149.08
84
Connor Hamilton
$13,124.69
85
Garrett Rogers
$13,004.88
86
Jacob Minor
$13,004.86
87
Brett McCarroll
$12,728.38
88
Justin McCarroll
$12,728.33
89
Kody Lamb
$12,557.70
90
Cort Scheer
$12,124.05
91
Dawson Dahm
$11,965.23
92
Klay Whyte
$11,878.99
93
Garrett Green
$11,838.13
94
Linden Woods
$11,693.80
95
Todd Chotowetz
$11,347.32
96
Tristin Woolsey
$11,097.06
97
Jacob Stemo
$8,902.76
98
Tristen Manning
$8,185.58
99
Lachlan Sheppard
$7,683.86
100
Chett Deitz
$6,010.32
101
Hayden Cole
$5,506.01
102
K's Thomson
$5,434.49
103
Griffin Koester
$4,232.59
104
Gordon Erickson
$4,194.52
105
Kegan Kmita
$4,019.69
106
Beau Gardner
$3,954.46
107
Bailey Schellenberg
$3,818.89
108
Lane Ferguson
$3,143.00
109
Jake Plotts
$2,263.98
*List courtesy of rodeocanada.com