As of today, the 2019 Professional Rodeo Cowboys Association regular season is officially in the books, and while we can't call the PRCA's World Standings "official" until every rodeo result is submitted and a professional audit is done, the UNOFFICIAL top 15 can at least start the pre-celebration!
They've been grinding all year, and they can now breathe knowing that – barring a major change after the audit – they've made their Wrangler National Finals Rodeo dreams come true. With the American and Houston being added to the PRCA season, and all of the other top events over the past year, watching that grind all season has been more entertaining than ever.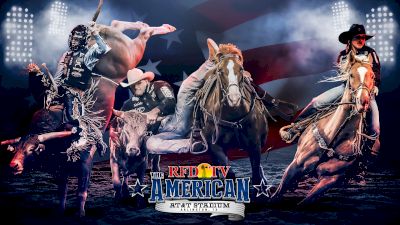 Unlock this video, live events, and more with a subscription!
Get Started
Already a subscriber? Log In
Relive some of that journey by watching archives of all of the PRCA sanctioned and co-sanctioned events on FloRodeo:
Manitoba Stampede & Exhibition
Medicine Stampede Exhibition & Stampede
Dawson Creek Exhibition & Stampede
With 19 rodeos taking place over the last week of the regular season, some competitors moved mountains to either keep or earn their spot among the top 15 in the world. So with that in mind, FloRodeo believes a congratulations is in order for the unofficial 2019 Wrangler National Finals Rodeo qualifiers!
*Based on standings as of September 30, 2019
Bareback Riding:
| Rank | Name | City | State | Earnings |
| --- | --- | --- | --- | --- |
| 1 | Clayton Biglow | Clements | CA | $181,952.17 |
| 2 | Kaycee Feild | Genola | UT | $176,205.08 |
| 3 | Orin Larsen | Inglis | MB | $173,442.41 |
| 4 | Tilden Hooper | Carthage | TX | $137,559.20 |
| 5 | Richmond Champion | The Woodlands | TX | $130,828.93 |
| 6 | Tim O'Connell | Zwingle | IA | $113,168.31 |
| 7 | Caleb Bennett | Corvallis | MT | $110,972.66 |
| 8 | Clint Laye | Cadogan | AB | $107,954.05 |
| 9 | Ty Breuer | Mandan | ND | $97,316.10 |
| 10 | Jake Brown | Cleveland | TX | $95,068.43 |
| 11 | Steven Dent | Mullen | NE | $93,798.82 |
| 12 | Austin Foss | Terrebonne | OR | $92,895.14 |
| 13 | Tanner Aus | Granite Falls | MN | $81,594.86 |
| 14 | Trenten Montero | Winnemucca | NV | $80,757.11 |
| 15 | Taylor Broussard | Estherwood | LA | $79,270.92 |
Steer Wrestling:
| Rank | Name | City | State | Earnings |
| --- | --- | --- | --- | --- |
| 1 | Ty Erickson | Helena | MT | $146,080.84 |
| 2 | Hunter Cure | Holliday | TX | $104,567.84 |
| 3 | Scott Guenthner | Provost | AB | $102,750.45 |
| 4 | Tyler Waguespack | Gonzales | LA | $97,130.32 |
| 5 | Stetson Jorgensen | Blackfoot | ID | $90,219.96 |
| 6 | Will Lummus | West Point | MS | $86,395.07 |
| 7 | Riley Duvall | Checotah | OK | $85,963.13 |
| 8 | Kyle Irwin | Robertsdale | AL | $83,471.97 |
| 9 | Tyler Pearson | Louisville | MS | $83,109.49 |
| 10 | J.D. Struxness | Milan | MN | $82,829.30 |
| 11 | Dakota Eldridge | Elko | NV | $81,103.11 |
| 12 | Matt Reeves | Cross Plains | TX | $79,490.22 |
| 13 | Bridger Chambers | Stevensville | MT | $79,028.26 |
| 14 | Cameron Morman | Glen Ullin | ND | $76,704.00 |
| 15 | Tanner Brunner | Ramona | KS | $74,950.31 |
Team Roping Headers:
| Rank | Name | City | State | Earnings |
| --- | --- | --- | --- | --- |
| 1 | Clay Smith | Broken Bow | OK | $150,512.22 |
| 2 | Kaleb Driggers | Hoboken | GA | $118,455.32 |
| 3 | Coleman Proctor | Pryor | OK | $104,318.34 |
| 4 | Clay Tryan | Billings | MT | $103,164.76 |
| 5 | Ty Blasingame | Casper | WY | $101,489.65 |
| 6 | Riley Minor | Ellensburg | WA | $97,648.95 |
| 7 | Chad Masters | Cedar Hill | TN | $95,528.72 |
| 8 | Cody Snow | Los Olivos | CA | $95,053.52 |
| 9 | Brenten Hall | Jay | OK | $88,926.57 |
| 10 | Luke Brown | Rock hill | SC | $84,939.19 |
| 11 | Matt Sherwood | Pima | AZ | $76,204.08 |
| 12 | Tate Kirchenschlager | Yuma | CO | $75,737.64 |
| 13 | Erich Rogers | Round Rock | AZ | $73,999.00 |
| 14 | Tyler Wade | Terrell | TX | $73,394.24 |
| 15 | Jake Cooper | Monument | NM | $73,190.95 |
Team Roping Heelers:
| Rank | Name | City | State | Earnings |
| --- | --- | --- | --- | --- |
| 1 | Junior Nogueira | Burleson | TX | $115,774.67 |
| 2 | Ryan Motes | Weatherford | TX | $109,166.08 |
| 3 | Jade Corkill | Fallon | NV | $108,637.93 |
| 4 | Jake Long | Coffeyville | KS | $106,896.49 |
| 5 | Travis Graves | Jay | OK | $103,164.76 |
| 6 | Kyle Lockett | Visalia | CA | $98,729.86 |
| 7 | Joseph Harrison | Overbrook | OK | $98,277.60 |
| 8 | Brady Minor | Ellensburg | WA | $97,648.95 |
| 9 | Paul Eaves | lonedell | MO | $89,446.54 |
| 10 | Wesley Thorp | Throckmorton | TX | $87,295.99 |
| 11 | Chase Tryan | Helena | MT | $86,345.09 |
| 12 | Hunter Koch | Vernon | TX | $84,307.07 |
| 13 | Caleb Anderson | Mocksville | NC | $72,389.60 |
| 14 | Cole Davison | Stephenville | TX | $71,909.31 |
| 15 | Tyler Worley | Berryville | AR | $71,190.22 |
Saddle Bronc Riding:
| Rank | Name | City | State | Earnings |
| --- | --- | --- | --- | --- |
| 1 | Ryder Wright | Beaver | UT | $224,488.39 |
| 2 | Zeke Thurston | Big Valley | AB | $176,991.47 |
| 3 | Jacobs Crawley | Boerne | TX | $121,011.90 |
| 4 | Spencer Wright | Milford | UT | $120,104.68 |
| 5 | Rusty Wright | Milford | UT | $118,191.87 |
| 6 | Chase Brooks | Deer Lodge | MT | $116,283.23 |
| 7 | Sterling Crawley | Stephenville | TX | $114,427.40 |
| 8 | Jake Watson | Hudsons Hope | BC | $108,790.84 |
| 9 | Brody Cress | Hillsdale | WY | $105,871.86 |
| 10 | Dawson Hay | wildwood | AB | $100,311.35 |
| 11 | Mitch Pollock | Winnemucca | NV | $99,542.24 |
| 12 | Bradley Harter | Loranger | LA | $99,351.01 |
| 13 | Jesse Wright | Milford | UT | $96,505.48 |
| 14 | Colt Gordon | Comanche | OK | $91,070.51 |
| 15 | JJ Elshere | Hereford | SD | $90,811.49 |
Tie-Down Roping:
| Rank | Name | City | State | Earnings |
| --- | --- | --- | --- | --- |
| 1 | Caleb Smidt | Bellville | TX | $131,899.95 |
| 2 | Haven Meged | Miles City | MT | $119,878.84 |
| 3 | Tyson Durfey | Brock | TX | $112,878.31 |
| 4 | Tuf Cooper | Decatur | TX | $105,592.44 |
| 5 | Shane Hanchey | Sulphur | LA | $102,196.92 |
| 6 | Taylor Santos | Creston | CA | $101,407.09 |
| 7 | Marty Yates | Stephenville | TX | $101,315.72 |
| 8 | Riley Pruitt | Gering | NE | $99,535.21 |
| 9 | Michael Otero | Weatherford | TX | $97,693.49 |
| 10 | Ty Harris | San Angelo | TX | $97,649.45 |
| 11 | Tyler Milligan | Pawhuska | OK | $97,474.03 |
| 12 | Adam Gray | Seymour | TX | $92,172.98 |
| 13 | Shad Mayfield | Clovis | NM | $90,420.93 |
| 14 | Rhen Richard | Roosevelt | UT | $88,660.86 |
| 15 | Cooper Martin | Alma | KS | $86,260.06 |
Barrel Racing:
| | | | | |
| --- | --- | --- | --- | --- |
| Rank | Name | Hometown | Money Won | Rodeos Attended |
| 1 | Nellie Miller | Cottonwood, CA | $154,610.50 | 28 |
| 2 | Hailey Kinsel | Cotulla, TX | $148,866.64 | 49 |
| 3 | Lisa Lockhart | Oelrichs, SD | $146,351.65 | 46 |
| 4 | Shali Lord | Lamar, CO | $111,775.59 | 55 |
| 5 | Brittany Pozzi Tonozzi | Lampasas, TX | $105,503.40 | 67 |
| 6 | Stevi Hillman | Weatherford, TX | $105,334.82 | 76 |
| 7 | Emily Miller | Weatherford, OK | $98,144.73 | 78 |
| 8 | Jessica Routier | Buffalo, SD | $96,581.90 | 54 |
| 9 | Dona Rule | Minco, OK | $96,507.49 | 64 |
| 10 | Ericka Nelson | Century, FL | $93,433.24 | 65 |
| 11 | Ivy Conrado | Nowata, OK | $93,269.24 | 47 |
| 12 | Amberleigh Moore | Salem, OR | $93,059.22 | 50 |
| 13 | Jennifer Sharp | Richards, TX | $91,754.45 | 93 |
| 14 | Cheyenne Wimberley (G) | Stephenville, TX | $90,360.85 | 89 |
| 15 | Lacinda Rose | Willard, MO | $88,935.85 | 73 |
Bull Riding:
| Rank | Name | City | State | Earnings |
| --- | --- | --- | --- | --- |
| 1 | Sage Kimzey | Strong City | OK | $245,454.70 |
| 2 | Stetson Wright | Milford | UT | $152,421.60 |
| 3 | Trevor Kastner | Roff | OK | $149,116.15 |
| 4 | Clayton Sellars | Fruitland Park | FL | $129,190.89 |
| 5 | Tyler Bingham | Honeyville | UT | $127,527.01 |
| 6 | Boudreaux Campbell | Crockett | TX | $126,771.22 |
| 7 | Garrett Smith | Rexburg | ID | $123,204.57 |
| 8 | Trey Benton III | Rock Island | TX | $121,248.12 |
| 9 | Jordan Spears | Redding | CA | $121,086.35 |
| 10 | Josh Frost | Randlett | UT | $119,560.67 |
| 11 | Jordan Hansen | Ponoka | AB | $114,747.21 |
| 12 | Koby Radley | Montpelier | LA | $114,604.93 |
| 13 | Jeff Askey | Athens | TX | $113,523.03 |
| 14 | Daylon Swearingen | Rochelle | GA | $111,868.02 |
| 15 | Trey Kimzey | Strong City | OK | $107,620.11 |