2019 Wrangler National Finals Rodeo
PRCA Bubble Watch: 24 With A Shot And 2 Season Leader Titles In Jeopardy
PRCA Bubble Watch: 24 With A Shot And 2 Season Leader Titles In Jeopardy
We cracked out the calculator & laid out who still has a shot to move into the top 15 in the world, & which season leader titles are still in jeopardy.
Sep 27, 2019
by Katy Lucas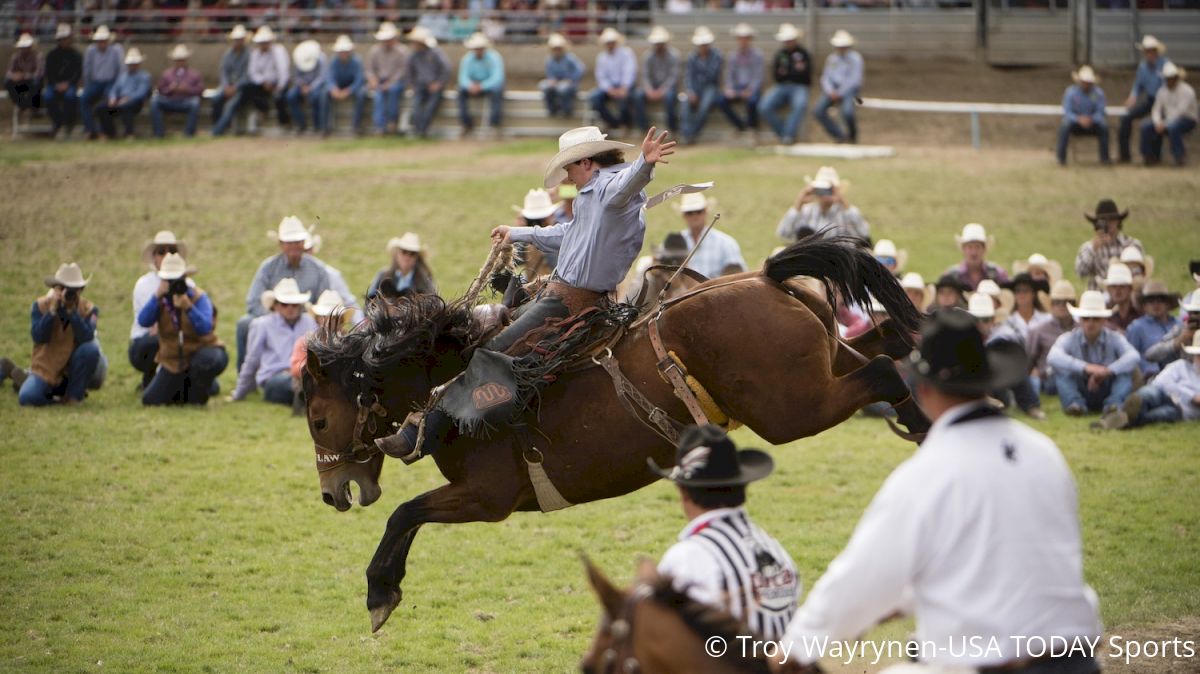 There is only one weekend left in the Professional Rodeo Cowboys Association 2019 rodeo season, and that means competitors looking to seal their National Finals Rodeo spots or win the coveted season leader title are in one final push to make that happen. The regular season ends September 30, so that means there are just 19 rodeos and five days left in the schedule.
Even with only one weekend left, there are many variables in play – travel conditions, varying entry numbers from year to year, and of course the ever-present luck of the draw – but with that in mind, we've tried to calculate absolutely everyone that has a chance to make their NFR ambitions happen. (For a list of which rodeos these competitors on or near the bubble are competing in, check out the PRCA's bubble watch story HERE.)
On the other end of the spectrum, we also had a look of which season leader titles are already wrapped up, and the two – potentially three – season leader titles who could be in jeopardy if the stars align for the No. 2 competitors that are chasing the top spot.
Bareback Riding:
| | | | |
| --- | --- | --- | --- |
| BAREBACK | | | |
| Rank | Name | Earnings | Status |
| 1 | Clayton Biglow | $181,952.17 | COULD BE CAUGHT |
| 2 | Kaycee Feild | $176,205.08 | -$5,747.09 |
| 3 | Orin Larsen | $173,442.41 | NFR SAFE |
| 4 | Tilden Hooper | $136,965.95 | NFR SAFE |
| 5 | Richmond Champion | $129,441.57 | NFR SAFE |
| 6 | Caleb Bennett | $109,974.54 | NFR SAFE |
| 7 | Tim O'Connell | $107,927.82 | NFR SAFE |
| 8 | Clint Laye | $104,048.35 | NFR SAFE |
| 9 | Ty Breuer | $97,316.10 | NFR SAFE |
| 10 | Steven Dent | $93,798.82 | NFR SAFE |
| 11 | Austin Foss | $92,895.14 | NFR SAFE |
| 12 | Jake Brown | $87,733.14 | NFR SAFE |
| 13 | Trenten Montero | $79,681.28 | NFR SAFE |
| 14 | Tanner Aus | $78,984.25 | FAIRLY SAFE |
| 15 | Mason Clements | $75,602.91 | BUBBLE |
| 16 | Taylor Broussard | $72,023.53 | -$3,579.38 |
| 17 | Steven Peebles | $69,152.52 | -$6,450.39 |
| 18 | Logan Patterson | $68,554.06 | -$7,048.85 |
| 19 | Zach Hibler | $68,150.28 | -$7,452.63 |
Steer Wrestling:
STEER WRESTLING




Rank
Name
Earnings
Status
1
Ty Erickson
$146,080.84
SEASON LEADER TITLE WRAPPED UP
2
Hunter Cure
$104,567.84
NFR SAFE
3
Scott Guenthner
$102,750.45
NFR SAFE
4
Tyler Waguespack
$97,130.32
NFR SAFE
5
Stetson Jorgensen
$88,363.47
NFR SAFE
6
Will Lummus
$86,395.07
NFR SAFE
7
Riley Duvall
$84,317.14
NFR SAFE
8
Kyle Irwin
$83,471.97
NFR SAFE
9
J.D. Struxness
$82,829.30
NFR SAFE
10
Dakota Eldridge
$80,275.91
NFR SAFE
11
Bridger Chambers
$79,028.26
NFR SAFE
12
Tyler Pearson
$78,670.07
NFR SAFE
13
Matt Reeves
$76,812.40
NFR SAFE
14
Tanner Brunner
$74,333.94
COULD BE BUMPED
15
Cameron Morman
$73,467.27
BUBBLE
16
Nick Guy
$69,852.11
-$3,615.16
17
Josh Garner
$69,545.95
-$3,921.32
18
Tanner Milan
$67,471.40
-$5,995.87
19
Josh Clark
$66,522.75
-$6,944.52
Heading:
| | | | |
| --- | --- | --- | --- |
| HEADING | | | |
| Rank | Name | Earnings | Status |
| 1 | Clay Smith | $145,866.03 | SEASON LEADER TITLE WRAPPED UP |
| 2 | Kaleb Driggers | $114,211.26 | NFR SAFE |
| 3 | Clay Tryan | $103,164.76 | NFR SAFE |
| 4 | Ty Blasingame | $101,489.65 | NFR SAFE |
| 5 | Coleman Proctor | $101,396.11 | NFR SAFE |
| 6 | Riley Minor | $97,648.95 | NFR SAFE |
| 7 | Chad Masters | $95,528.72 | NFR SAFE |
| 8 | Cody Snow | $92,472.04 | NFR SAFE |
| 9 | Brenten Hall | $86,345.09 | NFR SAFE |
| 10 | Luke Brown | $84,939.19 | NFR SAFE |
| 11 | Matt Sherwood | $74,119.92 | NFR SAFE |
| 12 | Erich Rogers | $73,999.00 | NFR SAFE |
| 13 | Tate Kirchenschlager | $73,496.20 | NFR SAFE |
| 14 | Tyler Wade | $73,394.24 | NFR SAFE |
| 15 | Jake Cooper | $73,190.95 | BUBBLE |
| 16 | Dustin Egusquiza | $70,995.67 | -$2,195.28 |
| 17 | Tanner Baldwin | $64,007.72 | -$9,183.23 |
| 18 | Spencer Mitchell | $62,580.49 | -$10,610.46 |
Heeling:
| | | | |
| --- | --- | --- | --- |
| HEELING | | | |
| Rank | Name | Earnings | |
| 1 | Junior Nogueira | $113,191.36 | COULD BE CAUGHT |
| 2 | Jake Long | $106,896.49 | -$6,294.87 |
| 3 | Ryan Motes | $106,243.85 | NFR SAFE |
| 4 | Jade Corkill | $103,991.74 | NFR SAFE |
| 5 | Travis Graves | $103,164.76 | NFR SAFE |
| 6 | Brady Minor | $97,648.95 | NFR SAFE |
| 7 | Joseph Harrison | $96,616.85 | NFR SAFE |
| 8 | Kyle Lockett | $94,329.86 | NFR SAFE |
| 9 | Paul Eaves | $88,994.63 | NFR SAFE |
| 10 | Chase Tryan | $86,345.09 | NFR SAFE |
| 11 | Wesley Thorp | $84,714.51 | NFR SAFE |
| 12 | Hunter Koch | $84,307.07 | NFR SAFE |
| 13 | Caleb Anderson | $72,389.60 | FAIRLY SAFE |
| 14 | Tyler Worley | $70,519.46 | COULD BE BUMPED |
| 15 | Cole Davison | $68,987.08 | BUBBLE |
| 16 | Paden Bray | $67,014.24 | -$1,972.84 |
| 17 | Nano Garza | $66,195.35 | -$2,791.73 |
| 18 | Billie Jack Saebens | $64,174.44 | -$4,812.64 |
| 19 | Levi Lord | $62,095.08 | -$6,892.00 |
| 20 | Tanner Braden | $59,195.07 | -$9,792.01 |
Saddle Bronc Riding:
SADDLE BRONC




Rank
Name
Earnings


1
Ryder Wright
$220,906.99
SEASON LEADER TITLE WRAPPED UP
2
Zeke Thurston
$175,919.87
NFR SAFE
3
Spencer Wright
$118,726.17
NFR SAFE
4
Chase Brooks
$116,283.23
NFR SAFE
5
Jacobs Crawley
$115,453.68
NFR SAFE
6
Sterling Crawley
$114,427.40
NFR SAFE
7
Rusty Wright
$114,187.47
NFR SAFE
8
Jake Watson
$108,790.84
NFR SAFE
9
Mitch Pollock
$99,542.24
NFR SAFE
10
Dawson Hay
$98,640.03
NFR SAFE
11
Brody Cress
$97,575.42
NFR SAFE
12
Bradley Harter
$96,407.31
NFR SAFE
13
Jesse Wright
$95,464.90
NFR SAFE
14
JJ Elshere
$87,370.25
NFR SAFE
15
Colt Gordon
$86,893.11
BUBBLE
16
Isaac Diaz
$86,361.34
-$531.77
17
Wade Sundell
$83,329.32
INJURED
18
Shorty Garrett
$75,777.90
-$11,115.21
Tie-Down Roping:
TIE-DOWN ROPING




Rank
Name
Earnings


1
Caleb Smidt
$131,899.95
SEASON LEADER TITLE WRAPPED UP
2
Haven Meged
$119,878.84
NFR SAFE
3
Tyson Durfey
$112,878.31
NFR SAFE
4
Tuf Cooper
$105,592.44
NFR SAFE
5
Shane Hanchey
$100,110.12
NFR SAFE
6
Taylor Santos
$99,605.08
NFR SAFE
7
Riley Pruitt
$99,191.98
NFR SAFE
8
Marty Yates
$98,915.90
NFR SAFE
9
Michael Otero
$97,693.49
NFR SAFE
10
Tyler Milligan
$96,639.31
NFR SAFE
11
Ty Harris
$95,399.09
NFR SAFE
12
Adam Gray
$90,746.06
NFR SAFE
13
Rhen Richard
$87,826.14
NFR SAFE
14
Cooper Martin
$85,493.02
FAIRLY SAFE
15
Shad Mayfield
$83,644.00
BUBBLE
16
John Douch
$80,567.70
-$3,076.30
17
Lane Livingston
$73,913.19
-$9,730.81
18
Justin Smith
$72,743.27
-$10,900.73
Barrel Racing:
BARREL RACING




Rank
Name
Money Won


1
Nellie Miller
$154,610.50
SEASON LEADER FAIRLY SAFE
2
Lisa Lockhart
$146,351.65
-$8,258.85
3
Hailey Kinsel
$146,144.40
NFR SAFE
4
Shali Lord
$105,884.14
NFR SAFE
5
Stevi Hillman
$105,334.82
NFR SAFE
6
Brittany Pozzi Tonozzi
$103,972.14
NFR SAFE
7
Dona Rule
$96,507.49
NFR SAFE
8
Jessica Routier
$96,031.06
NFR SAFE
9
Emily Miller
$94,344.93
NFR SAFE
10
Ivy Conrado
$93,269.24
NFR SAFE
11
Amberleigh Moore
$93,059.22
NFR SAFE
12
Ericka Nelson
$92,965.36
NFR SAFE
13
Jennifer Sharp
$91,754.45
NFR SAFE
14
Cheyenne Wimberley (G)
$89,510.15
NFR SAFE
15
Lacinda Rose
$86,056.82
BUBBLE
16
Leia Pluemer
$76,827.10
-$9,229.72
Bull Riding:
BULL RIDING




Rank
Name
Earnings


1
Sage Kimzey
$245,454.70
SEASON LEADER TITLE WRAPPED UP
2
Stetson Wright
$152,421.60
NFR SAFE
3
Trevor Kastner
$149,116.15
NFR SAFE
4
Clayton Sellars
$129,137.31
NFR SAFE
5
Tyler Bingham
$127,527.01
NFR SAFE
6
Boudreaux Campbell
$126,771.22
NFR SAFE
7
Josh Frost
$119,360.67
NFR SAFE
8
Trey Benton III
$117,833.70
NFR SAFE
9
Jordan Spears
$116,300.79
NFR SAFE
10
Jordan Hansen
$114,747.21
NFR SAFE
11
Koby Radley
$112,472.47
NFR SAFE
12
Garrett Smith
$112,350.45
NFR SAFE
13
Daylon Swearingen
$109,474.56
NFR SAFE
14
Jeff Askey
$108,503.27
COULD BE BUMPED
15
Parker Breding
$105,745.83
BUBBLE/INJURED AND UNABLE TO COMPETE
16
Trey Kimzey
$104,207.91
-$1,537.92
17
Ruger Piva
$94,454.34
-$11,291.49