2019 Wrangler National Finals Rodeo
'We Kept Telling Him He Had To Fight' - Sundell's Mom Relives His Recovery
'We Kept Telling Him He Had To Fight' - Sundell's Mom Relives His Recovery
We spoke to 2018 Saddle Bronc Riding world champion Wade Sundell's mother, Laura Grieser, for her perspective on her son's recovery.
Sep 17, 2019
by Katy Lucas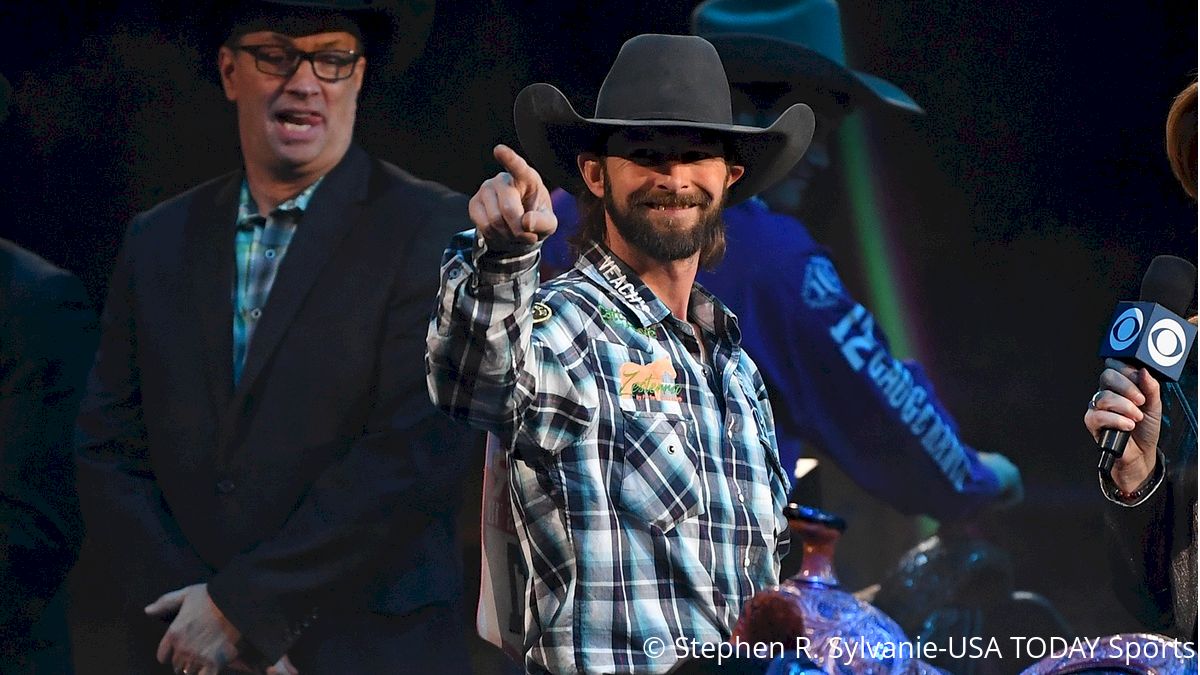 One of the most popular rodeo competitors going down the road today —the "Wild Man" Wade Sundell — is currently recovering in the Mission Hospital in San Juan Capistrano, California, after a major injury during the Rancho Mission Viejo Rodeo. Sundell still has a long recovery ahead of him, but after spending over three weeks in the hospital, the reigning world champion bronc rider is on his way up.
We spoke to Sundell's mother, Laura Grieser, about the accident and her son's recovery. Grieser helped us understand what happened in the chute, and the battle he went through in the hospital to get back to this point.
A Lacerated Liver And A Re-Ride Option
The day was Saturday, August 24.
Sundell was up at the Rancho Mission Viejo Rodeo when a situation that has probably happened hundreds of times in his career arose:
"The horse kind of squatted down in the chute," said Grieser of The Cervi Brothers' horse "Living The High Life".
No problem for an experienced bronc rider like Sundell and a seasoned horse, but from there, things weren't exactly "run of the mill."
"When they opened the gate," Grieser continued, "Wade got thrown against the swells and it kind of went up under his ribs a little bit. Then he double-grabbed, got bucked off, and he was wanting to know what his re-ride horse was."
Luckily, both the Justin Sportsmedicine Team and the Mission Hospital were on-site and quickly assessed Sundell, asking him to communicate if he was feeling certain symptoms that would point to a larger issue.
"Soon he couldn't catch his breath in his chest and his blood pressure was dropping," said Grieser. "So they said no, we need to get you to the hospital and get you checked out
Three Surgeries And One Heck Of A Fight
Sundell was taken to the Mission Hospital where it was discovered that he had internal injuries that had released two to three units of blood into his torso, but it could have been much worse.
"He lacerated his liver, there's an artery that comes from the liver and he was centimeters from severing that. If he would have severed that, they couldn't have saved him," said Grieser. "So he had a couple angels upstairs looking after him on that one."
From there, three surgeries quickly followed over a few days to repair the damage from the impact. The first surgery's main goal was to stop the bleeding by packing Sundell full of medical sponges.
The second surgery saw the sponges removed and new ones added to further assist with soaking up the internal bleeding, and then the third surgery was to remove the sponges and finally close Sundell back up.
From there, Sundell was kept in a medically-induced coma for two weeks while his liver healed and a ventilator helped with his collapsed lung – partner Shelby Janssen, father Doug Sundell, and of course his mother by his side the whole time. Naturally, a mother would go through a lot of emotions watching her son in a hospital bed, even if that son is a grown man.
"To think he's 34 years old, he's my baby…" said Grieser. "To see anyone laying there and you can't do anything, it's hard. A lot of emotions went through that, and knowing that he had to get better and we just kept telling him he had to fight to get through this… and he did."
What A Simple Text Can Mean
After the two weeks in a coma, doctors were satisfied enough with his progress to wake him up and remove the ventilator. Sundell still has a trachea unit in his throat to allow doctors to continue to clear out his lungs and help him breathe with the collapsed lung, but the cowboy is a fighter and is already up and moving, just days after coming out of his coma.
You always hear about boys forgetting to check in with their mothers as they get older, with those mothers always worrying about where they are or what they are doing. That simple thought came to mind in a much more powerful way when Grieser talked about what a text from her son meant after she had to return home from the hospital.
"It was just a basic, 'Hi mom, I'm getting better.'" Said Grieser. "That made me feel better since we came home, I hated to leave him out there but I knew he was in good hands."
"When I got the text from him, it made me feel a lot better to know that he was on the mend. Yes, we know it's going to be a slow process, but I know that he'll get stronger from this and be a better man."
How You Can Help
A PayPal account has been set up by Bronc Riding Nation with donations going directly to Wade, Shelby and their son Rankan. You can send PayPal donations to wadesundellfund@yahoo.com.
Prorodeo.com recently reported that Sundell has checked out of the Mission Hospital and a representative from the Justin Sportsmedicine team said he is staying at the historic "Cow Camp" in Rancho Mission Viejo. The PRCA article reports that Sundell is walking around and trying to regain some weight after his lengthy hospital stay, but he is on the right track.
Grieser says the full recovery process may take somewhere between six months and a year.
When asked what else people could do to help her son with the long process ahead, Grieser replied simply with:
"Just continue prayers."