Create a free account to unlock this article!
Get Started
Already a subscriber? Log In
"I know a lot of people are going to say that it can't be done, and it's going to be too hard, but it can be… you never know unless you try." – Michelle Darling
The World Champions Rodeo Alliance announced today what they are calling the "most athlete-friendly incentive in the history of rodeo": a concept the organization is calling the Triple Crown of Rodeo. This exciting new bonus will award any WCRA competitor who is able to win three Million Dollar Majors in a row.
FloRodeo subscribers have been watching WCRA all season, and have seen athletes take over home over $5.6 million since launching in May of 2018 at events like the Windy City Roundup, Titletown Stampede, Days of '47 Cowboy Games, along with semifinals and other special events hosted by the entity.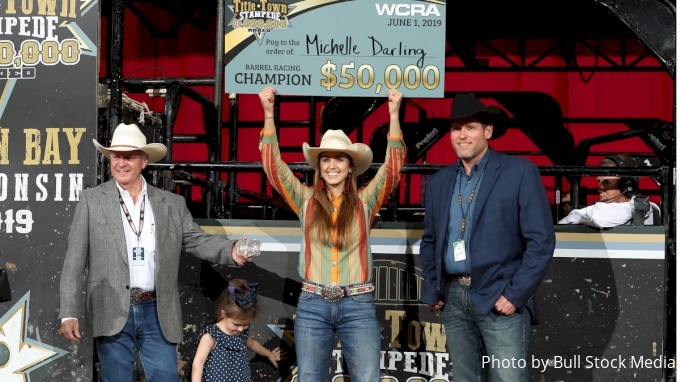 "It can be done, and there's somebody that's going to do it," said barrel racer Michelle Darling, who's won over $90,000 this year, thanks in no small part to the $50,000 she earned at the Titletown Stampede in Green Bay, Wisconsin.
Darling – who already runs at as little events as possible to save her horse – says this announcement could change her competition schedule so she could go for the million.
"It's big enough that I would drop everything just to win that kind of money in one run, absolutely," said Darling. "I feel like I've got the horse to do it, she's consistent, if all the pens and the ground if everything holds up and it's good, there's no reason why somebody couldn't win all three in a row. It's tough, but it can be done."
In fact, in 2018-19 four competitors gave themselves the opportunity to win the Triple Crown – if the concept had been in place at the time. Team ropers Garrett Tonozzi and Joe Mattern won the Windy City Roundup and the Title Town Stampede (June 2019). Derek Kolbaba (bull riding) and Wyatt Denny (bareback) won the Days Of '47 Rodeo in July of 2018 and went on to win the very next event, the Windy City Roundup in January 2019.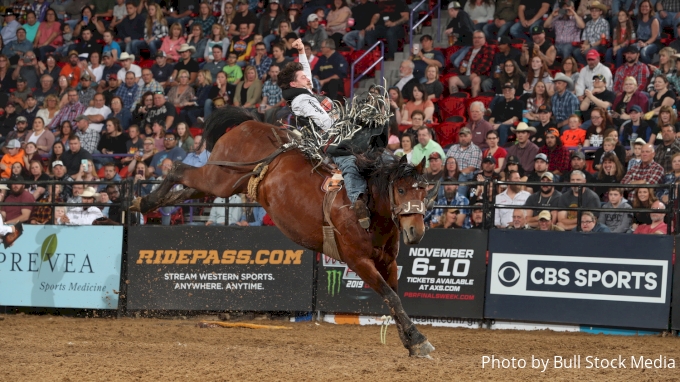 Denny, who's earned over $100,000 between those two segments, tries to put into perspective what a bonus opportunity like this means for rodeo athletes.
"You look at the guys [that rodeo'd] 10, 15, 20 years ago, they're all digging ditches or building houses, they all have 'regular', 'real' jobs now and that's just because they were rodeoing and it didn't pay as much as it does now," said Denny. "So to have the opportunity to set yourself up for after you're done… I think that's the whole point of rodeoing, to try to make it for yourself after – so that million dollars would just be a huge, huge start."
"I wouldn't even know what to do at first with it," said Denny who talked about the possibility of buying a fancy rig – anything from an RV to a jet airplane – and then talked about the investments he could make into cattle and land that could help set him up for his eventual retirement.
The opportunity to win the WCRA's Triple Crown Of Rodeo has already begun with Virtual Rodeo Qualification for the first 2020 WCRA Major in Kansas City, Missouri already underway. So, while we may not know how or when the first person to win the title will come about, all the athletes gunning for it know is:
"All I know is that it's a big fricken deal. That's all I can say," – Wyatt Denny
Quick Triple Crown Of Rodeo Facts:
Eligibility for the TCR will begin at the first Million Dollar Major of the 2020 season. Major events on the calendar for 2020 so far include:

Kansas City, Missouri – Royal City Roundup (February 28)
Guthrie, Oklahoma – Stampede At The E (May 17)
Tacoma, Washington – Puget Sound Showdown (August 28)

The $1 million will be paid out one time annually.
If multiple competitors achieve the TCR in one calendar year, the bonus will be split.
This bonus is available on a rolling calendar basis, meaning the three consecutive wins can cross calendar years.
Exemptions: previously, if you won a Major WCRA event, you received an exemption into the next. In 2020, the exemption rule will be removed, so all competitors must qualify for each event through the VRQ system.
Clarifications:

Team Roping: for the triple crown the team roping is considered two separate disciplines–Team Roping Heading and Team Roping Heeling–meaning a header can win the triple crown prize if they were to win three in a row, even if they roped with a different heeler for each win. If a team were to win three consecutive majors together, then both parties with split the million.
Injuries and Hardships: there will be no exemptions for being unable to attend a major due to injury or hardship. For example: if a competitor wins two majors, is injured and must sit out the next, that competitor will no longer be eligible for the TCR. The same goes for a competitor that cannot make it to an event due to missing a flight or other hardships.
Some Triple Crown Eligible events do not have all disciplines (like the Calgary Stampede that does not have Team Roping and Breakaway Roping). Competitors in these events will not be penalized and the period to win the next consecutive event will be extended to the next event that includes the discipline.
The same goes for events that do not allow gender participation (for example the Calgary Stampede and Days Of '47 do not allow men to compete in the barrel racing). Those competitors would not be penalized and the next consecutive event will be extended to the next event that allows for that gender to compete.
"If somebody comes through and actually wins all three and does win the triple crown, I think there's going to be a lot more talk, people are going to pay more attention, more people are going to get involved," said Darling. "…I don't think people realize what the athletes go through in the rodeo world to do what we do all year long, it's tough, it's grueling."
The advancements made caught the attention of the media, including broadcasters like CBS Sports that have shown more rodeo on its network than any time in recent memory and will be showing three of the 2020 WCRA Majors on network television in 2020, alongside the group's live streaming partners.
"The WCRA is a huge game-changer putting this kind of money in the pot," concluded Darling.