Liz Kesler, the matriarch of the Kesler stock contracting family, passed away on September 7, 2019. A huge contributor to the sport of rodeo as a timer, secretary, fundraiser, and a part of an award-winning stock contracting family, the sport of rodeo will miss this influential woman.
Liz was born on June 10, 1926, in Clay County, Texas, to Chesley Russell and Irene Faulkner Russell and joined older sister Margie. She first attended the Bluegrove School where she graduated as valedictorian before moving on to the Henrietta High School (south of her hometown).
Rodeo News tells the story of how Liz was first introduced to working in the world of rodeo:
"When Liz was 17, at the rodeo in Henrietta, one of the timers did not show up," told Gail Woerner in a rodeonews.com article. "The announcer saw Liz as she was finding her seat in the grandstand and asked her if she would time. She did not hesitate. Obviously she did a good job because it wasn't very long before she was asked to time other area rodeos."
And the rest was history.
Liz met Reg Kesler in the '60s and the Canadian All-Around Champion and Texas sweetheart were married in 1971. She became a part of that legendary Canadian stock contracting family that — between the entire family — has earned over 30 stock of the year awards in the Canadian Professional Rodeo Association (15 saddle bronc, 13 bareback, and three bull riding) and eight Professional Rodeo Cowboys Association stock of the year awards.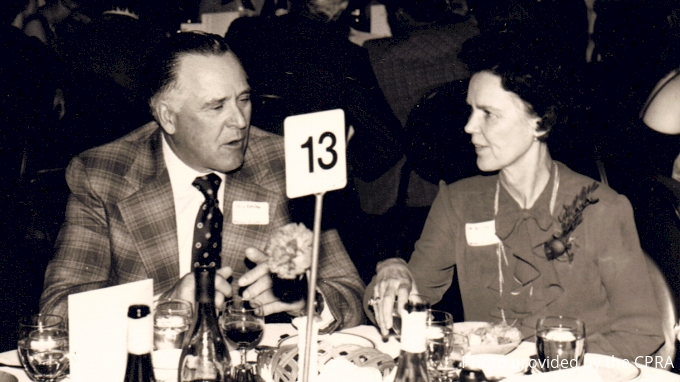 Liz also gave back to her sport by training other secretaries, helping to start events at the National Finals Rodeo like the Ladies Fashion Show that raised money for the Justin Cowboy Crisis Fund and the Cowboy Reunion, where Liz could also be found, telling rodeo stories with old friends.
To see Liz Kesler in action was to see a woman with grace, an aura of "properness," and a quality that made you suspect she was a force to be reckoned with in her time. To see her was also to see a woman that had the respect of many, even amongst world champions and legends in the arena, all would take the time to acknowledge and say a word or two to Mrs. Kesler.
As the Canadian Professional Rodeo Association put it in their news release, Liz Kesler was:
"A true Texas lady and a friend to many in rodeo, Liz Kesler will be missed."