"A Canadian title to me, would mean the world really," Zeke Thurston said. "That's one thing I haven't quite slashed off the bucket list. I'm after it, for sure."
That was what Thurston told us right before the 2018 Canadian Finals Rodeo and, after going through an all-out battle for the title with fellow Canadian Clay Elliott and coming up just short, the goal remains the same in 2019, but is Thurston gunning just a little harder for it this time around?
"I'm always gunning hard," Thurston said. "That's how you have to play it, you have to do things right and do what you can control. There's a lot out there that you can't control, so you just try to do your best and it will all work out in the end if you do that."
We're only halfway through the Canadian Professional Rodeo Association's Finning Pro Tour season, and there are many rodeos and variables ahead that are out of Thurston's control. But he has taken control of is the CPRA standings with more than $56,000 in earnings—including a $12,000 weekend recently that will only extend his lead over the No. 2 man. With two big Finning Pro Tour events going on this weekend, Thurston has the opportunity to control his fate at the CFR in October even more if he can extend his lead after Regina and Strathmore.
"I have two good horses that both buck really hard," Thurston said of his draws this weekend. "Not the easiest to get by, but if I ride good I should win lots of money, especially with all of the added money this weekend."
Watch Thurston compete at the 2019 Pile O'Bones Rodeo on C5 Rodeo's Snow White by clicking HERE and see the quick facts for the event below.
Pile O'Bones Quick Facts:
Dates: Aug. 2-4
Location: Regina, Saskatchewan
Added Money: $12,000/event ($8000/side in team roping)
Format: Up to 30 contestants in roughstock; 60 contestants in the timed events will compete in a straight one-head competition.
Fun Fact: Pile O'Bones Rodeo got its name because the city of Regina, Saskatchewan, used to be known as "Pile Of Bones" after a large amount of buffalo were found on the Wascana Creek.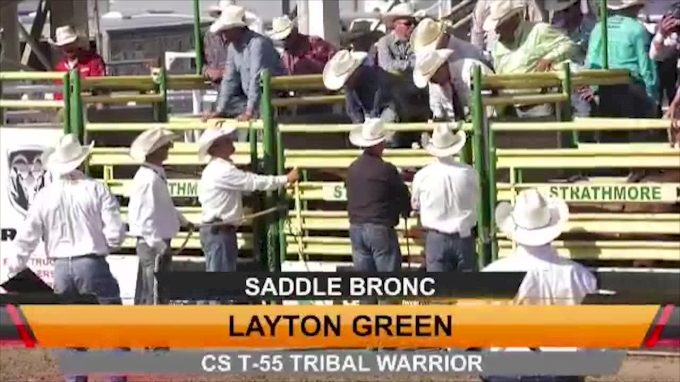 Thurston took a decent check out of the Strathmore Stampede in 2018, but he's in a good spot to take the lion's share in 2019. Watch Thurston compete at the 2019 Strathmore Stampede on Northcott/Macza's Bandalero by clicking HERE.
Strathmore Stampede:
Dates: Aug, 2-5
Location: Strathmore, Alberta
Added Money: $20,000/event ($10,000/side in team roping)
Format: Up to 48 contestants in roughstock; 75 contestants in the timed events will compete in a straight one-head competition.
Fun Fact: The Strathmore Stampede is famous for it's "running of the bulls" event for anyone who thinks they're brave enough to last three rounds around the arena with some hooky bulls.
Some could say has already packed a career's worth of wins into just a short number of years with three Calgary Stampede victories, a Rodeo Houston Championship, the Ponoka Stampede, many major rodeo and bronc riding victories, and of course a world title in 2016. And, while he may be gunning for the title in his home country, the down-to-earth cowboy still remembers the reason he started: he loves riding broncs.
"You do it for the love of the game," Thurston said. "That's why you started, it was for the fun of it. That's really important, I really stress that in my rodeoing. Just remember why you started doing it in the first place, it's easy to get hung up in the money or the fame or the points or whatever, and in the end, it really just comes down to you have passion for it."
Click HERE to sign up for a FloRodeo subscription to watch Thurston, and hundreds of other top CPRA and PRCA competitors, in action this weekend.