A few Christmas' ago, Bridger Anderson's mom reached out to Luke Branquinho to see if the world champion steer wrestler would take her teenage son under his wing for a few days. You see, the Anderson family doesn't buy Christmas gifts for each other, they buy Christmas experiences and this would prove to be one experience that set him on a path to where he is today.
"We used to just go skiing every year and we kind of grew out of that," said Anderson. "One year for Christmas my mom thought it would be a good idea to see if I could go bulldog with Luke. So she reached out to Luke on Facebook and he responded within 20 minutes.
Bridger says he went to Branquinho with an "older style" of steer wrestling, and the man that has won five world titles brought that style into the new era. From there, Branquinho stuck around after that initial "Christmas experience" to become an informal coach and friend of Anderson's.
Fast forward a few years and Anderson is now steer wrestling under a much more formal "coach" agreement. Anderson rodeo's for Northwestern Oklahoma State in Alva, Oklahoma under the watchful eye of team coach Stockton Graves - seven-time NFR qualifier.
"I knew some of the guys that were going to school for him in Alva," explained Anderson. "I finally emailed him one day and ask if he would be interested in me coming to rodeo for his school and he said he'd always be interested."
"When it came down to the bulldogging and learning from him, no other place could compare so I ended up going there," said Anderson.
Fast forward again to just a couple weeks ago when WCRA fans got to witness something special in Guthrie, Oklahoma at the WCRA $500,000 Semi-Finals. The final pool of steer wrestler–an 8-man competition where only four would advance to Green Bay this weekend – held Anderson, Branquinho, and Graves.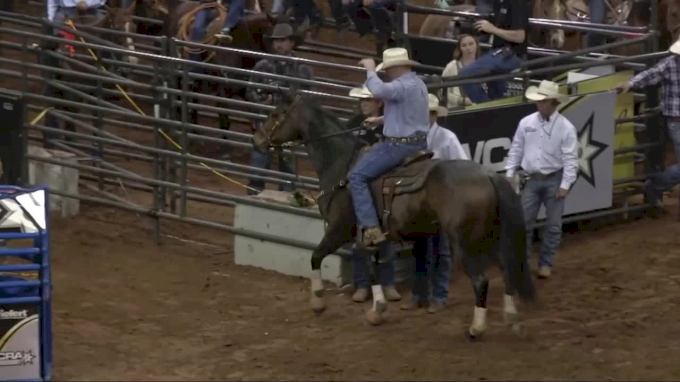 With those runs, all three were able to advance with the "student" earning the No. 1 spot over his coaches. Now all three will compete against each other tonight in Green Bay for the Titletown Stampede at the Resch Center.
Watch the 2019 WCRA $1 Million Major in Green Bay, Wisconsin, on June 1 LIVE on FloRodeo. Click HERE to sign up to watch.
This will be one of the biggest tests of Anderson's young career, and as for his coaches, we know they won't be holding anything back tonight against their "student".