Like many rodeo competitors, it all started with that one special horse. It may not have been the first one they got on, but it was the first one that took them to the winner's circle and let them have a taste of what it's like to be a champion.
"Her name is Dusty Rose and she's a real diva,"this week's Rising Star Kagan Davis said.
"My mamaw bought me a young gray grade mare that didn't even know how to run," she said. "Together we learned everything about barrels. I have been riding my gray pasture princess for the past six years, and she is my ride or die."
It takes a special mount to really do well in rodeo, especially in the barrel racing where competition is split down to the thousandths of a second. So when a young competitor finds that special quality in a horse where they can learn how to train and eventually how to win, it can truly set them on a path to success that extends to other horses on their journey.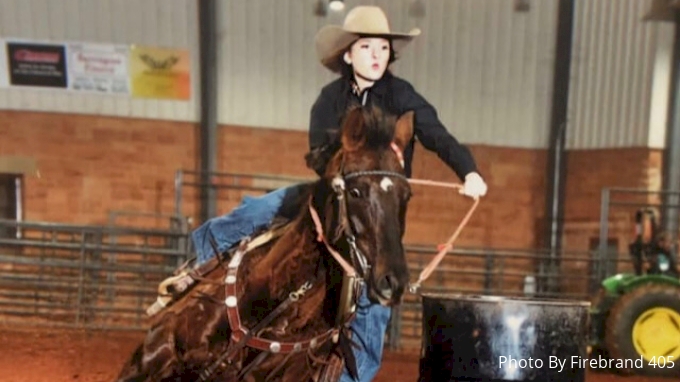 Davis runs several horses in both the National Little Britches Rodeo Association and Heart Of Oklahoma Association where she is a consistent winner, but she credits that gray grade mare with getting her there.
"I wouldn't be where I am today in rodeo if it wasn't for Dusty," Davis said.
Kagan Davis
Hometown: Purcell, Oklahoma
Age: 15
Events: Barrel racing and pole bending
The Rank: No. 20 Barrel Racing
Check out the entire rankings list HERE.
FloRodeo: How did you get started in rodeo?
Kagan Davis: From the time I could walk I carried around some kind of horse toy. I started out with a pony Fuzzy Blue when I was 4 years old and then onto a bigger horse a couple years later. My mamaw and granna took me riding and showed me how to do most everything on a horse.
What are some of your biggest accomplishments to date?
2019 National Little Britches Rodeo Association Finals Qualifier
2019 Junior American Qualifier – Barrel Racing
2019 Patriot Qualifier – Barrel Racing
2018 National Little Britches Rodeo Association Finals Reserve Senior Barrel Racing Champion
2018 National Little Britches Rodeo Association Finals – Fourth In World Senior Barrel Racing
2017 Heart Of Oklahoma Barrel Racing Champion
2017 Heart Of Oklahoma Pole Bending Champion
What do you like to do when you're not competing?
I don't have a lot of down time with three horses that I am training. We are always on the go to rodeos and jackpots mostly in the central Oklahoma area. I run track to stay in shape and enjoy hanging out with friends and family.
Who is your greatest role model?
I have many. Closest to me is Ali Armstrong.
What is your favorite song?
Anything by Kacey Musgraves.
What is your favorite food?
Oh for sure chicken strips.
---
Are you a junior rodeo competitor and want to be featured on the site as FloRodeo's next Rising Star? Fill out the form HERE to tell your story!