Alright Gabi, I'm feeling lucky so it's double or nothing time for our Armstrong bet. I would rub in the tally for our Canada vs USA competition, but let's just say I'm pretty proud of my team in red and white!
We're just a few hours away from the 2018 Finning Pro Tour Finals in Armstrong, British Columbia, and after the final performance of the regular-season tour rodeos last night, the draw has been set for the finals. So let's put all country pride aside and make our picks for who we think can win the tour finals today, regardless of their home country.
Between Armstrong's regular-season rodeo and the Finning Pro Tour Finals, competitors could potentially walk away with upwards of $5,000 to put towards the Canadian Standings race, which is rapidly winding down.
The top 10 in the tour standings after all nine rodeos – Wainwright, Ponoka, Williams Lake, Edmonton, Morris, Medicine Hat, Strathmore, Dawson Creek, and Armstrong – will compete in the tour finals tonight at 9 PM CST (7 PM Mountain Standard Time).
The Format
The $6,000 added will be split between four holes, which makes the payout as follows: 40 percent for first ($2,400), 30 percent for second ($1,800), 20 percent for third ($1,200), and 10 percent for fourth place ($600). The money will be paid out in a one-head format, meaning times and scores from the earlier regular-season Armstrong rodeo will not be included in these placings.
The Tour Champion, however, is decided on combined season and finals points, with the winner of the tour also earning a spot at the Calgary Stampede.
What does this mean?
Well, this time of year in the CPRA becomes a bit of a nail-biter with only five rodeos left after this weekend before the season's end. The only other rodeo left with the added money that can top this payout is the Grass Roots Final in Calgary, Alberta.
So if you need the move up in the standings, you best be running at the line, spurring every jump, and generally letting it all hang out to win a big piece of that $6,000.
Barrel Racing
The barrel racing line-up is a mixed bag of CFR veterans and competitors that could possibly be making their first trip to the finals. There are past CFR qualifiers who know how to get it done like Taylor Manning, Rene Leclercq, and the reigning Canadian Champion: Carman Pozzobon.
But there is also a group of cowgirls hoping to make their first CFR who have been really stepping out and proving themselves this year. After narrowly missing the CFR last year, Shayna Weir is making sure that the disappointment doesn't happen again by seating herself in the No. 4 spot in Canada and has already guaranteed herself a spot at finals this year.
Other CFR rookies on the draw at Armstrong include Bertina Olafson – who came out of nowhere in the professional game this year – and Shelby Spielman, the winner of the very first rodeo on the tour and is making the most of her summer in Canada.
Gabi's Pick: Bertina Olafson
Bertina Olafson is the "where did she come from," girl this year. To say that she's the underdog is definitely an understatement, but this barrel racer is hunting for that first barrel and for her spot in Canadian rodeo history at the CFR.
Katy's Pick: Carman Pozzobon
Carman had a bit of a slip yesterday during her run but still clocked decent, despite the mishap. I know she'll be working to get Ripp ready for another good one today and she's never a barrel racer I would bet against at any rodeo.
Draw:
Taylor Shields - Cochrane, AB
Rylee Shields - Cochrane, AB
Bertina Olafson - Hudson Bay, SK
Rene Leclercq - Holden, AB
Nicole Laurence, Cresson, TX
Angela Ganter - Abilene, TX
Shelby Spielman - Delhart, TX
Taylor Manning - Yellowhead County, AB
Shayna Weir - Ponoka, AB
Carman Pozzobon - Savona, BC
Bareback Riding
While there are top names competing in the Finning Tour Finals in the bareback today like Ky Marshall and Cole Goodine who are fairly safe in the Canadian Standings race for CFR, the exciting story will come from several of the other competitors who are either on the bottom end of the top 12 or are currently on the outside looking in.
Gavin Derose (No. 9) and Danton Bertsch (No. 10) will be wanting to earn a big check to help solidify their spots within the top 12 and remove the possibility of getting bumped by other competitors like Pascal Isabelle (No. 13) and Jacob Stemo (No. 16), who will be gunning hard for more CFR dollars tonight.
Gabi's Pick: Ky Marshall
This is either going to be the ride of the night or the rankest buck-off of the night. Calico Girl is a strong bucker and if Ky can rise to the challenge, he'll be in the money for sure.
Katy's Pick: Cole Goodine
I think Cole Goodine is one of the more underrated bareback riders in Canada and deserves a little more recognition for his accomplishments than he gets sometimes. He makes me cringe with his wild get-offs, but Cole can ride a bareback horse and is my pick for tonight!
Draw:
Ky Marshall - Bowden, AB - OB B 9 Calico Girl
Dantan Bertsch - Eastend, SK - CS T17 Twin Cherry
Cole Goodine - Carbon, AB - OB M22 Ross River
Gavin Derose - Kamloops, BC - OB Z35 Sexy Bucks
Jacob Stemo - Bashaw, AB - CS Y-63 Yodelling Alabama
Pascal Isabelle - Okotoks, AB - CS S-3 Simply Marvelous
Spur Lacasse - Airdrie, AB - OB R24 Line Pride
Michael Solberg - Sunnynook, AB - CS U23 Uptown Girl
Steer Wrestling
As we discussed when I interviewed him earlier this weekend, Straws Milan has the potential to move up the standings in leaps and bounds with all the money he can win. He already has $3,722.40, but other "bubble" competitors have also earned money in the regular-season rodeo at Armstrong, so it won't be enough to get him into a safe spot in the standings.
Other bubble competitors with a good shot to move up include: Chance Butterfield (No. 11), Brock Butterfield (No. 12), Harley Cole (No. 16), and Jacob Talley (No. 19). Much like the bareback riding, these competitors have a chance to make one last-ditch effort to qualify for the CFR before the rodeos run out.
Gabi's Pick: Chance Butterfield
Chance is the comeback kid and I definitely love an underdog story. He's the kind of rodeo athlete that takes his job seriously - working out, eating right, physical therapy, etc. His mindset is on point and with the CFR on the line, he knows the importance that this run holds.
Katy's Pick: Straws Milan
Straws of a freak of nature. I've seen Milan place by pancaking a steer at the back of the arena, I've seen him be 2.9 seconds at the front. I'm snapping him up as my pick to win the finals today.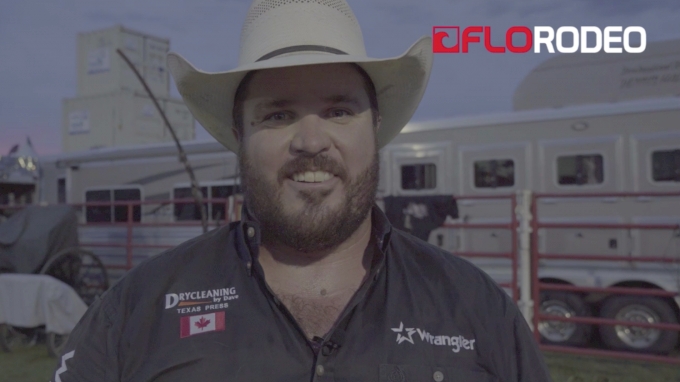 Draw:
Jacob Talley - Keatchie, LA
Luke Gee - Stanford, MT
Straws Milan - Cochrane, AB
Brock Butterfield - Ponoka, AB
Layne Delemont - Chauvin, AB
Craig Weisgerber - Ponoka, AB
Kody Dollery - Caldwell, TX
Harley Cole - Okotoks, AB
Stephen Culling - Fort St. John, BC
Chance Butterfield - Ponoka, AB
Tie-Down Roping
The tie-down roping is heavy with competitors from the top of the CPRA standings that promise to make the event a good one to watch today. The No. 1 man in Canada (when looking at competitors that have their rodeos count to qualify for CFR), Al Bouchard is always one to look out for when he enters a rodeo. However, there are several others that can be just as fast or faster and have proved it by earning a spot at the top of the standings.

When we broke down the tie-down roping's "actual" standings (removing competitors that didn't qualify) in our Bubble Watch story, Lee Rombough, Riley Warren, Morgan Grant, Shane Hanchey, Kyle Lucas, Jesse Popescul, and Clayton Smith were all also in the top 12 as they head into the tour finals today and should make the competition an interesting one.

The only two competitors that aren't in the top 12 and can act as spoilers for this event are Tyler Johnson and Keely Bonnett, who sit in the No. 33 and 32 spots respectively.

Gabi's Pick: Shane Hanchey
Shane Hanchey's quick hands need no introduction. He's a world champ and is currently #3 in the PRCA standings. He's definitely not the kind of competitor I'd ever bet against. Sorry, Kyle.

Katy's Pick:
No, no, no. Sorry, GABI, but I'm going to go with baby-bro Kyle once again for my pick here. Shane is definitely a worthy opponent that is hard to bet against, but I'm thinking Kyle is on a roll that will continue with another big check in Armstrong.
Draw:
Tyler Johnson - Didsbury, AB
Clayton Smith - Eckville, AB
Jesse Popescul - Wood Mountain, SK
Alwin Bouchard - Scandia, AB
Keely Bonnett - Ponoka, AB
Lee Rombough - Sexsmith, AB
Riley Warren - Stettler, AB
Morgan Grant - Didsbury, AB
Shane Hanchey - Sulphur, LA
Kyle Lucas - Carstairs, AB
Saddle Bronc
Corrington, Hausauer, Diaz, Watson, Flundra–the saddle bronc riding is definitely a star-studded list of names you'll recognize from rank rides both north and south of the border. All of these bronc riders have both CFR and WNFR qualifications under their belts and should pose a huge threat to the leaderboard tonight.
Then, there are the young-guns. Dawson Hay, Ricky Warren, and Dawson Dahm may have less experience, but they are all fresh and trying to fight their way to the CFR in 2018.
Gabi's Pick: Isaac Diaz
I'm going to stick with my original pick of Isaac Diaz. There's something about the way that he rides broncs that's absolutely magnetizing - like poetry in motion. He's giving this year all that he's got and I'm confident he has what it takes, especially on as good of a horse as Turkish Whiskey.
Katy's Pick: Dawson Hay
Much like your pick in the bareback riding, Dawson Hay aboard Calgary Stampede's Timely Delivery has the potential to go really right or really wrong. This horse is on the stronger end with stock stats that float around the 22 point mark and can definitely buck off some of the best if they stub their toe. But the young Hay shows the scrappiness he no-doubt got from his daddy and, after getting bucked off earlier this weekend, will be good and mad for this one.
Draw:
Tyler Corrington - Hastings, MN - CS A-82 Aloha Margie
Dusty Hausauer - Dickenson, ND - CS A-30 Allotof Money
Dawson Hay - Wildwood, AB - CS T-38 Timely Delivery
Isaac Diaz - Desdemona, TX - CS T-25 Turkish Whiskey
Jake Watson - Hudsons Hope, BC - CS X-17 Xulted Cherry
Justin Berg - Camrose, AB - CS L-124 Loganberry
Ricky Warren - Hudsons Hope, BC - OB W140 Little Breeze
Dawson Dahm - Dufield, AB - OB D290 Devils Who
Dustin Flundra - Pincher Creek, AB - OB M40 Bar Star
Jim Berry - Rocky Mtn House, AB - OB L7 American Sister
Team Roping
Trent Tunke has been going through some partner change-ups this year, but as an individual, had battled his way up to the No. 13 spot in the Canadian Standings before the weekend. He's roping with Trey Gallais now – who is a little further behind at No. 23 – but could certainly help Tunke to a CFR qualification where he'll pick up another unmatched partner, just like he has in the tour finals tonight (Steele Depaoli).
Another mix-and-match team roping tonight is Tyrel Flewelling and Nick Teixeira. Flewelling normally ropes with Grady Quam while Teixeira ropes with Jace Lambert, but neither of their partners had enough points to make the tour finals and they were paired up with each other.
We'll see how these temporary partnerships do tonight, but some partnerships that we know are a winning combination on the draw are Brett and Justin McCarroll (No. 6 in Canada), Roland McFadden and Devin Wigemyr (No. 2), and, of course, Denver Johnson and Tristin Woolsey (No. 1).
Gabi's Pick: Denver Johnson & Tristin Woolsey
This dynamic duo is cracking out like wildfire. They've been in the money at pretty much every rodeo they've been to this year. They're the #1 team in the tour standings and they want to keep it that way.
Katy's Pick: Roland McFadden & Devin Wigemyr
While it's hard to not gravitate towards the No. 1 guys in the tour and in Canada, I have faith in the abilities of former Canadian champion header Roland McFadden, who can also reach a mile and then handle the steer, and the talented heeler he has behind him in Devin Wigemyr, who can get a steer on a short dally and stop the clock fast.
Draw:
Keely Bonnett/Logan Bonnett - Ponoka, AB
Brett McCarroll/Justin McCarroll - Camrose, AB
Stacy Cornet (Brant, AB)/Brett Buss (Ponoka, AB)
Riley Warren (Stettler, AB)/Clay Ullery (Two Hills, AB)
Tuftin McLeod/Tyce McLeod - Waldeck, SK
Tyrel Flewelling (Lacombe, AB)/Nick Teixeira (Kamloops, BC)
Brady Chappel (Moose Jaw, SK)/Riley Roy (Strathmore, AB)
Devin Wigemyr (Brooks, AB)/Roland McFadden (Vulcan, AB)
Trent Tunke (Medicine Hat, AB)/Steele Depaoli (Longview, AB)
Tristin Woolsey (Nanton, AB)/Denver Johnson (Strathmore, AB)
Bull Riding
I'm excited for the bull riding today with this list of top competitors, with three Canadian titles and many more CFR qualifications between them. The "who's who" in bull riding includes CFR regulars like Wacey Finkbeiner, Garrett Green, and Jared Parsonage, along with the 2016 Canadian Champion Jordan Hansen and the most accomplished bull rider to grace Canadian soil, Scott Schiffner.
Amongst the herd of heavy-weights in the Canadian bull riding game, there are two rookies that are making their own names in the CPRA this year and could be making their first appearances at the CFR if they continue their winning ways. Cody Lee Coverchuk, who has lead the tour for a large part of the season, and JB Moen, the Medicine Hat Exhibition and Stampede tour rodeo champion, are both gunning for a few more dollars.
Gabi's Pick: Cody Coverchuk
While I admit I don't know a whole lot about the bull riders in Canada, Cody Coverchuk is a name that's well known in the states as well. Night Moves is a BAD CAT and if you can stick it on him for the 8, you'll be 85+ easily.
Katy's Pick: Scott Schiffner
Call me unoriginal all you want, but I'm going with the best. Not only is Scott Schiffner the winningest Canadian bull rider of all time, but he's also proven he can be a lot of points on his draw today. Schiffner and Calgary Stampede's Compton Bound met up at Strathmore where they walked away with an 86 point score, and I'm guessing they can add a few more points to that if they both have their day.
Draw:
Luke Gee - Standford, MT - CS -126 Juke Box Hero
Scott Schiffner - Strathmore, AB - CS -193 Compton Bound
Cody Coverchuk - Meadow Lake, SK - CS 201 Night Moves
Nick Tetz - Calgary, AB - CS -302 Controlled Burn
Wacey Finkbeiner - Ponoka, AB - OB 222 Blackstone After Party
Garrett Green - Meeting Creek, AB - OB 1 One Eyed Charlie
Jared Parsonage - Maple Creek, SK - OB 234 Stand Back
Jordan Hansen - Ponoka, AB - OB 269 Fish Camp
Austin Nash - Eckville, AB - OB 326 Change My Name
JB Moen - Elrose, SK - CS 205 - Rocking Out