2018 International Finals Youth Rodeo
Can Brooklyn Gunter Win Three IFYR Pole Bending Titles In A Row?
Can Brooklyn Gunter Win Three IFYR Pole Bending Titles In A Row?
Can pole bender Brooklyn Gunter come back to the International Finals Youth Rodeo to win a third consecutive title in 2018?
Jul 11, 2018
by Katy Lucas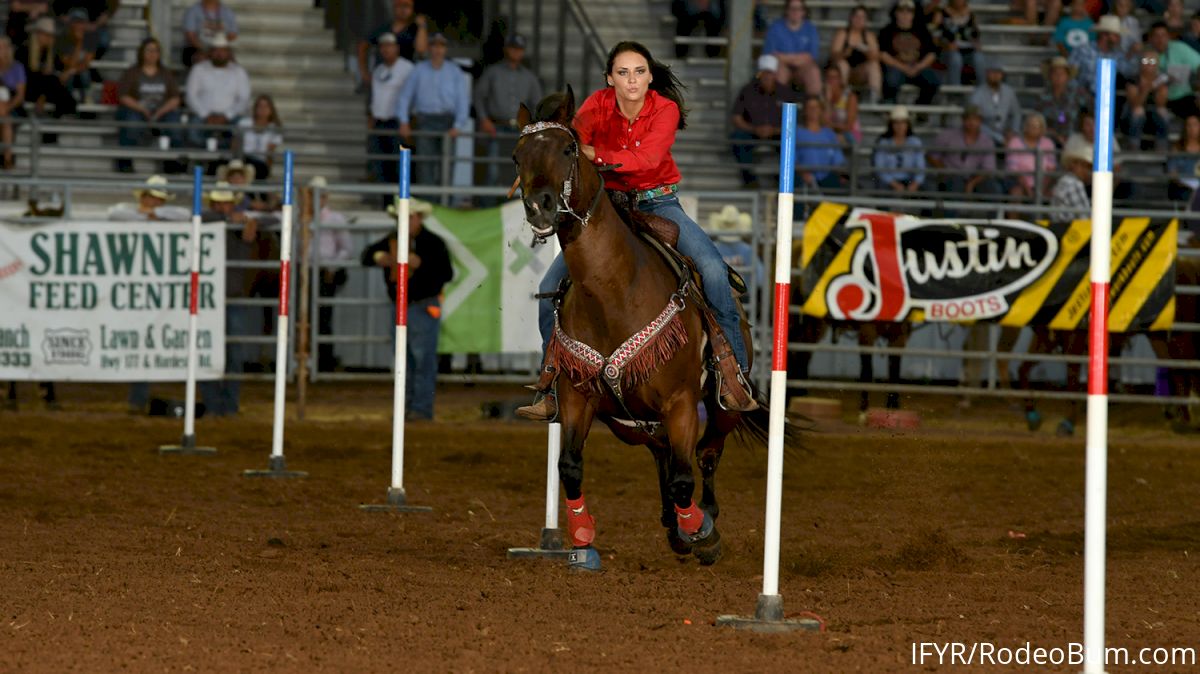 From the first season the two got together, Sulphur, Louisiana's Brooklyn Gunter and a bay mare named Blaze have been unstoppable at the International Finals Youth Rodeo in Shawnee, Oklahoma. They won the pole bending at IFYR in 2016, then came back to win it all over again in 2017.
Watch the 2018 International Finals Youth Rodeo LIVE on FloRodeo July 8 to 13.
"I was really young so coming into such a big rodeo, I was really nervous," said Gunter of her 2016 IFYR. "That was the first year I was running the horse and her and I hadn't really gotten together all the way yet. My first run, I was really nervous, and she has a little bit of alleyway issues so that made me even more nervous but everything worked out great."
You can say that again. Not only did they win the finals her freshman year, but they did so in spectacular fashion by setting the arena record at 19.303 seconds and running the fastest aggregate time the finals had ever seen.
"2017 to me was a little bit more pressure, coming from me winning my freshman year I felt like I had a little bit more to prove—I had set all the records—so 2017 was a little bit more pressure but we got through it."
The pair have also won the National High School Finals Rodeo in 2016, and Louisiana State High School Finals in 2017, and now they're back to try to win the IFYR for the third time in a row. The pair turned in a time of 20.354 in round one, which sits them in fifth place in the round results after four performances.
Any time a pole bender can break the 21-second barrier, heads will turn, but the crowds at IFYR know Gunter and the 14-year-old mare have more speed under their hats, and Gunter knows exactly where she can improve her time for their second run.
"She slowed up a little bit before the first pole, so I think I lost a little bit of time on that, but other than that it was great," said Gunter, who plans to hustle Blaze going down the arena on her round-two run on Thursday evening.
She's only 17 and still young in her rodeo career, but the enormity of her opportunity to win three IFYR titles in a row is not lost on young Gunter.
"It would definitely mean a lot to me," said Gunter on the idea of winning this year. "It's hard to win it first of all because you have great competitors, to win it a second time means even more, and a third time would just prove a lot to me and my horse, knowing that we can do it."
The final performance of the first round runs Tuesday evening at 7:30 PM, with the second round starting Wednesday morning at 9 AM. The 2018 IFYR champions will be crowned during the short round on Friday at 7:30 PM.