Maybe it's something in the water.
Maybe it was one great mentor who helped generations of rodeo competitors.
Or maybe it's a gathering place where champions seem to gravitate to.
Rodeo competitors are spread throughout the world in the United States, Canada, Mexico, Brazil, Australia, and beyond, but there are certain areas produce or house champions in astounding numbers.
The first example of one of those hotspots is the home of the Duvall's Steer Wrestling Jackpot. Checotah, Oklahoma, where the jackpot takes place, exemplifies one of those odd areas that just seems to be home to many champions.
Watch the Duvall's Steer Wrestling Jackpot May 18-20 LIVE on FloRodeo.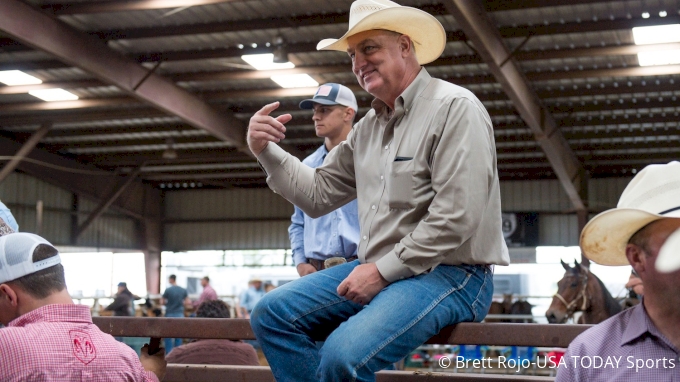 Ote Berry at the 2017 Duvall's Steer Wrestling Jackpot
Checotah, Oklahoma: Steer Wrestler Capital Of The World
Population: 3,225 (2016)
PRCA Steer Wrestling Championships: 11 (within an hour)
Known as the "Steer Wrestler Capital of the World," the small town of Checotah, Oklahoma, has something in the water when it comes to producing top steer wrestlers. A scroll down the PRCA past world champions list shows a list of PRCA world title holders that lived within an hour of the town dating back to the 1950s.
Teddy Johnson (2003), Ote Berry (1985, 1990, 1991, 1995), Roy Duvall (1967, 1969, 1972), Billy Hale (1971), Willard Combs (1957), and Benny Combs (1955) all hail from the area and helped put the small town on the map in the rodeo community.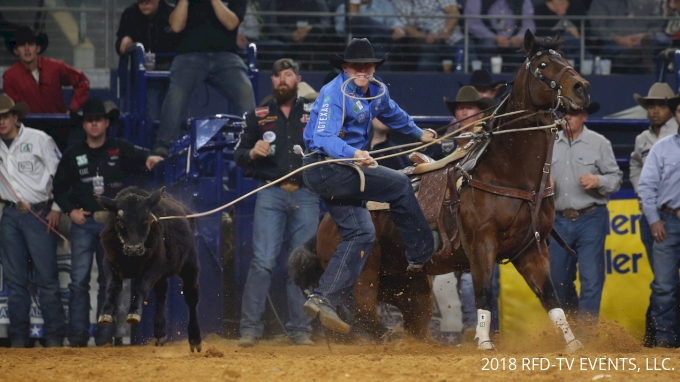 Stephenville, Texas' Marty Yates currently sits in the No. 5 spots in the PRCA world standings. Fellow Stephenville cowboy Sterling Smith also sits within the top 15 in the world. Footage Courtesy of RFD-TV EVENTS, LLC.
Stephenville, Texas: Cowboy Capital Of The World
Population: 20,607 (2016)
PRCA World Championships: 20 (Stephenville and Dublin)
Whether they were raised there, hung around for a while, or decided it was a great place to move to, many champions have found a home in Stephenville and the Erath County. Ty Murray (seven-time world all-around champion and two-time bull riding champion), Cody Ohl (five-time tie-down roping and 2001 all-around world champion), and Harry Tompkins (two time all-around, one-time bareback, and five-time bull riding world champion) have all called the area home.
A look at the current PRCA standings also shows accomplished competitors that list Stephenville as their hometown like Cory Koontz, Sterling Crawley, Marty Yates, and Sterling Smith inside the top 15.
Alberta, Canada: Build The Rodeos, Cowboys Will Come
Population: 4,146,000 (2014)
PRCA World Championships: 21
When you have a Canadian province that hosts most of the entire country's professionally sanctioned rodeos, it's no wonder it produces the most world titles out of all other provinces in the country. The province has sent some strong competition to rodeo's largest stage over the years, and after Alberta's Levi Simpson and Jeremy Buhler claimed world team roping titles in 2016, they could officially say they have a world champion in every event.
The province's strongest event since the beginning of the WNFR has undoubtedly been the saddle bronc riding. Ten of Alberta's 19 titles come from the event, dating all the way back to Pete Knight's first world saddle bronc title in 1932.
That win marked the very first time an Albertan cowboy won a world title.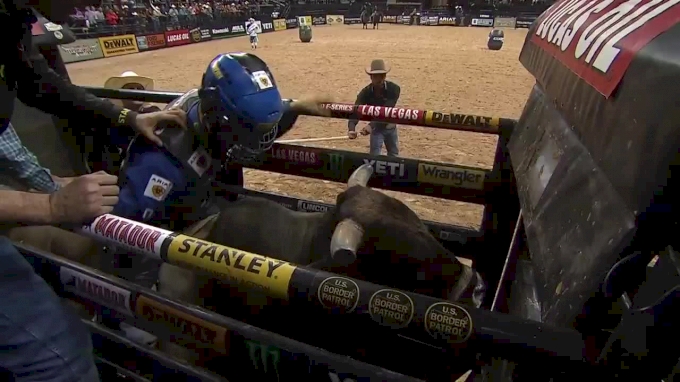 Itatiba, Sao Paulo's Kaique Pacheco and SweetPro's Bruiser both sit in the No. 1 position in the PBR world standings. Video courtesy of PBR.
Sao Paulo, Brazil: The Bull Rider State
Population: 45,340,000 (2018)
PRCA and PBR World Championships: 10
Since 1994, all nine PBR world champions that call Brazil home have come from the state of Sao Paulo. Names that have put Brazilian bull riders in the spotlight like Silvano Alves (three-time world champion), Guilherme, Marchi (2008 world champion), and Adriano Moraes (two-time world champion) all hail from the state.
The state continues to dominate the PBR game today, with the top three bull riders in the 25th PBR: Unleash The Beast tour standings—Kaique Pacheco, Claudio Montanha Jr., and Ramon de Lima—calling Sao Paulo home.
Junior Nogueira joined that group of proud Sao Paulo competitors in 2016 by becoming the first Brazilian to win a world all-around title in the PRCA.
Decatur, Texas: Where the Super Loopers Live
Population: 6,648 (2016)
PRCA World Championships: 27
While Roy Cooper didn't earn his world titles while living in Decatur, when he settled in the town the roping dynasty followed. Sons Tuf, Clif, and Clint Cooper, as well as son-in-law Trevor Brazile, have become competitors who need no introduction in the roping game.
Cooper earned his eight world titles while living in Durant, Oklahoma—another rodeo hotspot—before bringing his roping legacy to Decatur to let it grow. In fact, there is only one world titleholder that listed their hometown as Decatur that did not win their title in a roping event (Chuck Logue, 1990 Bareback Riding World Champion), but 13 world titles between the tie-down roping, team roping and steer roping.
If that doesn't make Decatur home of the Super Loopers, I don't know what will.