Back in 2000, a roper who went by the handle "Super Looper Roy Cooper" passed the $2 million mark in PRCA career earnings. By the completion of the 2017 WNFR, Super Looper's son Tuf passed that mark and joined that exclusive club of multi-million dollar cowboys.
Cooper posted a photo on Instagram mirroring the image of his father Roy when he reached the milestone at the turn of the millennium. The parallel certainly makes sense: Roy is the first to reach the benchmark, and Tuf is the youngest.
Tuf made it over the mark with an impressive $341,560 in earnings last season—a number that also saw him as the 2017 world all-around champion.
Team roper Cory Petska also made it over the $2 million mark during the 2017 WNFR with his earnings of $131,705, for a combined regular season and finals total of $265,417. The cowboy from Marana, Arizona, also won the world team roping title for his efforts.
"It is awesome to join this ($2 million) club, it has been a great career," Petska said in a prorodeo.com release. "Winning ($2 million in a career) never even crossed mind. I never even thought about it because $2 million seemed like so much money, I never thought I would reach that mark. The thing is a dream come true. Every kid dreams about winning a world championship and to do it this way (and pass the $2 million mark) is amazing."
Jumping to the 2018 rodeo season, Matt Shiozawa of Chubbuck, Idaho, also crossed the $2 million mark with his $21,296.31 in season earnings so far this year. Shiozawa currently sits in 13th in the world standings as he battles for qualification No. 11 to the WNFR.
Four-time world champion bareback rider Kaycee Feild could be the next competitor to meet the milestone. As of March 29, Field sits at about $1,988,000 in earnings unofficially and it wouldn't be a stretch to say that Field could bridge that gap quite quickly.
Feild earned $6,380 just last weekend at Rodeo Austin and, while the event did not count towards his PRCA earnings, Feild showed that he's feeling strong back in February at The American. He battled his way through the event as an underdog in the semifinals and left not only with the $100,000 event prize, but a third share in the million-dollar bonus prize.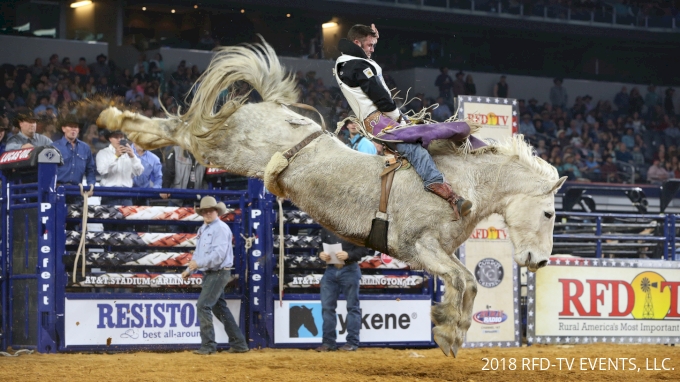 The highest earning cowboy in the record books is, of course, Trevor Brazile with over $6.4 million in lifetime earnings between his three events: tie-down roping, team roping, and steer roping. Cody Ohl, Fred Whitfield, Joe Beaver, and Billy Etbauer each have over $3 million in career earnings.