2017 Cinch Boyd Gaming Chute Out
CINCH Boyd Gaming Chute-Out Preview: Cast of Rodeo Legends In Las Vegas
CINCH Boyd Gaming Chute-Out Preview: Cast of Rodeo Legends In Las Vegas
The National Finals Rodeo isn't the only thing going on in Las Vegas: the CINCH Boyd Gaming Chute-Out will air on FloRodeo December 7-9.
Dec 4, 2017
by Hunter Sharpless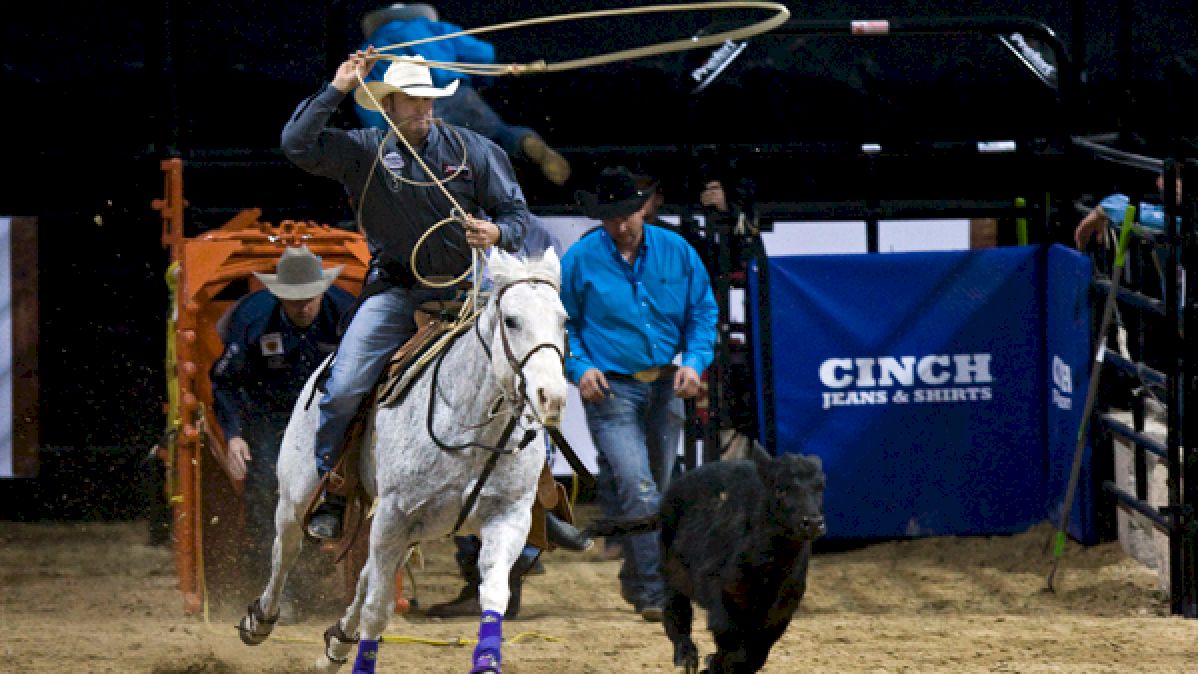 The most glamorous and lucrative portion of the rodeo season has officially arrived now that the calendar has turned to December. For the world's best cowboys and cowgirls, the next two weeks can make or break their 2017 campaigns, as Wrangler National Finals Rodeo awaits. But, of course, NFR isn't the only show in town: the CINCH Boyd Gaming Chute-Out, December 7-9 in Las Vegas, will stream live on FloRodeo featuring several legends of the sport.
Former world champions and multiple defending champs will saddle up to fight for their portion of the $200,000 prize purse. And we'll be live all three days so you won't have to miss a second of the action.
Here's a look at the top cowboys and cowgirls to watch.
Fred Whitfield | Tie-Down Roping
Eight-time world champion Fred Whitfield is a rodeo legend, and even at the age of 50 he's among the world's best tie-down ropers. Whitfield is the defending Chute-Out champion in the calf roping, and the crowd is sure to be on the edge on their seats for each of his runs.
Sherry Cervi | Barrel Racing
The owner of four WPRA world barrel racing titles, Sherry Cervi may have some extra motivation entering this year's Chute-Out: the Marana, Arizona, native finished a mere $1,931 short of qualifying for 2017 NFR. Cervi is the first WPRA athlete to cross $3 million in career earnings, and she has an astounding 19 National Finals Rodeo qualifications to her credit. As legendary as they come in rodeo, Cervi has appeared less frequently in recent years, so an opportunity to watch barrel racing's best will be a real treat for the Las Vegas crowd.
J.W. Harris & Shane Proctor | Bull Riding
The 31-year-old Harris is a four-time bull riding world champion and nine-time NFR qualifier, but he'll have his hands quite full with 2011 world champion Shane Proctor as well as Brady Portenier and Tristan Mize. Proctor won the average at NFR last year to finish third in the world standings, and missed qualifying for the rodeo finale for the first time since 2014. Portenier and Mize were 16th at 17th in the PRCA standings in 2017, respectively, and also just barely miss out on NFR qualification. With this level of competition, the bull riding event should be one of the most entertaining Chute-Out shows.
Wade Sundell | Saddle Bronc Riding
Wade Sundell is one of the more colorful characters on the rodeo circuit, and fans can always expect a wild show from the the 32-year-old Iowan. Sundell, a seven-time NFR qualifier, made some serious noise back in early 2016 when he won a cool $1 million prize at the RFD-TV The American rodeo. He wasn't close to NFR qualification this season, but Sundell has more career earnings that any other Chute-Out saddle bronc rider. Still, this event is jam-packed with talent — four men who finished inside the PRCA top 20 will be in Vegas, including 10-time NFR qualifier Bradley Harter and defending champion Core Scheer.
Jessy Davis, Kaycee Feild, & Steven Peebles | Bareback
Three men that have made themselves millionaires in their bareback riding careers will match up at the Chute-Out: Jessy Davis, Kaycee Feild, and Steven Peebles have 22 NFR qualifications and five world titles between them. Of course, those three won't be the only contenders in the three day event, as both Justin Miller and Evan Jayne finished above that trio in the PRCA standings in 2017. This one should be a dandy.
---
By Lincoln Shryack